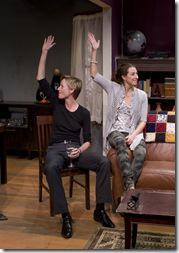 The Kid Thing
Written by Sarah Gubbins
Directed by Joanie Schultz  
at Chicago Dramatists, 1105 W. Chicago (map)
thru Oct 16  |   tickets: $32   |   more info
Check for half-price tickets
---
Smart script examines relationships by breaking through stereotypes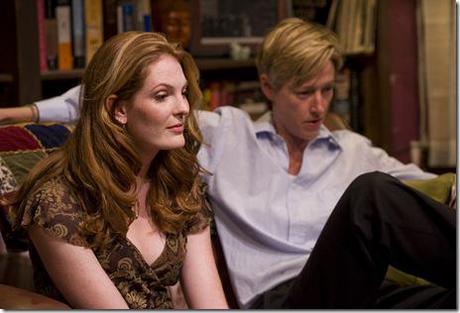 Chicago Dramatists and About Face Theatre presents
The Kid Thing
Review by Katy Walsh 
Tick tock!  A thirty-something woman hears the escalating sounds of a stopwatch counting down her reproductive days.  Multiply this by four women in committed relationships, the deafening noise is a real cluster-clock!  About Face Theatre and Chicago Dramatists present The Kid Thing.  Good friends gather for a casual dinner party.  They debate Michael Jackson's merits as a parent.  What was his true offense?  Being a celebrity, a pedophile or tranny?  When one couple announces they're pregnant, the emotional reaction is mixed.  What is the true offense?  Being a lesbian, androgynous, or adulterer.  'The Kid Think = serious.'  Provocative issues transcend baby talk and sexual orientation.  
Chicago Dramatist resident playwright and About Face Theatre artistic associate, Sarah Gubbins has penned a smart script.  The distinct characters are believable.  The dialogue engages for its wit and disquietude.  Under the direction of Joanie Schultz, this cast is sublime.  The actors become their characters!  So much so, that I worry about an adorably, kid-like Halena Kays (Nate) being the new Artistic Director for The Hypocrites.  Kays delights as an impulsive, fun-loving Best Buy employee. In contrast, Kelli Simpkins (Darcy) is a 'hot dude.'  Simpkins blurs the gender identity with the suaveness of Cary Grant and the argumentativeness of Al Pacino.  Simpkins fills the room with charisma.  Her partner, Park Krausen (Leigh) transforms from docile to defiant.  Krausen is hilarious when reconnecting with an old college chum, Stephen O'Connell (Jacob).  In a gender bender play, O'Connell charms for his simplistic nature.  Rounding out the talented ensemble, Rebekah Ward-Hays (Margot) plays it perfectly suppressed.  Ward-Hays doles out sporadic glimpses into her true feelings.  It all feels genuine.  Instead of a fictitious play, it's more like reality shows have made their way to the stage.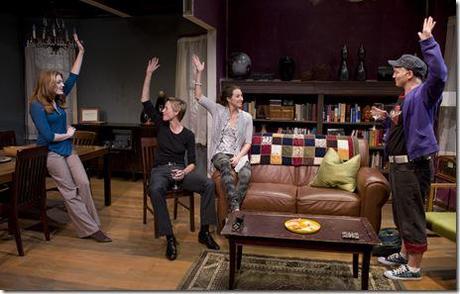 To add to the realism, scenic designer Chelsea M. Warren has created a lovely three room condo. Framed pictures, artwork, books, the look is pure successful, double-income Chicago couple.  During scene transitions, sound designer Miles Polaski cranks up lively music to playfully reinforce the content. It's a fun respite from the edgier scenes.
Is this show for everyone?  Recently, I reviewed Pinkalicious.(my review). The children's play is about a little girl who eats too many pink cupcakes and turns pink.  A man commented on the review.  His rant complained that the show was underlying homosexuality propaganda.  He referred to Pinkalicious' brother finally being accepted by his parents. (Peter loves pink.  The parents' love for their son overcomes society's gender-specific coloring.) So, what is this poster's true offense? Being a homophobe, a bully or a father?
Is this show for everyone?  Yes!  The Kid Thing breaks and exploits stereotypes to educate on relationships and humanity. Everyone can do better in both!
Rating: ★★★
About Face Theatre and Chicago Dramatists's The Kid Thing continues through October 16th at Chicago Dramatists, 1105 W. Chicago (map), with performances Thursdays-Saturdays at 8pm and Sundays at 3pm. Tickets are $32, and can be purchased online at ChicagoDramatists.org. More information here. (Running time: Two hours, which includes one intermission)
All photos by Michael Brosilow 
---
artists
cast
Halena Kays, Park Krausen, Steve O'Connell, Kelli Simpkins, Rebekah Ward-Hays
behind the scenes
Joanie Schultz (director); Chelsea Warren (sets); Sarah Hughey (lighting); Miles Polaski (sound); Izumi Inaba (costumes); Katherine Greenleaf (props); Jenniffer J. Thusing (stage manager); Michael Brosilow (photos)
3-Words: Adding to the riveting two straights and a gay car discussion home, Jen describes the show with 'engaging & thought-provoking.'