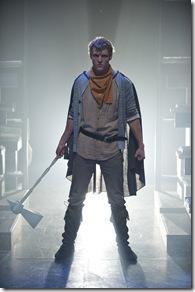 The Iron Stag King, Part I 
By Chris Mathews and Nathan Allen  
Directed by Nathan Allen
at Chopin Theatre, 1543 W. Division (map)
thru Oct 21  |  tickets: $25   |  more info
  
Check for half-price tickets 
  
  
   Read entire review
  
---
The House creates a magical new world much like our own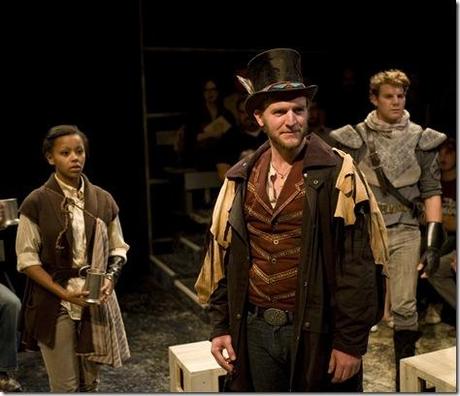 The House Theatre presents
The Iron Stag King, Part I
Review by John Olson 
Some of the greatest legends have concerned the ascension to the throne of a rightful king – one destined to be wise, kind and powerful. The legend of young King Arthur, of course…claiming his crown by pulling the famous sword out of the stone. More recently, Tolkien's Lord of the Rings and its Prince Aragorn. But hang on; aren't we Americans supposed to be opposed to monarchy, and in favor of democracy? That's the question raised by The House Theatre's new fantasy play – raised, but not answered – at least not in this first part of a planned trilogy. It concerns a land that was once ruled by a benevolent royal family, and later became a republic of five separate countries. The five lived together in harmony until leaders of two of them – the former queen and one of the other Republic rulers – fell in love and conceived a child. The other three countries, fearing that the former queen and her lover would try to re-assert rule over all the lands,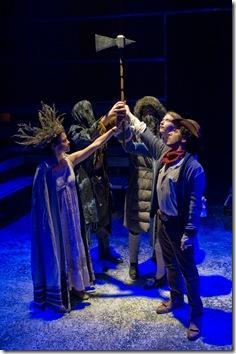 began to rebel. To save the life of their unborn child, the infant is ripped from the womb of the mother and placed in the horns of a giant stag that carries the the newborn off to safety in a distant part of the Republic. The mastermind of this abduction is Hap the Golden (
Cliff Chamberlain
), a storyteller/magician who creates legends that are destined to be reality. Years later, when the rescued boy, Casper Kent (
Brandon Ruiter
), has grown to young adulthood, Hap the Golden returns to begin the fulfillment of Casper's destiny. (Someone asks if kings are better than democratically elected leaders. "It depends on the king," is the answer.)
Whether Casper will be a good or bad king is not answered in this first installment. Instead, this part takes us on a mythological journey with some resemblance to the trek of Tolkien's hobbits, crossing a dangerous and desolate land to find the magical axe which Casper must swing to prove his claim to the throne. Writers Nathan Allen and Chris Mathews have created a world that, together with Melissa Torchia's costumes, is an amalgam of earlier periods of American history. The ostensible villain is a colonial-era looking type – a long-haired dandy with fancy shoes and three-cornered hat by the name of Henley Hawthorne (Joey Steakley), who wants to keep Casper from claiming the throne. But is Hawthorne analogous to an American crown sympathizer or to a rebel? It's not quite clear, but he's a brutal and nasty type, brought to delicious life by Steakley. The magical Hap is dressed in a costume reminiscent of Huckleberry Finn's Duke and the Dauphin (and in a marvelous performance by Chamberlain) is as conniving as those two combined. Others seem out of the wild west – the goofy Pepper, a lower-class laborer of some type who becomes loyal companion to Casper (amusingly played by Ben Hertel), the sneaky pirate Davy Boone (a droll Sam Guinan-Nyhart) and the sullen renegade scout Thom the Hollow (John Henry Roberts), decked in a ten-gallon hat. The steadfast and noble warrior helping Casper in his quest is Wilke (in a wise and dryly comic performance by Walter Briggs), wearing a ski sweater of Nordic patterns that even provokes jeers from the other characters. These costumes suggest various eras of exploration and particularly American growth, when the country was beginning to find itself first through revolution and later expansion.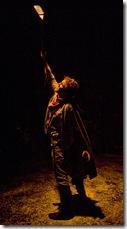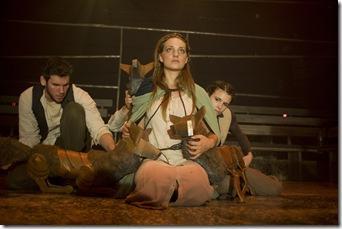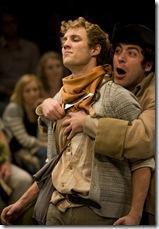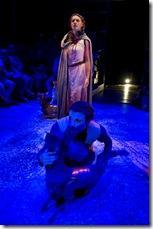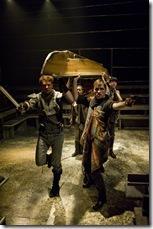 Still, at least in Part I, those themes are gently laid down and only slightly explored. Instead, the cast and crew simply have fun with the concept and find much humor in the archetypical characters. The in-the-round staging has minimal scenery, but makes use of Lee Keenan's small to giant-sized puppets (the largest of which is voiced by Steppenwolf's Tracy Letts) to create another world. This is aided by Sarah Hughey's moody lighting design and a romantic background score by Kevin O'Donnell.
Amidst all of this, Brandon Ruiter plays the young prince Casper without irony. His naiveté and skepticism that he is actually destined to be prince are entirely believable and Ruiter wisely makes Casper a foil against which the more colorful characters play. Ruiter has particularly good chemistry with Chamberlain, whose Hap is as wise and cunning as Casper is naïve.
Director Allen has pulled together a rich story out of his and co-author Chris Mathews imaginations (with credit due to those legends they parody), and though this initial part contains much complicated and sometimes confusing exposition, overall it's an entertaining evening. This legend of a republic at war with itself has resonance with present-day America (though Allen and company do nothing laborious in making that point). With the fall election campaigns underway, this story of the pursuit of power is timely. We await with anticipation the next installment of both Allen and Mathews' story and the real-life story being played out this fall.
Rating: ★★★½
The Iron Stag King: Part I continues through October 21st at Chopin Theatre, 1543  W. Division (map), with performances Thursdays-Saturdays at 8pm, Sundays 7pm.  Tickets are $25, and are available online through PrintTixUSA.com (check for half-price tickets at Goldstar.com). More information at TheHouseTheatre.com.  (Running time: 2 hours 30 minutes, includes an intermission)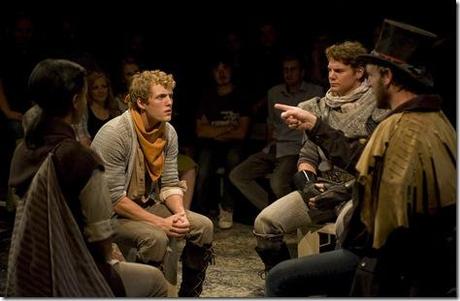 Photos by Michael Brosilow 
---
artists
cast
Cliff Chamberlain (Hap the Golden); Joey Steakley (Henley Hawthorne); Walter Briggs (Wilke Forsbrand); Paige Collins (Rienne Bealieu); James D. Faruggio (Ebon Kent); Ada Grey (Ginny Girl); Sam Guinan-Nyhart (Davy Boone); Ben Hertel (Pepper); Kay Kron (July of the Seven Foxes); Meredith Rae Lyons (Katherine Grey); John Henry Roberts (Hollow Thom); Brandon Ruiter (Casper Kent); Zeke Sulkes (Gordon and Abraham Pride); Tracy Letts (Voice of Irek Obsidian)
behind the scenes
Nathan Allen (director); Collette Pollard (scenic design); Lee Keenan (spectacle, puppetry design); Kevin O'Donnell (composer); Tommy Rapley (choreography); Melissa Torchia (costumes); Sarah Hughey (lighting); William Kirkham (asst. lighting); Harrison Adams (sound); Justin Verstraete (fight choreography); Sarah Hoeferlin (stage manager); Dan Yendler (asst. director, illustrator); Sally Weiss (asst. set design); Amy Prindle (asst. costumes); Claudette Perez (asst. sound); Emma Dean (asst. spectacle design); Angela Campos (props master); Kelly A. Claussen (asst. stage manager); Left Wing Scenic (tech direction); Will Dean (master electrician); Mieka van der Ploeg (costumes manager); Amy Hilber (wardrobe supervisor); Chris Orozco (audio engineer); Liann Nicholson (production management intern); Gaby Labotka (production assistant understudy); Michael Brosilow (photos)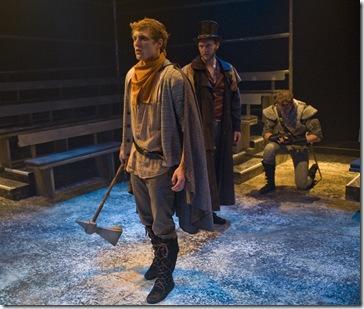 12-0921