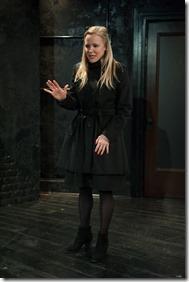 The Internationalist
Written by Anne Washburn
Directed by Erin Murray 
Steppenwolf Garage, 1624 N. Halsted (map)
thru June 16  |  tickets: $20   |  more info
  
Check for half-price tickets 
  
  
   Read entire review
  
---
Confusing and confused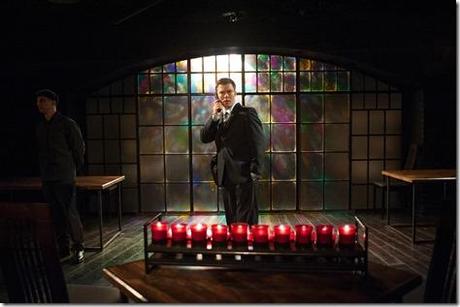 Steppenwolf Theatre Next Up presents
The Internationalist
Review by Lauren Whalen 
Great ideas. They're the foundation on which any work of art is laid. Without careful execution, however, the very best idea can crumble into something scattered, confusing and completely detached from its brilliant origin. It seems that 95-percent of the time I don't like a play, it's because a sweet concept went sour somewhere between inception and execution. The Internationalist falls into that category.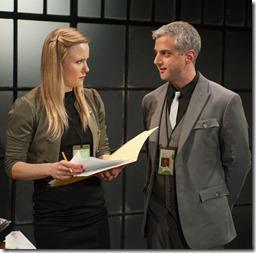 Vaguely ominous music throbs as a beautiful blonde dressed in black (
Kelly O'Sullivan
) flashes a handwritten sign reading LOWELL. Seconds later, a rumpled khaki-clad American stumbles in and recognizes his name. Lowell (
Nicholas Harazin
) has arrived in an unnamed Eastern European country, as he was quickly and unexpectedly transferred to their branch of his company. He doesn't speak the language. He doesn't quite know why he's there. He learns that the beautiful woman's name is Sara, that she's a colleague and that she's happy to flirt with him over drinks. She speaks excellent English, but why are her words so cryptic? Why does his new coworkers seem so stressed, when they're not telling provocative and ambiguous anecdotes? And why, again, has Lowell been sent here?
Anne Washburn's script has all the makings of a neo-noir: a gorgeous but mysterious woman, a stranger in a strange land and a sense of moral corruption that starts out vague and grows stronger as events unfold. The two opening scenes, in which Lowell and Sara go from airport to bar before consummating their brand-new relationship, build a nice anticipation with an undercurrent of dark dread. But the play falls apart after that, as Lowell's colleagues banter and argue in another language, which accounts for almost half the dialog. Presumably, Washburn made up the language herself, and that (along with the actors' confident delivery) is impressive, but where does it go? As bizarre events unfold and Lowell loses his mind – over the course of about five days, a rather quick deterioration – The Internationalist delves into dark comedy, then goes back to neo-noir at the end. These two distinct genres don't mix well, and Washburn would have been more successful had she chosen one (my vote is always for neo-noir).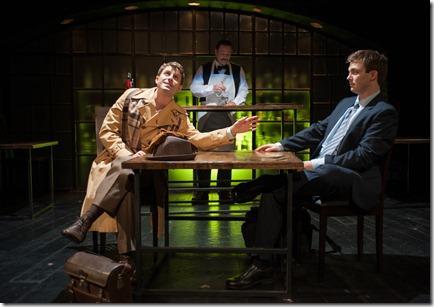 Fortunately, director Erin Murray has assembled a talented ensemble to navigate the strange and inconsistent text. Each of the four supporting players takes on at least two roles, and John Gray (as a perpetually befuddled employee and various waiters and bartenders) embraces the odd dialog and weird structure. Tony Buzzuto, a perfect embodiment of Eastern European efficiency with his close-cropped hair and strong facial features, has some convincing moments as a harried colleague, and Andrew Carter projects enigmatic authority and sinister friendliness in equal measure. Amy J. Carle is funny as an eager prostitute, and believable as Lowell's brash coworker who has only a working grasp of English. From his initial fumbling demeanor to his increasingly wild eyes, Harazin conjures muddled displacement that would go away only if he could sleep – probably. Though her character's inconsistent, O'Sullivan is a classic femme fatale: easy on the eyes, but secretive. I've only seen her in tepid shows (this one, and last season's Hesperia at Writers' Theatre), and would love to see what she does with sturdier source material.
Playwright Washburn's not completely off the mark: The Internationalist has thoughts, lines and whole scenes that had me leaning forward in my seat, laughing or nodding in agreement. I wish she had decided what she wanted the play to be: a rumination of barriers? A slowly unfolding mystery? A darkly funny satire? Any of these options, and many others, would have worked well if the writer had picked one, and stuck with it. As it is, The Internationalist feels like a very early draft: full of potential, but largely unformed.
Rating: ★★
The Internationalist continues through June 16th at Steppenwolf Garage, 1624 N. Halsted (map), presented in repertory with Next Up shows "Fat Pig" and "The Drunken City".  Tickets are $20 per play, or $45 for all three, and are available by phone (312-335-1650) or online through their website (check for half-price tickets at Goldstar.com). More information at Steppenwolf.org.  (Running time: 95 minutes)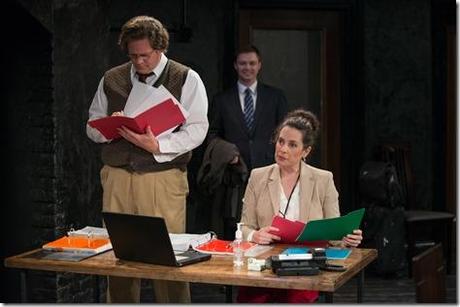 Photos by Michael Brosilow 
---
artists
cast
Tony Bozzuto (Nicol, Guard), Amy J. Carle (Irene, Anon Woman),  Andrew Carter (Simon, Paul), John Gray (James, Bartender), Nicholas Harazin (Lowell), Kelly O'Sullivan (Sara), Christine Stulik (u/s Irene, Anon Woman, Sara)
behind the scenes
Erin Murray (director), Stephanie Cluggish (scenic design), Chelsey Batson (costume design), Rebecca Barrett (lighting design), Kevin O'Donnell (sound design), Erica Daniels (casting), Michelle Medvin (stage manager), Jennifer McClendon (asst. stage manager), Quinn Hegarty, Galya Loeb (asst. directors), Emily Reit (dramaturg), Kelly Crook (run crew chief), John Holt, Eric Vigo (run crew), Claudette Perez (sound board operator), Carlene Descalo (wardrobe run crew), Megan Snowder (master electrician), Michael Brosilow (photos)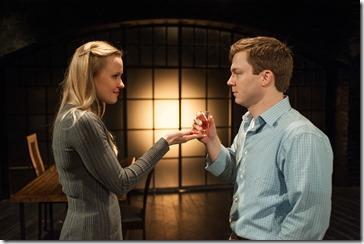 13-0605