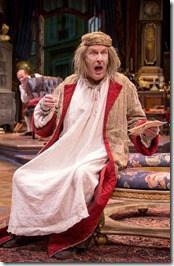 The Heir Apparent
Written by David Ives
Chicago Shakespeare, 800 E. Grand (map)
thru Jan 17  |  tix: $48-$88   |  more info
  
Check for half-price tickets  
  
---
An apparent hit!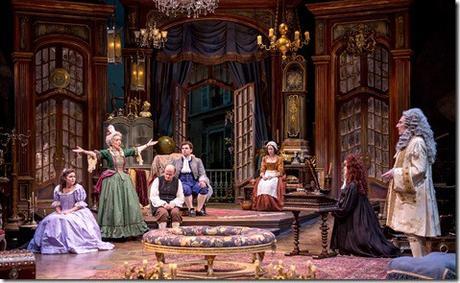 Chicago Shakespeare Theater presents
The Heir Apparent
Review by Keith Glab
Jean-François Regnard penned the comedy Le Légataire Universel over 300 years ago. In 2011, renowned playwright David Ives adapted the work for a modern, English-speaking audience in rhyming couplets and iambic pentameter. The resultant romp is presented as a holiday comedy at Chicago Shakespeare Theater.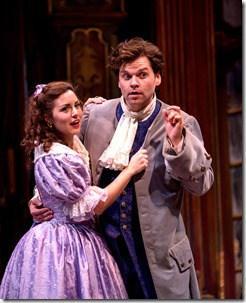 The rich miser Geronte (
Paxton Whitehead
) is in his dying days. His nephew Eraste (
Nate Burger
) needs to be named Geronte's sole heir in order for Madame Argante (
Linda Kimbrough
) to allow him to marry her daughter Isabelle (
Emily Peterson
). To further complicate matters, Geronte plans to leave some of his fortune to a pair of unknown relatives and even to marry Isabelle for himself.
In typical 18th-century fashion, the plot proceeds with disguises, betrayals, and sudden turns. The farce gets heightened by the rhyme; with the insertion of modern language into the ornate 18th century set and costumes, we get great payoffs when words like Levis, Drano, and Diarrhea complete a couplet. Some sporadic breaking of the fourth wall – including direct address to specific audience members – takes it one step further.
Plenty of physical comedy abounds as well. The oft-referenced ugly grandfather clock makes flatulent noises. The lawyer Scruple is so short that the actor playing him (Patrick Kerr) tots around on his knees in a long cloak. Christine Binder's ingenious lighting design allows for several laughs with some stark instant lighting changes.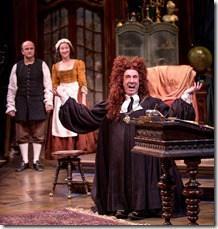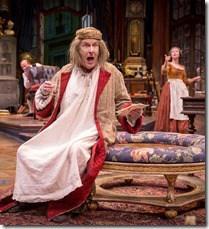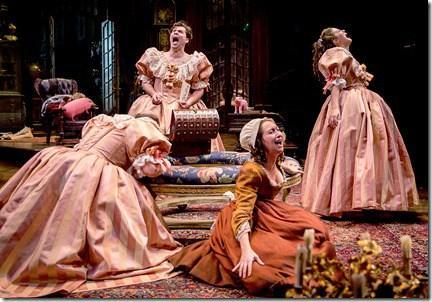 The cast handles the physical comedy well, but they truly excel with the language. Standing out are Whitehead with his impeccably proper upper-class articulation and Jessie Fisher's maid Lisette, whose dry undermining humor perfectly balances Geronte's austere tone. As Eraste's servant Crispin, Cliff Saunders gets to don three disguises: a Yosemite-Sam American caricature, a porcine woman, and finally Geronte himself. He executes all four of his personas well and with obvious delight.
While The Heir Apparent offers no shortage of laughs, Ives could push the modern colloquialisms and references further than he does to generate even more humor. This obviously isn't a play designed to evoke gritty realism or deep introspection, so why not push the wordplay, absurdity, and winks to the audience as far as possible? This is a mere quibble, of course. This energetic production delights the audience with a welcome change from the typical holiday show fare.
Rating: ★★★
The Heir Apparent continues through January 17th at Chicago Shakespeare at Navy Pier, 800 E. Grand (map), with performances Tuesdays-Thursdays at 7:30pm, Fridays 8pm, Saturdays 3pm & 8pm, Sundays 2pm.  Tickets are $48-$88, and are available by phone (312-595-5600) or online through their website (check for half-price tickets at Goldstar.com). More information at ChicagoShakes.com.  (Running time: 2 hours 10 minutes, includes an intermission)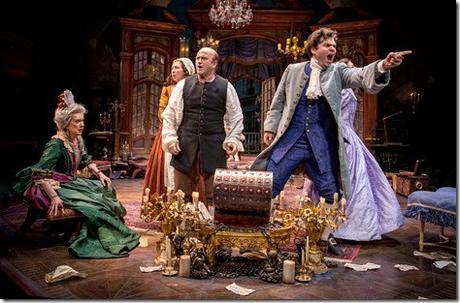 Photos by Liz Lauren
---
artists
cast
Nate Burger (Eraste), Jessie Fisher (Lisette), Patrick Kerr (Scruple), Linda Kimbrough (Madame Argante), Emily Peterson (Isabelle), Cliff Saunders (Crispin), Paxton Whitehead (Geronte), Erika Haaland, Julian Hester, Roderick Peeples, Suzanne Petri, Drew Shirley (understudies)
behind the scenes
John Rando (director), Kevin Depinet (set design), David Woolard (costumes), Christine Binder (lighting), Richard Woodbury (sound design), Melissa Veal (wig and makeup design), Scott Weinstein (asst. director), Bob Mason, James Calleri Casting (casting), Deborah Acker (production stage manager), Cassie Calderone (asst. stage manager), Rick Boynton (creative producer), Liz Lauren (photos)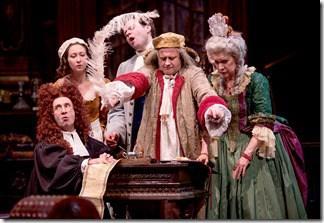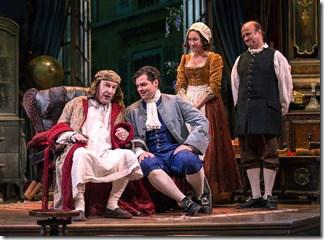 15-1223