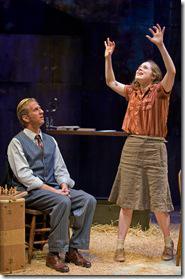 The Heart Is a Lonely Hunter
Adapted by Rebecca Gilman
Directed by Hallie Gordon
Steppenwolf Theatre, 1650 N. Halsted (map)
thru Nov 4  |  tickets: $15-$20   |  more info
Check for half-price tickets 
  
  
   Read entire review
  
---
'Lonely Hunter' goes straight for the heart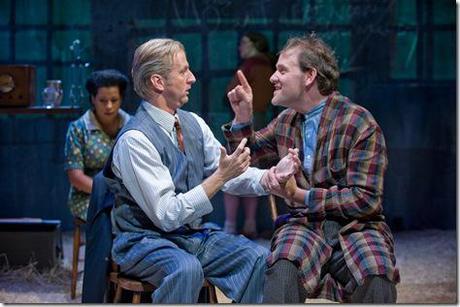 Steppenwolf for Young Adults presents
The Heart Is a Lonely Hunter
Review by Lauren Whalen 
Everyone is isolated, or at least it can feel that way. In big cities and small towns, individuals pursue specific goals or languish in despair, often with their heads attached to a pair of earbuds or necks permanently bent toward a cell phone. The Heart Is A Lonely Hunter takes place two decades before Steve Jobs was even born, but its portrait of lost souls yearning to connect but never succeeding for very long is achingly relevant today. Awe-inspiring performances revolving around a shining beacon of a leading actor, deft staging and symbolic production values create a heartwrenching portrait of the isolated life.
Flawlessly adapted by renowned playwright Rebecca Gilman from Carson McCullers' classic novel, The Heart Is A Lonely Hunter follows John Singer (Robert Schleifer), a deaf man living in a small Southern town in the late 1930's. After his soul mate Antonapoulos (Jay Reed) is institutionalized, Singer takes refuge in a boarding house also inhabited by teenage tomboy Mick Kelly (Jessica Honor Carleton), who dreams of composing a symphony. Singer befriends Mick and several other damaged townspeople, including bitter and detached Dr. Copeland (Walter Coppage), drunken wannabe activist Jake Blount (Loren Lazerine), and watchful diner owner Biff Brannon (Colm O'Reilly). Though Singer willingly shares his nurturing presence, his own grief – which he is unable to express in spoken words – is largely overlooked by all around him.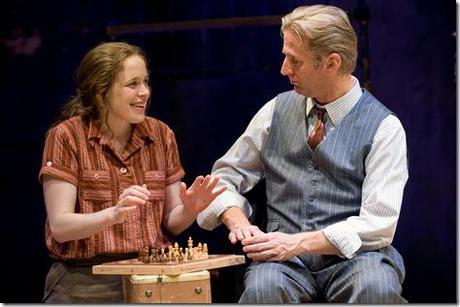 Gilman's script is divided into vignettes, often with only two or three characters experiencing tiny moments of connection before going their separate ways. However, the cast remains onstage for most of the show, sharing the same general space but standing significantly apart from one another – a genius decision by director Hallie Gordon that is illustrative without beating the audience over the head. Though set pieces are spare and suggestive, items are suspended on strings – a wheelchair and a violin among them – just out of reach of those who need them most, and projected quotes and the classical music young Mick craves help guide the story along.
Steppenwolf's cadre of actors, even those not in the resident ensemble, are always of the highest quality, and The Heart Is A Lonely Hunter boasts a small but powerful ensemble. As Dr. Copeland's estranged children, Ann Joseph and Derrick C. Cooper are convincingly angry at their own attachment to a parent who pushed too hard before letting go completely. Nick Vidal brings welcome comic relief as Mick's friend Harry, fervent about politics but naïve in the ways of wooing. Loren Lazerine's Jake slurs with conviction, and Colm O'Reilly brings a wonderful subtlety to the recently widowed Biff, who at first appears slightly creepy before revealing himself to be an astute and caring observer. But the real stars of the piece are Jessica Honor Carleton and Robert Schleifer. A real-life puppeteer, Carleton's wide eyes and rubber features bestow a convincing gawkiness on Mick, whose passion for music may or may not be enough to help her break free. Deaf actor Schleifer, though his voice is only heard once, exudes pure emotion through each blink of his eyes and quirk of his mouth. Watching him portray Singer is like witnessing a tragic poem come to life, or a slow but extraordinarily beautiful death.
The characters of The Heart Is A Lonely Hunter stumble through their lives yearning for meaning, for love, for belief. All come up sadly short, while failing to return the embrace of one who has everything to share but limited means of expression. Though the story is often painful to behold, with the pain comes catharsis and lasting impact. Perhaps one of the play's most telling bits of dialog occurs when Biff recalls seeing Singer and Antonapoulos walking arm in arm in the street "like a couple of freaks." "I like freaks," Jake muses. "Me too," says Biff. Me three.
Rating: ★★★★
The Heart Is A Lonely Hunter continues through November 4th at Steppenwolf's Upstairs Theatre, 1650 N. Halsted (map), with performances Tuesday-Fridays at 10am (school groups only), Saturdays at 7:30 p.m., and Sundays at 3 p.m. Tickets are $20 on Saturdays, 2-for-1 on Sundays, and are available by phone (312-335-1650) or online. More info at Steppenwolf.org. (Running time: 2 hours, with one 10-minute intermission)
All photos by Michael Brosilow 
---
artists
cast
Alan Wilder (Charles Parker, Mr. Kelly, Millworker 2, Deputy 1, Asylum Patient 1), Jessica Honor Carleton (Mick Kelly), Derrick C. Cooper (Willie, Hospital Attendant), Walter Coppage (Dr. Copeland), Ann Joseph (Portia), Loren Lazerine (Jake Blount), Colm O'Reilly (Biff Brannon), Jay Reed (Antonopoulos, Preacher, Millworker 1, Deputy 2), Robert Schleifer (John Singer), Nick Vidal (Harry, Asylum Patient 2)
behind the scenes
Hallie Gordon (Director), Collette Pollard (Sets), Myron Elliott (Costumes), J.R. Lederle (Lights), Christopher Kriz (Sound), Mike Tutaj (Projections), Matt Engle (Fight Choreography), Erica Daniels (Casting), Rose Marie Packer (Stage Manager), Michael Brosilow (photos)