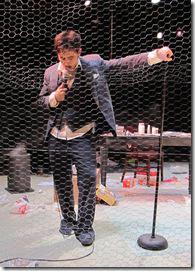 The Gog/Magog Project 
Written by Jason Lindner 
Directed by Brant Russell
at Steep Theatre, 1115 W. Berwyn (map)
thru Feb 15  |  tickets: $10   |  more info
  
Check for half-price tickets 
  
  
   Read entire review
  
---
Michael Salinas shines as performance artist Alexander Gog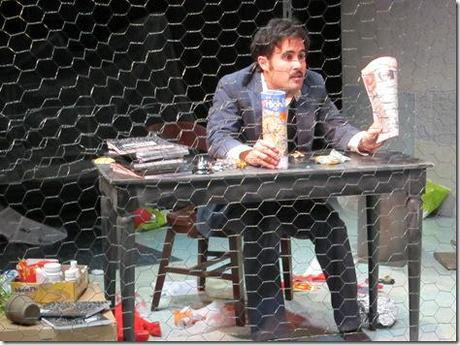 Steep Theatre presents
The Gog/Magog Project
Review by Katy Walsh 
Reality shows?!  I don't get the appeal.  Why would someone want their life to be on display?  Especially knowing viewers are rooting for their demise?  They are *constantly on*. Every little gesture or uttering has the potential to be observed, scrutinized, and misperceived.  Why do it?  Is it for the money, the fame or the artistic expression?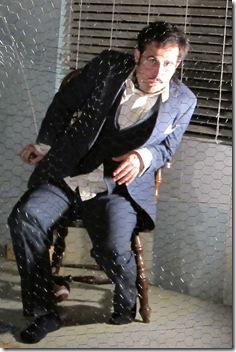 Steep Theatre presents the Chicago premiere of
The Gog/Magog Project
. Performance Artist Alexander Gog has locked himself in a theater.  He will perform nightly at 8pm and 2pm on Sundays for 365 days.  His daily show will reflect the art he created that day.  Simple enough?! His artistic experiment derails as his confinement continues indefinitely.  He is imprisoned in the art he created. Gog is caged with command performances and a steady diet of Banana Moon Pies. 
The Gog/Magog Project
is one man's bizarre response to 'the show must go on.'
Playwright Jason Lindner combines religious factions, artistic expressions and psychological warfare to create this fantasy.  An imprisoned actor is performing solo, his own work, for over fifteen years.  Linder writes the lunacy with humor and intrigue.  Under the masterful direction of Brant Russell, multiple short scenes effectively showcase the ongoing performances.  Russell, along with designers, Sally Weiss (set), Gary Cunningham (lights) and Thomas Dixon (sound), set the scene for a theatrical spectacle.  The lights go up like a theater.  The sound is a prison-cell-opening-buzz. The stage is a cage with that carefree-lived-in-garbage-look.  And at the focal point is The Man, the formidable Michael Salinas as Alexander Gog.  
Salinas spirals up, down, and sideways portraying a performing artist. Despite the repeated scene set-up, Salinas is anything and everything but monotonous.  His performance within his performance is shaped by torturous isolation.  Salinas effectively transforms from arrogant artist to interactive showman to desperate victim and so much in between. He emerges from every black-out (and there must be 20+) in a new position and original persona. The Gog/Magog Project is not a one man show. It's more an exhaustive display of multiple personality disorder. Salinas is brilliant bringing this artistic expression to life!
Rating: ★★★½
The Gog/Magog Project continues through February 15th at Steep Theatre, 1115 W. Berwyn (map), with performances Mondays-Wednesdays at 8pm, Sundays at 2pm.  Tickets are $10, and are available online at BrownPaperTickets.com (check for half-price tickets at Goldstar.com). More information here.  (Running time: 70 minutes with no intermission)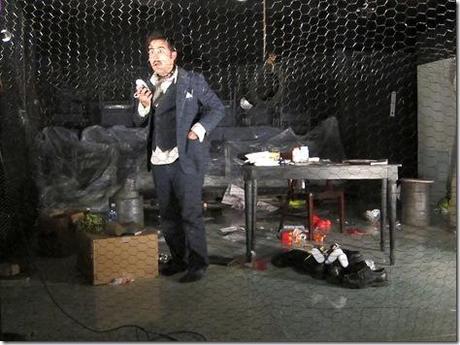 3words: A man with discerning taste, Joshua J. Volkers describes it with 'Salinas is must-see.'
---