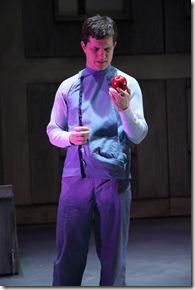 The Giver 
Adapted by Eric Coble
Based on novel by Lois Lowry  
Directed by Brian Bell
at Vittum Theater, 1012 N. Noble (map)
thru April 26  |  tickets: $12-$20   |  more info
  
Check for half-price tickets 
  
  
   Read entire review
  
---
Important story (mostly) well-executed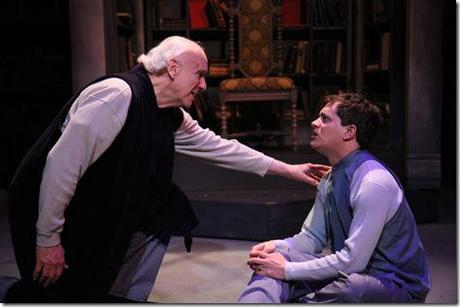 Adventure Stage Chicago presents
The Giver
Review by Lauren Whalen 
Since its release in the early 1990's, Lois Lowry's novel "The Giver" has been one of the most acclaimed – and controversial – children's books. Like its descendant "The Hunger Games", "The Giver" is set in a futuristic society that may not be too removed from what certain conservative politicians claim to desire for the United States. Adventure Stage Chicago's stage adaptation of The Giver is mostly effective at conveying the book's important messages, though the source material remains much more powerful.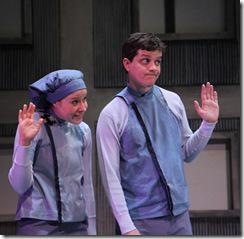 Unlike violence-worshiping Panem in "The Hunger Games",
The Giver
's Community has no violence. Everyone has a mother, father and sibling, shares their feelings at regular meals, and is assigned appropriate job training upon reaching adolescence. No one has to worry, ever. It's only when 12-year-old Jonas (
Aaron Lawson
) is given the prestigious role of the Receiver of Memories and begins training with the elderly Giver (
John Ruhaak
) that Jonas sees what is wrong with The Community. No one has worry, but no one has choice either. Except for Jonas and the Giver, no one can see color, experience romantic feelings or possess any real empathy. Soon, Jonas must make a choice: continue with a safe but shallow existence or escape to the unknown, where he will forever be at risk of pain and suffering.
What's remarkable about the novel "The Giver" is the reader's journey, along with Jonas, to learn that all is not as it seems. It's a slow burn of mounting terror: Jonas notices something is different about an apple, but it's only later he realizes that it's red; that he is now seeing color; that he's been missing something he (and the reader) never knew was absent in the first place. Jonas has never had a sunburn or seen snow, and as the new Receiver he finally feels both. And therein is what's most problematic about a stage adaptation: the visuals. From the beginning, the blue-gray uniforms and colorless set suggest a different world, and much narration is needed to explain Jonas' different feelings and actions as the Giver transmits more memories good and bad. Playwright Eric Coble does an admirable job conveying the overall theme of the story, but in some cases, there's just no substitute for the original source material.
As with last fall's superb Walk Two Moons (my review), Adventure Stage Chicago is thoroughly committed to presenting technically sound and thoughtfully educational adaptations of children's literature. Brandon Wardell's intelligent lighting tells whole stories as Jonas' emotions develop and progress, and Laura Kollar's muted costumes suggest a deep understanding of the society Lowry illustrated in words. Though Jessica Kuehnau Wardell's set appears a little flat, in this case it's fitting: in ridding itself of violence and strife, The Community has also eliminated depth and beauty.
Lawson's masterful open-faced expressions and honest delivery – most recently seen in Emerald City's Junie B. Jones  – make him an ideal children's theater performer. Always believable and never condescending to young audiences, his Jonas' journey is the highlight of the production. Equally excellent is Sarah Rose Graber as Jonas' practical and polite mother, the polar opposite of her last role (the ebullient Corie in Chemically Imbalanced Theater's Barefoot in the Park). Rounding out Jonas' family unit are Carlos Rogelio Diaz as the ebullient Father, who blithely performs some horrifying acts and Sindy Castro as Jonas' chatty and naïve younger sister Lily. Though Landree Fleming is not quite as successful at playing younger (her Fiona is a bit squeaky), Kroydell Galima has some nice moments as Jonas' excitable pal Asher. In the pivotal title role, Ruhaak is competent but a little disappointing. Ruhaak was a somewhat last-minute replacement for the actor originally cast, which may explain why he stumbled over some lines and why the Giver's fatherly devotion to Jonas – one of the cornerstones of the story – isn't fully convincing.
The Giver's staying power as a story is in some ways wonderful – Lowry's prose is truly moving – and sad – in today's political landscape, the unfeeling world of the Community could soon become real. Though it doesn't reach the book's powerful highs and lows, Adventure Stage Chicago's production serves as an excellent jumping-off point for kids to ponder the vital importance of emotion and memory. Just make sure they read the book too.
Rating: ★★★
The Giver continues through April 26th at Vittum Theater, 1012 N. Noble (map). Tickets are $12-$20, and are available by phone (773-342-4141) or online at tickets.org (check for half-price tickets at Goldstar.com). A talkback with the cast follows each performance.  More information at AdventureStage.org.  (Running time: 90 minutes with no intermission)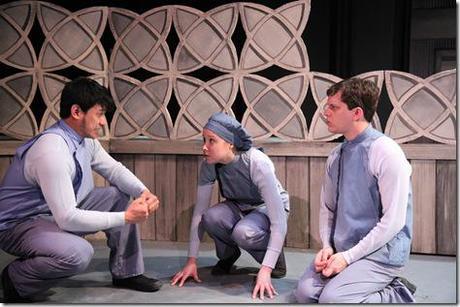 All photos by Johnny Knight 
---