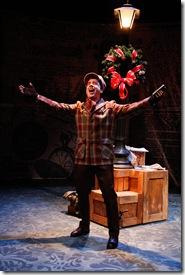 The Gifts of the Magi 
By Mark St. Germain (book/lyrics) 
   and Randy Courts (music/lyrics)
Directed by Mark Lococo
at Stage 773, 1225 W. Belmont (map)
thru Dec 30  |  tickets: $39   |  more info
  
Check for half-price tickets 
  
  
  
---
An unfocused holiday premiere loses way from first note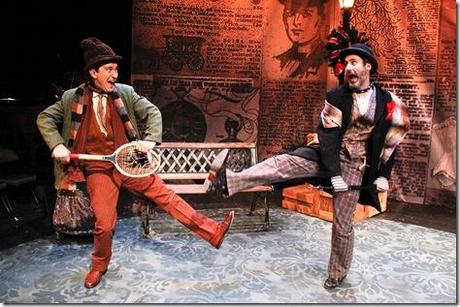 Porchlight Music Theatre presents
The Gifts of the Magi
Review by Clint May 
Boy do I wish I could say this production, based on the famous short story by O. Henry, was destined to become a new holiday staple.
Sorry.  Not going to happen.
Instead, Porchlight Music Theatre's The Gifts of the Magi debuts as a culmination of discrete poor decisions from every avenue with a culminative effect that can only be described as 'strained.'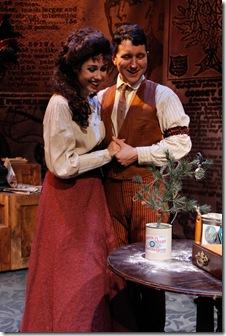 You can quickly read the famous original tale
anywhere online
. It's more of a long setup to a sweet little punchline of situational irony—with a nice moral—than anything. What the team at Porchlight has done is stretched and embellished it with music, sub-plots, and stylizations that eradicate nostalgic sweetness and replace it with a Hallmarkian manufactured magic.
Jim (Jason Richards) and Della (Chelsea Morgan) are a poor couple living in New York at the turn of the last century. Christmas approaches, and neither can afford a gift when they have to haggle over pennies for every purchase. Their fateful decision to use their most cherished possessions (her hair and his watch) to buy the other a gift to complement said possessions (a fob and a set of combs) is one of the most referenced inventions of literature.
Book author Mark St. Germain, of Freud's Last Session fame, apparently didn't trust the source material enough to leave it at that. There's an inexplicable choice to add a vaudevillian character in the form of Soapy Smith (Kevin McKillip)—from O. Henry's "The Cop and the Anthem" — who provides some theoretically funny interludes as a wandering tramp trying unsuccessfully to get arrested for a free warm bed during the holidays. He interacts with Jim and tempts him with his carefree lifestyle, but other than that I can find no real reason for his inclusion. Avatars of the city itself, Heather Townsend and Gerald Richardson play several roles as needed, with newsboy Willy Porter (Nate Lewellyn) providing narration and insight.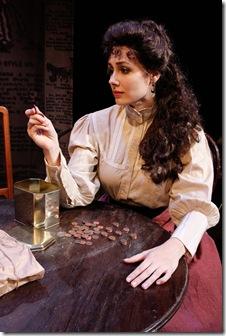 So much of this show doesn't work that I don't know where to begin. The instrumentation is overly loud and far too Sondheim-esque for a comfortable margin of originality, with unsophisticated lyrics (e.g, rhyming 'Siam' with 'I am'). That could be forgiven if the ensemble had the vocals to elevate that hokiness, but they can barely be heard over the ever-punctuating piano at times and lack the needed depth at others. Lewellyn certainly looks his part, but bookending the production with his unremarkable numbers is yet another strange decision. Director
Mark Lococo 
has the talented McKillip mugging for all it's worth as the tramp, and a heavy-handed style that eliminates potential charms that may have existed for the Dillinghams with a more subtle fine-tuning.
Expanding this short story also means adding some unsavory bellicosity to Jim and an almost misogynistic 'beaten housewife' personality to Della. There's no chemistry between Morgan and Richards, even when they're singing of their love for each other after Jim angrily berates a meek Della for asking about his job search. Her subservience is an anachronism that makes this production less than timeless. There's no new insight, and given how great Last Session was at pithy characterizations coupled with concept, my disappointment in this St. Germain and Lococo spin on a favorite story is crushing to say the least.
Rarely do I call attention to a price tag on a ticket, but for nearly forty dollars for a 90-minute musical (that feels like 2 hours), The Gifts of the Magi is not the window to an intimate tale of loving sacrifice it should be. With so many quality holiday productions vying for the coveted family-friendly dollars, this is one 'gift' for which you may find yourself wishing you'd kept the receipt.
Rating: ★
The Gifts of the Magi continues through December 30th at Stage 773, 1225 W. Belmont (map), with performances Fridays and Saturdays 8pm, Sundays 2pm. Tickets are $39, and are available by phone (773.327.5252) or online at Stage773.com (check for half-price tickets at Goldstar.com). More info at PorchlightMusicTheatre.org.  (Running time: 90 minutes, no intermission)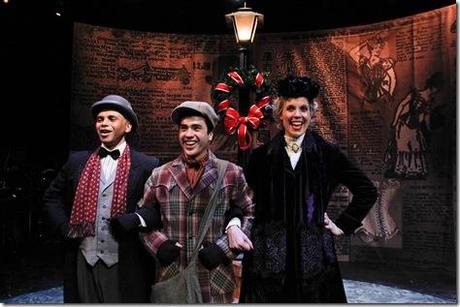 Photos by Kelsey Jorissen
---
artists
cast
Chelsea Morgan (Della Dillingham), Jason Richards (Jim Dillingham), Kevin McKillip  (Soapy Smith), Nate Lewellyn (Willy Porter), Heather Townsend (The City – Her), Gerald Richardson (The City – Him), Lauren Paris, David Geinosky, Tom Vendafreddo (understudies)
behind the scenes
Mark Lococo (director), Elizabeth Doran (music director), Brenda Didier  (choreographer), Doug Peck (music supervisor), Deborah Blumenthal (assistant director, dramaturg Intern), William Boles (set designer), William C. Kirkham (lighting), Bill Morey (costumes), Victoria Delorio (sound design), Barbara Trinh (properties designer), Thom Van Ermen (stage manager), Patrick Fries (production manager), Kelsey Jorissen (photos)