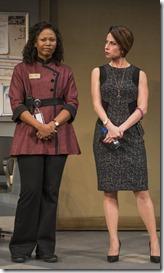 World premiere takes swipe at corporate culture with mixed results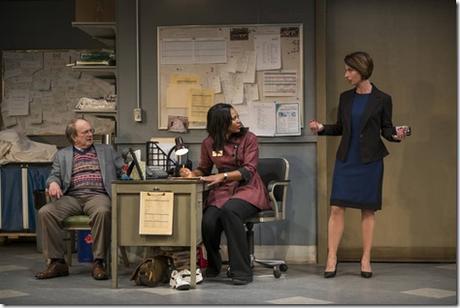 Review by Catey Sullivan
Erika Sheffer's world-premiere The Fundamentals begins with a whole lot of promise. The first thing the audience sees is projection designer Stephen Mazurek's hilariously on-point parody of the sort of upscale resort that that insists it's not about selling rooms so much as making dreams come.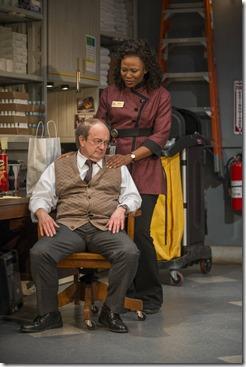 The projections are an exercise in out-of-touch branding, and it is as accurate as it is funny. Wellington isn't for everyone - certainly not those lesser beings who would be fine at the local Holiday Inn. No, those who stay at a Wellington property aren't guests - they are bold adventurers and discerning cultural influencers whose lives are an endless montage of postcard-perfect sunsets, open-top convertibles, post-card perfect sunsets and charmingly floppy hats.
As for Wellington employees, they aren't the toilet-scribbling housekeepers or line cooks or minimum-wage bellhops that your average Hilton would employ. They are vibrant members of an inclusive, forward-thinking community founded on respect and creativity. Working at Wellington isn't about having a job, it's about belonging to a culture.C logged toilets, crusty dishes, sticky bed linens and sweaty towels don't exist at Wellington.Everyone is far too busy beaming at sapphire-blue seas and five-star meal presentations.
After the increasingly ridiculous projection sequence ends (with a carefully curated Rainbow Coalition of Wellington employees making a giant heart shape with their hands), the lights come up on a basement office that Wellington will never mention in its glossy promotional materials.
It is a windowless world where fluorescent lights have replaced the sun, and majestic mountains are restricted to the piles of memos from "corporate." Welcome to the underside of Wellington, a place where the workers are unsung and where the occasional funny cat video is as close as they'll ever get to vistas of glorious sunsets and sparkling oceans.
At first, The Fundamentals seems as if it will be a razor-sharp parody/expose of the grimy inner workings of an outwardly gleaming luxury hotel. But Sheffer's drama never fulfills its early promise. Directed by ensemble member Yasen Peyankov, The Fundamentals squanders its early potential. The plot meanders without notable tension for the first half of the production, and then limps into farce territory in the second half. It doesn't work as either drama or farce. If you don't especially care about the care fully calibrated flip-flops in allegiances and double-crosses that accrue (unrealistically) in the final scenes, you aren't alone.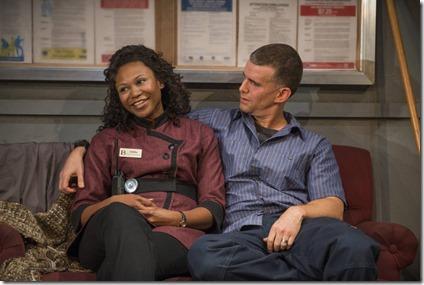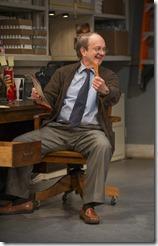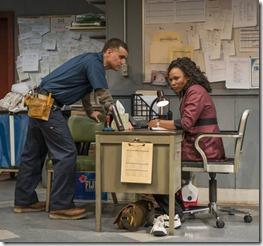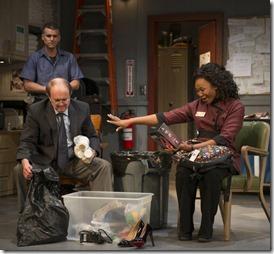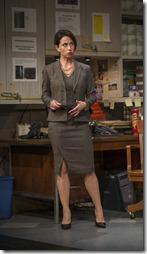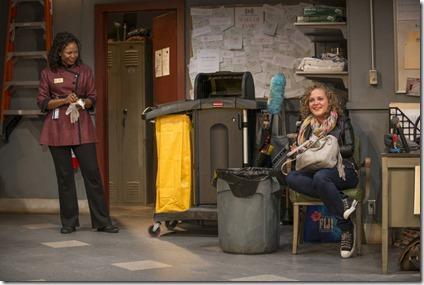 Fundamental to the problem of The Fundamentals is the relationship between Millie (Alana Arenas) and her husband Lorenzo (Armando Riesco). Millie works in housekeeping, Lorenzo in engineering. She's got aspirations and longs to work "upstairs." He is a newly recovering gambling addict who is certain that his plans to market an upscale toothpick made of jewel-encrusted gold will morph into a goldmine. Millie has little patience for Lorenzo's arguably delusional schemes. As The Fundamentals progresses, the rift between the couple grows.
For that rift to create any genuine tension - and for The Fundamentals to work at all - the audience needs to believe that Millie is deeply in love with Lorenzo, a man whose gambling ruined her credit rating. When she learns he's got an illegal side-hustle going at the hotel, Millie keeps it to herself. But when her career aspirations slam into direct conflict with her husband's activities, she has a tough choice to make. It's that choice that constitutes the primary conflict in The Fundamentals .
The trouble is that Millie and Lorenzo are never believable as a couple. She's ambitious and intelligent. He's a putz. There's not much physical chemistry between the two and, minus that, it's tough to believe Millie would stay with Lorenzo through a late credit card payment, never mind a credit-rating-ruining gambling problem. Without believable passion between them, none of Millie's choices seem to have that much at stake, thus rendering the dramatic tension into something akin to an overcooked noodle.
Millie and Lorenzo aren't the only basement employees entwined in Sheffer's meticulously calculated plot. The cast also includes Alan Wilder as Abe, an easy-going, 30-year veteran of Wellington who is Millie and Lorenzo's boss. Caroline Neffis Stellan, a recent front-desk hire who got the job Millie longed for. Finally there's Audrey Francis as Eliza, the Boss from Hell that every single person who has ever worked will recognize.
Sheffer manipulates the characters like puzzle pieces - or factors in a math equation - in order to propel the plot forward. As it winds into the last quarter, The Fundamentals goes from subtly contrived too overtly contrived. The turns and reversals on stage call to mind a ping pong match where the ball goes back and forth between getting fired on one side of the net and not getting fired on the other side.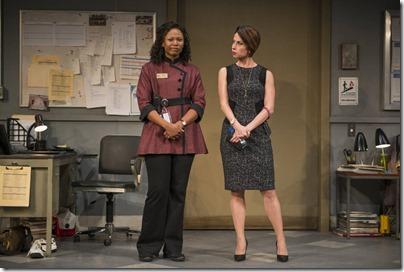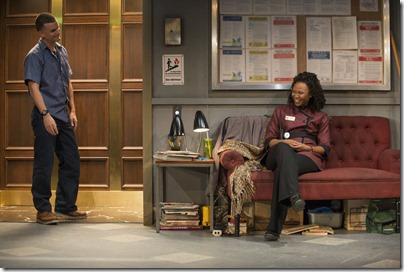 It's tough to fault Peyankov's cast, which does a yeoman's job with thin material. Arenas is fine as an upwardly striving young mother determined to better her lot in the world. Riesco is effective as a hotel handyman whose affable good nature doesn't flag even during backup toilet emergencies. It's as a couple that Lorenzo and Millie just don't seem probable.
Francis is pitch-perfect as an impeccably dressed upper management type whose hair is as severe as her tolerance for employee infractions. Eliza is also utterly tone-deaf to the real culture her basement employees are immersed in. Her condescending attempt to speak their lingo is as cringe-worthy as it is funny. Francis makes Eliza the boss who has genuinely bought into the corporate propaganda, in this case, the ridiculous "fundamentals" that are the foundation to Wellington's mission statement. These fundamentals range from respect to resourcefulness. As anyone who has ever worked for a corporation will have already surmised, the relentlessly touted "fundamentals" are lip-service at best. At Wellington as most everywhere, exhibiting too much resourcefulness or kindness will probably get you pink-slipped.
So it goes with Abe and those he supervises, whose behavior kicks Wellington's HR department into overdrive. Wilder is excellent as a genial, fatherly figure who truly wants the best for his employees - up to a point. Neff is the most interesting of the bunch, an All About Eve-esque newbie who seems so sunny and open-faced in her early scenes that you just know she's going to pull something dastardly later on.
In many ways, The Fundamentals is utterly predictable. You know from the start that the shiny, happy people of video Wellington employees are going to be exposed as fakes alongside the day-to-day slog of the actual Wellington employees. But despite its predictability, The Fundamentals lacks the all-important ring of truth. Millie and Lorenzo don't make a convincing center. Without them, nothing in the drama holds up. The early promise of Mazurek's projection design never checks in.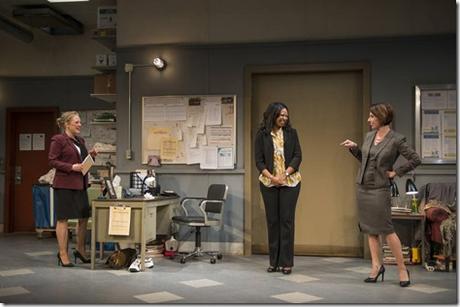 The Fundamentals continues through December 23rd at Steppenwolf Theatre, 1650 N. Halsted (map), with performances Tuesdays at 7:30pm, Wednesdays at 2pm & 7:30pm, Thursdays and Fridays 7:30pm, Saturdays and Sundays 3pm & 7:30pm. Tickets are $20-$89, and are available by phone (312-335-1650) or online through their website (check for half-price tickets at Goldstar.com ). More information at Steppenwolf.org. (Running time: 2 hours 15 minutes, includes an intermission)
Photos by Michael Brosilow
behind the scenes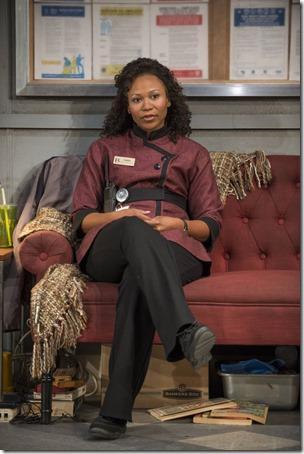 Yasen Peyankov (director), Collette Pollard (set design), Natasha Dukich (costume design), Lee Fiskness (lighting design), (sound design, original music), Stephen Mazurek (projection design), Laura T. Glenn (stage manager), Aaron Carter (artistic producer), Nora Mally (assistant stage manager), Tanera Marshall (dialects), Polly Hubbard (dramaturg), Tom Pearl (director of production), JC Clementz, Tam Dickson (casting), Benjamin Ponce (asst. director), Lindsey Lyddan (asst. lighting design), Joseph A. Burke (programmer), Colleen Schuldeis (stage management apprentice), Ravenswood Scenic (set construction), Vanessa Rundle (run crew), Sarah Diefenbach (wardrobe crew), Aaron Stephenson (sound board operator), Kathleen Barrett (script supervisor), Michael Dold , Bennett Seymour (additional properties), Ben Ramos, Mark Vinson (additional carpentry), Penny Lane Studios (hair and wig design), Lavina Jadhwani, Derek Matson, Leean Torske (artistic engagement associates), Anna D. Shapiro (artistic producter), David Schmitz (executive director), Michael Brosilow (photos)
Tags: 16-1149, Aaron Carter, Aaron Stephenson, Alan Wilder, Alana Arenas, Anna D. Shapiro, Armando Riesco, Audrey Francis, Ben Ramos, Benjamin Ponce, Bennett Seymour, Caroline Neff, Catey Sullivan, Chicago Theater, Christine Vrem-Ydstie, Colleen Schuldeis, Collette Pollard, David Schmitz, Derek Matson, Erika Sheffer, Ginneh Thomas, JC Clementz, Joseph A. Burke, Joseph Sultani, Kathleen Barrett, Laura T. Glenn, Lavina Jadhwani, Lee Fiskness, Leean Torske, Lindsey Lyddan, Mark Vinson, Michael Brosilow, Michael Dold, Natasha Dukich, Neal Grofman, Nora Mally, Penny Lane Studios, Polly Hubbard, post, Ravenswood Scenic, Rick Sims, Sarah Diefenbach, Stephen Mazurek, Steppenwolf Theatre, Tam Dickson, Tanera Marshall, Tom Pearl, Vanessa Rundle, Yasen Peyankov
Category: 2016 Reviews, Catey Sullivan, New Work, Steppenwolf, World Premier