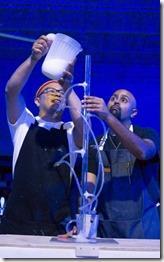 Even personable, funny performances can't salvage this production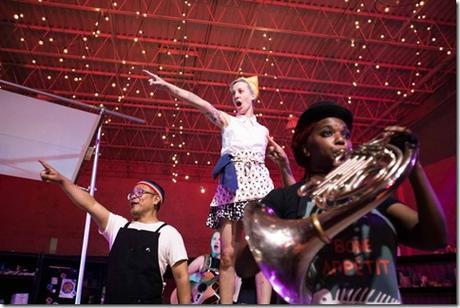 Review by Lauren Whalen
Watching The Food Show on the uncomfortable bleachers set up inside Metropolitan Brewing, I couldn't help but think of Albany Park Theater Project's . Both are original works centering on the culture of food: why we eat it, how we eat it, who we eat it with. Both include music and dance, and a hands-on, interactive aspect. However, Feast - last presented at the Goodman Theatre in 2015, and on Chicago public television in 2016 - was warm and fascinating, highlighting personal stories in a universal way, at once wildly original and deeply comforting. The Food Show , on the other hand, feels indulgent and trite, an excuse for five performers to largely gaze at their own navels while cooking.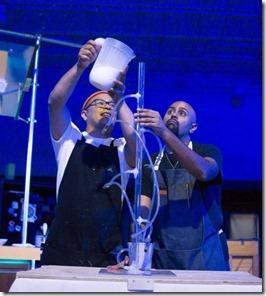 Neo-Futurists ensemble member
Dan Kerr-Hobert
created
The Food Show
alongside his cousin, Neo-Futurist alum
Caitlin Stainken
, inspired by his grandmother, her sisters and an argument over a family recipe. As is the case with most Neo-Futurist shows,
The Food Show
is live lit mixed with performance art. Here, four actors and one musician reminisce over their various encounters with food, from elementary school cafeteria politics to a roommate's lukewarm reaction to cheesecake homemade with love. The performers actually cook, and eat, as they tell personal stories, as well as a little history (I did appreciate learning how the FDA got started).
As a concept, The Food Show works well: there isn't one person who doesn't have a relationship with food, even if that relationship is negative or, in the case of cast member and picky eater Spencer Meeks, indifferent. Meeks' monologue about his picky eating habits, how they are rooted in privilege that have cost him opportunities to see the world, is one of the highlights of the show. In exploring his own choosy nature, Meeks reveals a lot to the audience about those who don't love food, as well as his own personality, which is at once risk-taker and risk-averse. Equally fascinating is Bilal Dardai's anecdotes about his childhood, growing up as the only Muslim in his class, who couldn't eat pork and fasted at Ramadan, as these experiences relate to watching his own young son, who has several severe food allergies.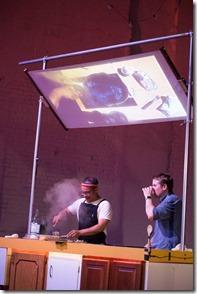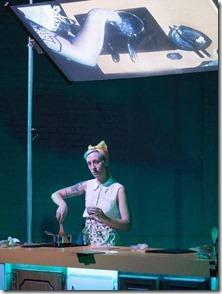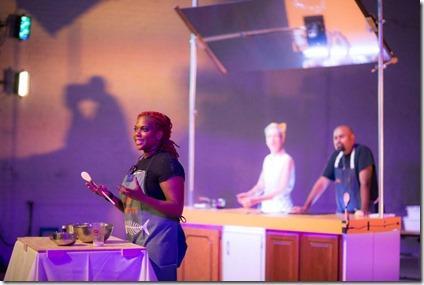 Dardai and Meeks provide a nice contrast to the rest of the show, which gets very dull, very fast. The performers expect me to care about their cutesy childhood stories, yet do nothing real to make them compelling. There isn't any real analysis of why and how, just a lot of true confessions that feel like an introductory therapy session. Even the interactive aspect of the show feels forced: audience members are brought on stage and asked questions about themselves and their relationships with food, only to be steamrolled by a performer who springboards into yet another personal sob story.
Other than their rather explosive leadership change, I'm not sure what's really going on with the Neo-Futurists. I haven't been impressed with their projects in a very long time, and I'm not sure if perhaps, as I'm aging, I'm just outgrowing their format, or if it's something deeper. At any rate, The Food Show is yet another disappointment. Though Dardai and Meeks are personable and funny, their strong performances can't salvage the production.
The Food Show continues through September 2nd at Metropolitan Brewing, 3031 N. Rockwell (map), with performances Thursdays-Saturdays at 7:30pm. Tickets are $10-$25, Thursdays pay-what-you-can, and are available by phone (773-878-4557) or online through their website (check for availability of ). More information at NeoFuturists.org. (Running time: 80 minutes, no intermission)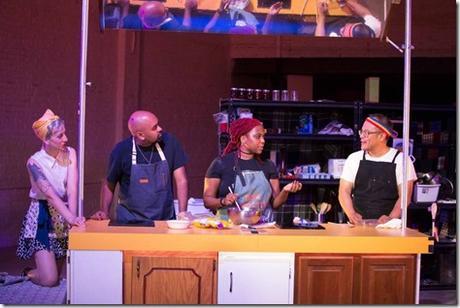 performers
behind the scenes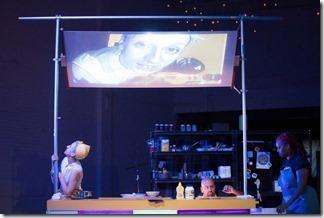 Tags: 17-0743, Bilal Dardai, Brave Lux, Caitlin Stainken, Chicago Theater, Dan Kerr-Hobert, Joe Mazza, Kyra Sims, Lauren Whalen, Metropolitan Brewing, Oliver Camacho, post, Ronnie Kuller, Spencer Meeks, The Neo Futurists, Tif Harrison