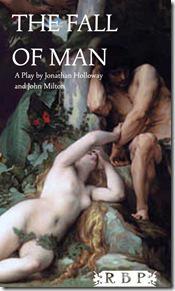 The Fall of Man 
Written by Jonathan Holloway and John Milton
Directed by Adam Webster 
RBP Rorschach, 4001 N. Ravenswood (map)
thru April 7  |  tickets: pay-what-u-can   |  more info
  
Check for half-price tickets 
  
  
   Read entire review
  
---
The sun will rise just after the fall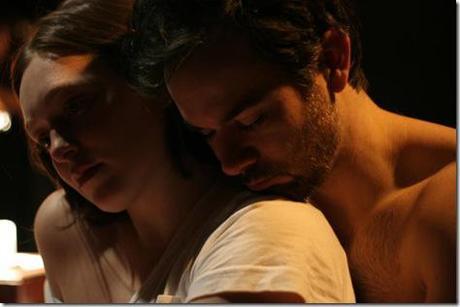 The Right Brain Project presents
The Fall of Man
Review by Clint May
No matter what one thinks of the veracity of Biblical tales, the story of Adam and Eve is a powerful allegory. John Milton's masterwork "Paradise Lost" was the first to delve into the human side of the tale of the those two avatars. It fleshed out the nuances of Adam and Eve as real people with real impulses faced with God's pantomime of temptation. For "The Fall of Man", Milton's beautiful seventeenth century blank-verse exploration of the rise and fall of man mingles with a look at unsophisticated contemporary adultery. Even with all the post-Freudian awareness permeating our cultural nomenclature, Milton's insight still proves relevant as it counterpoints a pedestrian affair between a man and his nanny. It's a mingling that could have been a trite conceit to elevate a retread tale of desire. Instead, the contrast and complement of the two tones adds an affecting and stylized depth to their mutual delight and despair.
As with any sin, the people committing it think that somehow their outcome could be different. It's a delusion necessary to maintain the scintillating illusion of free will rebelling against determinism. Stuck in a boring world of wealth he never really wanted, Peter (Corey Noble), falls in lust with his children's young Polish nanny, Veronica (Anna Robinson). They have a superficial love of art that serves as a flimsy pretense for a "deep' connection. Fast forward from a first stolen kiss to Veronica's studio in the slums. Lust has already given way to lethargy. The banality of reality is going to force them both to take a look at their romance and their conflicting desires as dawn approaches and the harsh light of day threatens to throw them from their garden.
Part of The Right Brain Project's season of Lust, Greed, and Wrath, The Fall of Man is a US premiere unafraid to make the audience uncomfortable by metaphorically and literally stripping this couple to expose their motivations. Couples in the audience may feel a bit squeamish at not only the physical mechanics on display, but the way in which Miltonian asides are able to elevate the affair from a distasteful sin to a sympathetic inevitability. While both Noble and Robinson imbue Peter and Veronica with an organic chemistry, Robinson has the far harder job. Advancing her character quickly from seemingly shy to unabashedly forthright with a guileless performance that has the added difficulty of requiring her to recite Milton in a Polish accent. Holloway has managed to find a wry sweet spot between pathetically predictable characters and a timeless masterpiece. He imbues their tawdry interactions with symbolism, including a vignette of kissing after fellatio that mimics Eve's offer to Adam. In RBP's intimate space—no bigger than the bedroom in which Fall is set—we get a visceral look at the couple's copulation and subsequent disintegration.
As a brief episode exploring lust's pleasures and pitfalls, Fall of Man brings an elegiac tone to the plaintive "everycouple." Mankind will continually attempt to fashion crude new Edens only to be expelled again and again. Not by an omniscient being, but by our own inability to reconcile the dream with the reality. It's a cycle of sin we're reluctant to leave for its comforting familiarity. And like Veronica and Peter, each of us takes a turn in many roles—at times the tempter, the tempted, the serpent and the forbidden.
Rating: ★★★★
The Fall of Man continues through April 7th at RBP Rorschach, 4001 N. Ravenswood(map), with performances Thursdays and Fridays 8pm, Saturdays 4:30pm and 8pm, Sundays 1pm and 5pm.  Tickets are pay-what-you-can. More information at therbp.com.  (Running time: 45 minutes with no intermission)
---