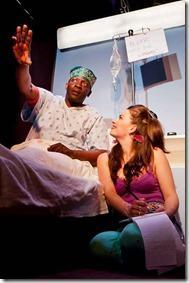 The Electric Baby 
Written by Stefanie Zadravec  
Directed by Tara Mallen
at Rivendell Theatre, 5779 N. Ridge (map)
thru June 22  |  tickets: $30   |  more info
  
Check for half-price tickets 
  
  
   Read entire review
  
---
Strangers' lives intersect in poignantly hopeful tapestry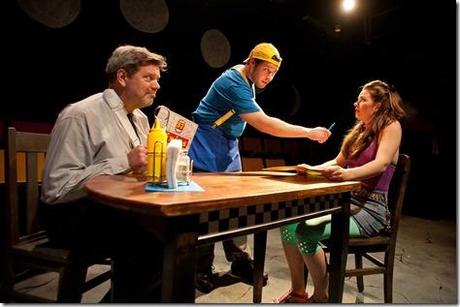 Rivendell Theatre presents
The Electric Baby
Review by Katy Walsh 
Potatoes under the arms absorb odor. Whiskey soaked socks cure a cough. A banana peel on the head makes a headache go away. Stefanie Zadravec's play immediately charms as Kathy Logelin (Natalia) shares homespun remedies for ailments. The no-nonsense, sage-like Logelin captivates with her old world knowledge. Perched on one side of the theatre, Logelin keeps watch over her baby throughout the show. Through the randomness of a car accident, her life intersects with an eclectic group of lost souls.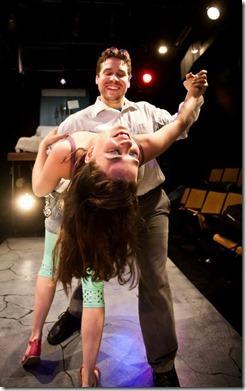 Zadravec pens a tale of hope in the aftermath of tragedies. Her characters are quirky. It's like the study group in the TV show "Community." No one seemingly goes together at first but then they collectively manifest into a natural group. Zadravec's dialog crackles with wit and normalcy. Initially,
Lionel Gentle
(Ambimbola) calls
Amanda Powell
(Rozie) 'crazy girl' out of frustration. Later, he uses the term with building affection with a hilarious 'let it go, crazy girl.' Their names say it all. A fantastic Powell is bat-shit crazy. And Gentle is this positive, gentle spirit. Gentle and Logelin share this powerful mystical bond that is poignantly beautiful.
These are just three of the seven characters that we meet and befriend in this electric story. Zadravec's plot effectively pulls strings from several different lives. She yanks hard and they unravel. And then, Zadravec spins them together for a unified, vibrant tapestry. There is drama. There is death. There is romance. There is love. Zadravec gives us the bigger picture about life's connectivity in the purpose of an accidental encounter.
Under the skillful direction of Tara Mallen, this talented ensemble is outstanding. Mallen tightly paces the action along a linear stage with Logelin on one end and a hospital room on the other side. In between those established rooms is a space that becomes a home, a restaurant, a cab. Mallen even overlaps scenes to keep the intrigue. An angry Meighan Gerachis (Helen) steps away from a resigned H.B. Ward (Reed) and into a pivotal set-up. The bitter marriage of Gerachis and Ward is a heart-breaker as we learn about its evolution. They anchor the show in relatable and regrettable relational angst. They, like the rest of the characters, are searching for someone to lead them out of the darkness. Especially noteworthy performance is Jeff Trainor (Dan/Dave), who impressively transforms from a stammering character into a confident new person in seconds.
The Electric Baby is illuminating. It made me care about these strangers' lives. It made me misty for their losses and their gains. It inspired me to believe in the magic of a moonbeam.
Rating: ★★★½
The Electric Baby continues through June 22nd at Rivendell Theatre, 5779 N. Ridge (map), with performances Thursdays and Fridays at 8pm, Saturdays 4pm and 8pm.  Tickets are $30, and are available by phone (773-334-7728) or online through their website (check for half-price tickets at Goldstar.com). More information at RivendellTheatre.org.  (Running time: 90 minutes without intermission)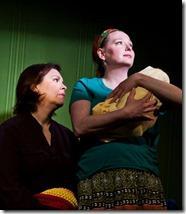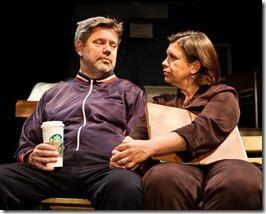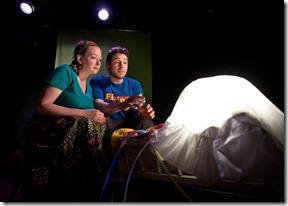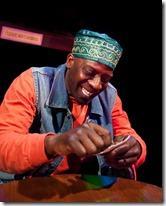 Photos by Joe Mazza
---
artists
cast
Meighan Gerachis, Kathy Logelin, Lionel Gentle, Amanda Powell, Jeff Trainor, H.B. Ward.
behind the scenes
Tara Mallen (director), Joanna Iwanicka (set and props design), Diana Fairchild (lighting design), Janice Pytel (costumes), Kate Hopgood (music design, original music), Amanda Williams (asst. set design), Wendye Clarendon (stage manager), Scott Verissimo (asst. director), Ann M. Shanahan (dramaturg), Joe Mazza, Brave Lux (photos)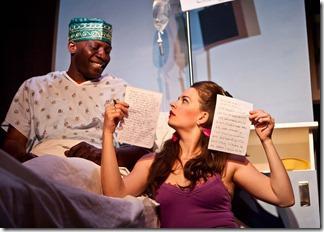 13-0537