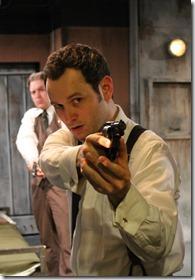 The Dumb Waiter 
Written by Harold Pinter 
Directed by Charlie Marie McGrath
The Alley Stage, 4147 N. Broadway (map)
thru Sept 1  |  tickets: $25   |  more info
  
Check for half-price tickets 
  
  
   Read entire review
  
---
Early Pinter one-act showcases the banality of evil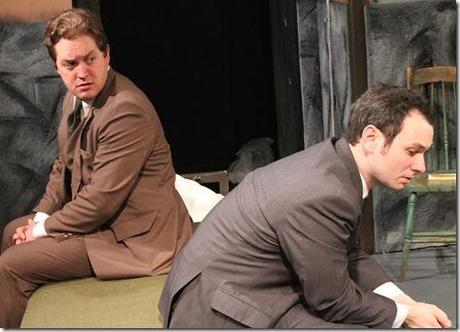 Proud Kate Theatre Project presents
The Dumb Waiter
Review by Lawrence Bommer
In under an hour Harold Pinter's early (1957) one-act The Dumb Waiter all but catalogues the playwright's defining traits—the suggestion of menace through pauses so that any danger seems greater through anticipation, the impact of unspoken threats, and the incongruities that expose vulnerabilities even among the violent.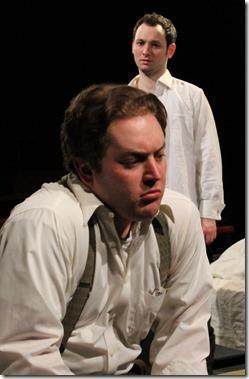 A theater company who usually depicts women's stories, here Proud Kate does a turnaround: They let
Charlie McGrath
's tensile 50-minute staging showcase two very ready male actors. Holed up in the basement of a former restaurant, hired killers Ben (
David Winkler
) and Gus (
Shane Michael Murphy
) wake up to pull off yet another hit. But this day nothing fits the routine (otherwise, of course, there'd be no play worth seeing).
Nervous, paranoid, and goofy, younger partner Gus is full of questions about the "job" and freaks out over strange sounds from a dumbwaiter that demands menu items sent above. The thugs deliver whatever they've got to this imaginary kitchen but none are good enough. A box of matches arrives in an envelope, sent for some purpose they fail to fathom. Instructions are issued from a speaking tube connected to—what?
Passing the time with small talk and gallows humor, the suspiciously calmer Ben shares horror stories from the tabloid he's reading, discusses favorite football teams and orders Gus to light the kettle (which prompts a hilarious semantic quibble between the oafs). But there's no gas to boil the water, which, along with the foreboding sounds coming from the dumbwaiter and the pauses in dialog that refuse to refresh, suggest somebody is playing a game or being played. All of which makes the exciting ending either predictable or the last shock in a sad series.
Winkler and Murphy work well at balancing the ordinary against the quirky to suggest just what's familiar and what's fearful. The Dumb Waiter is a short but effective exercise in atmosphere and more proof of the "banality of evil." Here's vintage Pinter, definitely fit for his fans.
Rating: ★★★
The Dumb Waiter continues through September 1st at The Alley Stage, 4147 N. Broadway (map), with performances Fridays and Saturdays at 8pm, Sundays 3pm.  Tickets are $25, and are available online through BrownPaperTickets.com (check for half-price tickets at Goldstar.com). More information at ProudKate.MoonFruit.com.  (Running time: 50 minutes, NO intermission)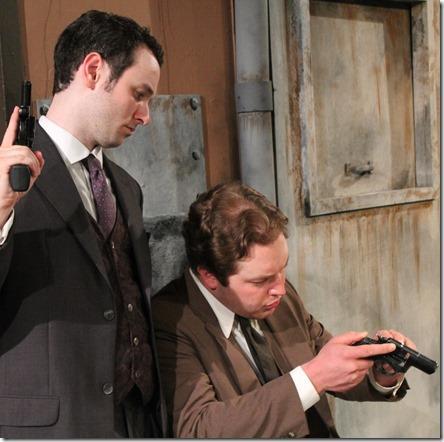 Photos courtesy of Proud Kate Theatre Project 
---
artists
cast
Shane Michael Murphy (Gus), David Winkler (Ben)
behind the scenes
Charlie Marie McGrath (director), Brittany Dee Bodley (costume design), Matthew Bonaccorso (stage manager), Thomas Dixon (sound design), Kroydell Galima (production manager), Josh Hurley (properties design), Josh Prisching (scenic design, lighting design), Samantha Thielman (asst. stage manager), Kat Barrett (marketing manager), Philip Campbell (graphic designer)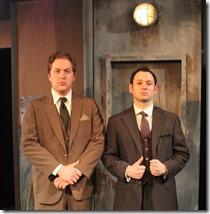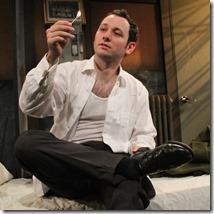 13-0819