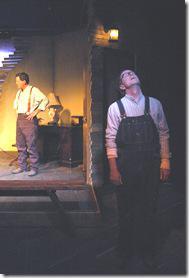 The Drawer Boy 
Written by Michael Healey
Directed by Julie Ritchey
at The Den Theatre, 1333 N. Milwaukee (map)
thru Feb 25  |  tickets: $17-$22   |  more info
  
Check for half-price tickets 
  
  
   Read entire review
  
---
That's drawer as in "one who draws," not a place for socks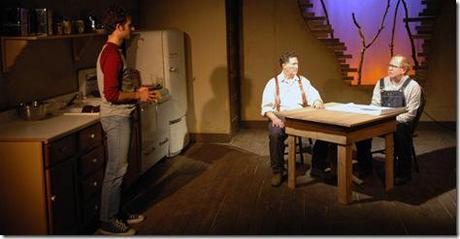 The Den Theatre and Filament Theatre Ensemble present
The Drawer Boy
Review by Clint May
In the study of memory, it's called "reconsolidation"—and in laymen's terms, it means the external alteration of supposedly permanent memories. It's a surprisingly common phenomenon, and one that is all the easier to exploit when the person you want to misremember has no short term memory. In the quiet lives of the two WWII vets at the heart of The Drawer Boy, we learn that sometimes, reconsolidation is very useful when it comes to reconciliation.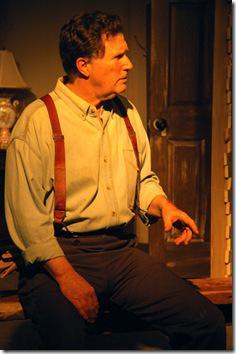 Angus and Morgan (
Will Kinnear
and
Nick Polus
) have lived for decades on their little farm somewhere outside Toronto following the end of the war. "Separate but bonded," they are brothers in all but blood. Like Leonard in "Memento" or Dory in "Finding Nemo", Angus is unable to form new memories following a blow to the head during a blitzkrieg on London. Morgan has cared for Angus ever since, long after others would have given up. Angus can still farm, and his disability has unlocked Rainman-like abilities with numbers useful for the delicate accounting a farm requires. And thus the two have persisted in their own world uninterrupted, until a fateful knock at the door threatens the carefully constructed lives Morgan has carved for himself and his ward. Whenever real life seems to intrude upon poor Angus' inability to reconcile with his condition, Morgan uses the magic words of "Make me a sandwich" to placate him back to relative normalcy. For better or worse, his magic is about to be undone.
In an attempt to recreate the spark of the milestone The Farm Show (which unleashed a new era in Canadian playwriting in the 70's), young actor Miles (Marco Minichiello) has come in search of fresh material for his acting troupe. Apparently a method actor, he throws himself into daily life on the farm even when it's clear he's a hopeless city slicker. Morgan initially delights in giving him a line of bull concerning cows, or thinking up new Sisyphean tasks to keep him out of their hair. Angus is the goldfish in the group, and Miles is a surprise every time he sees him. That is until Miles accidentally overhears Morgan telling Angus his usual "bedtime story"—a heart-wrenching tale from their shared lives that for Angus is new, but for Morgan is a painful tread down a memory lane laid deep with painful wounds. Each word in the tale has been repeated until the tract it has worn is so deep that the lane must seem impassable. For lonely Morgan, it is a simple harsh reality to constantly crawl out of the trenches dug by fate and help his banded brother. It's a fascinating study in the stories we tell not only to each other, but to ourselves.
Miles' discovery of the tale leads to conflict as he tries to co-op it for use with his troupe. Like the farmers he documents, he too must "produce or die" for his band of actors, and the story he's overheard is his scintillating ticket to survival. What's worse, it begins to trigger Angus' own memory as Miles becomes the first person he's recognized since the war. The veracity of Morgan's tale is called to question as Morgan vehemently tries to keep Angus 'making sandwiches' instead of trying to prove or disprove the memory. Miles becomes an unwitting but ardent proponent of truth. Unable to lay his burden down, Morgan's complex relationship to Angus and history threatens to reconsolidate into a memory lane strewn with guilt and shame he'd rather leave untraveled.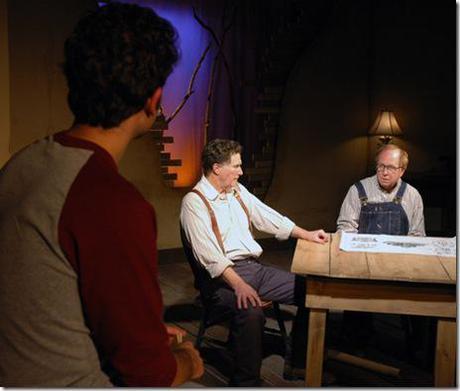 What the story is and what was ever real is not for any reviewer to reveal. The most engrossing part of the production is hearing it told and retold by each player. Each new telling adds another layer. Who was the one who drew (the "drawer boy")? More importantly, what did he draw?
As played with august sagacity and more than a hint of mischievousness by Polus, Morgan is a complex study in pragmatism, guilt and habit. Kinnear gives Angus a sometimes-comic (again, think Dory from "Finding Nemo") timing to a man who for all intents and purposes is still young as Miles in his mind but older in body. Only Minichiello's Miles threatens the production early on with a Jimmy Olson-esque eagerness that plays a little too brusquely off his compatriots. Thankfully for the whole, his chemistry coalesces with time. Miles is, however, merely a catalyst in the relationship of two men and their shared "truth."
A joint production of The Den Theatre and Filament Theatre Ensemble, the staging for The Drawer Boy recreates  a rustic Canadian cabin sheltered from the world. One particularly wonderful detail is a wall which seems to have been blown apart by the bombs of WWII and now gives a hauntingly destroyed window to the stars Angus counts nightly for reasons he cannot recall.
The stories of our life, whether they be disruptive truths or comforting lies, are ours and ours alone. The Drawer Boy poignantly makes a case for a revisionist history to a painful past. When it comes to the bonds of brotherhood and the inexorable flow of time, reality is inevitably distorted, and what is true in the mind is all we may need. The truth, as noble as it can seem, does not and cannot always set us free.
Rating: ★★★
The Drawer Boy continues through February 25th at The Den Theatre, 1333 N. Milwaukee (map), with performances Thursdays-Saturdays at 7:30pm, Sunday at 3pm.  Tickets are $17-$22, and are available online at eventbrite.com. More information at FilamentTheatre.org.  (Running time: 2 hours, which includes one 10-minute intermission)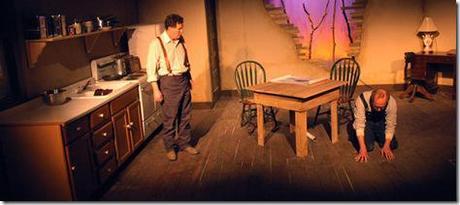 All photos by Peter Oyloe 
---
artists
cast
Will Kinnear (Angus); Nick Polus (Morgan); Marco Minichiello* (Miles)