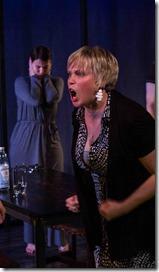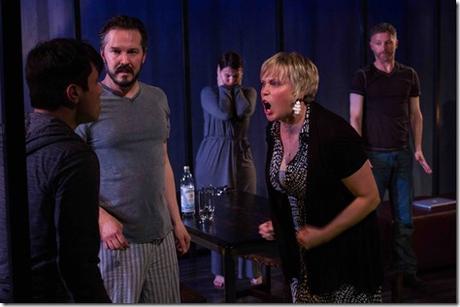 The Distance is a play that feels like a novel. Deborah Bruce's beautifully penned script about parenting, friendship and growing up feels like a British "Big Chill," nuanced with a sense of nostalgia, and chock full of painful realizations and funny moments. Each character is complex and treated with utmost respect, the dialogue is natural, the moments organic, as if the lives of the characters are playing out in real time and we as audience members are privileged to watch the action unfold. Complemented by Elly Green's smart direction and a terrific cast, The Distance is thought-provoking and lovely, domestic drama at its finest.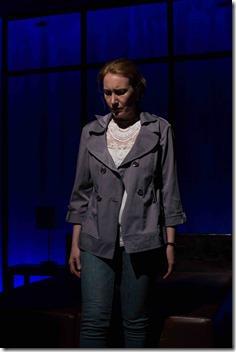 After five years away, Bea (
Abigail Boucher
) is back in England - an abrupt decision that's left her crashing on the couch of her friend Kate (
Megan Kohl
) and Kate's former musician husband Darragh (
Layne Manzer
). Bea is lost and out of sorts, having just made a life-changing decision that Kate and third musketeer Alex (
Allison Latta
) are struggling to understand. Meanwhile, Darragh's ne'er do well brother Vinnie (
Patrick Gannon
) is crashing in the guest cottage, much to Kate's chagrin; Alex's teenage son Liam (
Nik Kmiecik
) may be in trouble in London; and Kate and Darragh's petty squabbles are covering up a devastating family secret.
While Bea is the uncontested central character, those who orbit around her have challenges of their own. Bruce's writing has a quiet brilliance, allowing the audience to empathize with each individual while also clearly seeing his or her faults. Just as in life, nobody's perfect or without difficulties. However, The Distance never gets bogged down in its own melodrama. The characters' obstacles are both universal and deeply personal, relatable without cliché or predictability. Director Green keeps the pacing tight and the action constant without being frenetic - she is generous with characterization and emotional beats, as well as Bruce's sense of humor and knack for interjecting lighter moments just when the audience needs a laugh. Equally gorgeous are the transitions: carefully choreographed movements of set pieces and props (wonderfully designed by Joseph Schermoly and Archer Curry, respectively) that are just as enjoyable as the dialogue.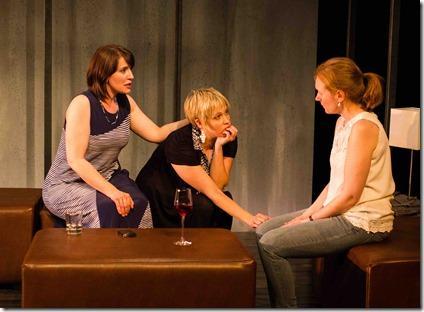 The Distance 's incredible cast bring Bruce's words to life with intelligent grace. As single mom Alex, Latta is responsible for many of the aforementioned lighthearted moments, possessing remarkable comic timing and an equally compelling darker side. Kohl's Kate, initially the least likable character, undergoes a stunning arc that the actress navigates with aplomb. The always-solid Manzer doesn't disappoint as henpecked husband Darragh, and Gannon has some stirring moments as Vinnie, who has a lot going on underneath his slacker surface. Josh Odor opens and closes the show with a subtle but memorable performance, and recent college graduate Kmiecik is an utterly convincing awkward but thoughtful teen. At its heart, however, The Distance belongs to Bea, and Boucher delivers an outstanding, award-worthy interpretation of a very complicated woman whose feelings and desires change by the minute.
The Distance is a potential sleeper hit, a dramedy about ordinary people, the decisions they make and the lives they affect. Bruce's characters are the most human I've seen in a long while, and combined with excellent direction and a strong cast, this U.S. premiere is one for the record books. See The Distance , find yourself in the characters, and support the underdog plays that rely on skill instead of spectacle to convey the good, the bad and the ugly of adulthood.
The Distance continues through June 26th at Raven Theatre West Stage, 6157 N. Clark (map), with performances Thursdays-Saturdays at 8pm, Sundays 3:30pm. Tickets are $28 (students, seniors, industry: $14), and are available by phone (800-838-3006) or at BrownPaperTickets.com (check for half-price tickets at Goldstar.com ). More information at HavenTheatreChicago.com. (Running time: 2 hours, includes an intermission)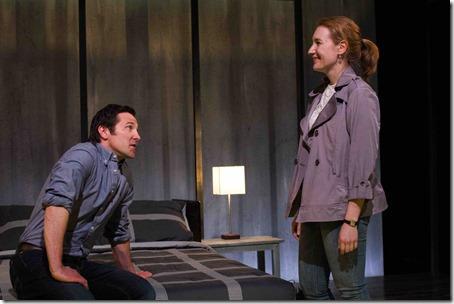 Abigail Boucher (Bea), Allison Latta (Alex), (Kate), Layne Manzer (Darragh), Patrick Gannon (Vinnie), (Man, Dewy understudy), Nik Kmiecik (Liam), Jon Beal (Vinnie, Man understudy), Julie Dahlinger (Kate understudy), Adithi Chadrashekar (Alex understudy), Erin Rein (Bea understudy), James C. Romney (Liam understudy)
behind the scenes
(director), Emily Dillard (stage manager), Krista Mickelson (production manager), Anna Trachtman (asst. production manager), Alyssa White (asst. director), Joe Schermoly (set design), Rachel Sypniewski (costume design), Claire Chrzan (lighting design), Joe Court (sound design), Stephen O'Connell (music composition), Archer Curry (props design), Adam Goldstein (dialect coach), (master electrician, ALD), Alan Weusthoff (technical director), Justin Lance (digital marketer), (artistic director), Carol Cohen (executive director), Austin D. Oie (photos)
Tags: 15-0539, Abigail Boucher, Adam Goldstein, Adithi Chadrashekar, Alan Weusthoff, Allison Latta, Alyssa White, Anna Trachtman, Archer Curry, Austin D Oie, Carol Cohen, Chicago Theater, Claire Chrzan, Cody Ryan, Deborah Bruce, Elly Green, Emily Dillard, Erin Rein, Haven Theatre, James C. Romney, Joe Court, Joe Schermoly, Jon Beal, Josh Odor, Josh Sobel, Julie Dahlinger, Justin Lance, Krista Mickelson, Lauren Whalen, Layne Manzer, Megan Kohl, Nik Kmiecik, Patrick Gannon, post, Rachel Sypniewski, Raven Theatre West Stage, Stephen O'Connell
Category: 2016 Reviews, Haven Theatre, Lauren Whalen, Raven Theatre West Stage