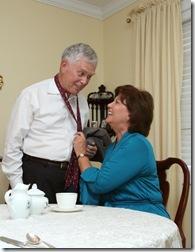 The Dining Room 
Written by A.R. Gurney
Directed by Jim Masini
St. Bonaventure, 1625 W. Diversey (map)
thru Nov 11  |  tickets: $7-$15   |  more info  
  
  
       
  
---
57 characters intertwine in comedic satire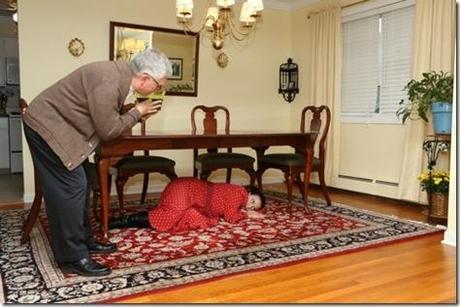 Saint Sebastian Players presents
The Dining Room
Review by Keith Glab
There aren't too many plays produced in which a set of furniture serves as the main character, but The Dining Room realizes such a scenario. Published in 1972, A.R. Gurney's script calls upon six actors to portray a total of 57 characters across 18 scenes from different upper middle-class households, linked only by a single dining room set. Director Jim Masini further diffuses the non-dining room set elements of the play by spreading the characters amongst a dozen actors and incorporating minimal lighting changes and music.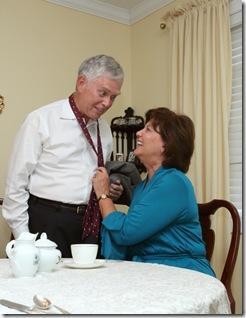 Given this simple staging, the acting becomes paramount. The 12-person cast universally excels at nuanced facial expressions and vocal intonations that heighten the humor already present in Gurney's script. They are a little more uneven when it comes to portraying multiple characters and having them read differently. It's difficult to play age, but
John Ham
,
Rita Crowley
and
Julia Rigby
transform themselves into adolescents quite well when asked to do so. (Given Masini's decision to double the play's cast size, however, it's hard to understand why he did not bring in younger actors for those roles.)
The scenes range in topic: a father/son discussion about politics, teenage girls sneaking liquor from their parents' stock, shock surrounding a possibly gay uncle, a father dictating his final affairs to his son, a woman stricken with Alzheimer's struggling to recognize her sons and her home. The one recurring topic is that of the affair. Gurney undercuts the supposed idyllic WASP society by presenting numerous characters that are disenchanted with their marriages and look elsewhere for excitement.
Thematically, several of the vignettes mention how the dining room is rarely used. As part of the generation that grew up eating most meals in front of the TV, I find this easily relatable. The disuse of the dining room serves as a metaphor for the dissipation of WASP culture, and this is hammered home in a scene in which a student (Aaron Wertheim) photographs the dining room and dishware of an older relative (Nancy Pollock) as part of an anthropological project.
The scenes often overlap, with two different households in two separate times sharing the space. "This room has such resonance," states Ed McGuire at one point, summoning the echoes of past and future lives intertwined with the present. The play works best when the overlapping takes place. Instances of definitive breaks between scenes allows for too much dead air in the absence of music, fadeouts, or set changes, and curtails the momentum that the cast has built to that point.
Due to the structure of the play, there is no real narrative arc.  Intermission comes only because the play is halfway over, not due to a revelation or twist. The ending is artificially created by Kate O'Connor suddenly breaking the fourth wall for a soliloquy that isn't particularly poignant or memorable. This is followed by a Benny Hill style fast-forward dumbshow that works markedly better than expected, tying the strands of narrative together in a two-minute recap of the many decades' worth of events just witnessed.
Overall, the Saint Sebastian Players execute this challenging and unusual play remarkably well. The Dining Room depicts relationships that are both honest enough and comedic enough to supersede the need for a traditional overarching plot or theme.
Rating: ★★★
The Dining Room continues through November 11th at St. Bonaventure Church, 1625 W. Diversey (map), with performances Fridays and Saturdays at 8pm, Sundays at 2pm.  Tickets are $7-$15, and are available by phone (773-404-7922) or online through their website. More information at SaintSebastianPlayers.org.  (Running time: 2 hours, includes an intermission)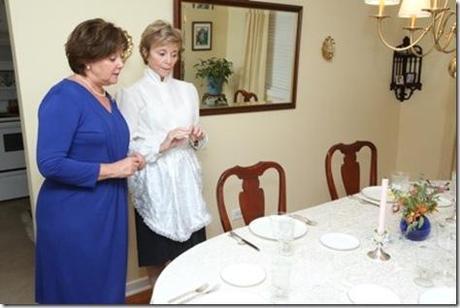 Photos by John Oster
---
artists
cast
Ben Campana, Ed McGuire, Victoria Montalbano, Kate O'Connor, Todd Parkhurst, Nancy Pollock, Ned Ricks, Rita Crowley, John Ham, Christine Jacobs, Julia Rigby, Aaron Wertheim
behind the scenes
Jim Masini (director); Emil Zbella (set design); Carrie Campana (costumes); Ben Campana (set construction manager); Barbara Murphy-Sanders (sound design); Nancy Pollock (producer); Jill Chukerman Test (producer); Megan Turnquist (lighting); Mary Whalen (props) Callie Edwards (asst. director); Kaitlin Taylor (asst. director); Martha Reddick (stage manager); Amanda Cox (asst. stage manager); Jonathan Rooney (dialect coach); John Oster (photos)