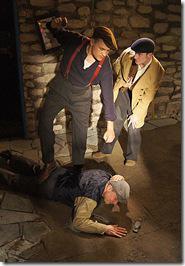 The Cripple of Inishmaan 
Written by Martin McDonagh  
Directed by Kimberly Senior 
at Redtwist Theatre, 1044 W. Bryn Mawr (map)
thru June 24   |  tickets: $25-$30   |  more info
  
Check for half-price tickets 
  
  
   Read entire review
  
---
Redtwist shocks and charms with equal ferocity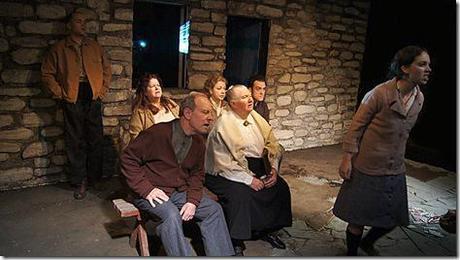 Redtwist Theatre presents
The Cripple of Inishmaan
Review by Katy Walsh 
The thing about the Irish is we enjoy a good story.  The bigger the yarn, the bigger the appeal.  We amuse ourselves and each other with vivid tales of things that actually happened, could have happened or we wanted to happen. And we find stories are best told with a pint of humor and a shot of mischief.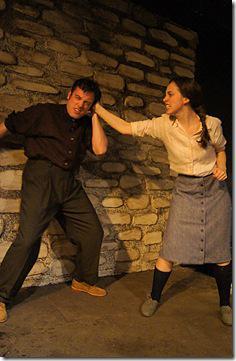 Redtwist Theatre presents
The Cripple of Inishmaan
.  Billy has a deformed hand and foot.  In his small Irish hometown, he is called 'Crippled Billy.'  It seems cruel but it's not suppose to be.  The village embraces a blunt sensibility.  They call it like it is.  Billy's aunts discuss his romantic quandary.  They know he has no prospects because he's crippled, ugly and stares at cows.  And it's not just his aunts describing his bleak future.  Everyone talks about it… behind his back and to his face.  They tell stories about Billy's questionable health and dead parents.  When an American filmmaker arrives at a neighboring island, Billy decides to change his story completely. 
The Cripple of Inishmaan
shocks and charms with equal ferocity. 
Playwright Martin McDonagh imagines a day-in-the-life for the inhabitants of an Irish island in 1934.  McDonagh creates a whole village of quirky characters drawn together in isolation and solidarity.  Everyone knows everyone's business.  They gossip.  They mock.  They ridicule. They are family by geographical constraints.  They aren't ever 'on their best behavior for company' because there are never any visitors.  McDonagh lets his town be completely itself.  The dialog is sharp in wit and insults.  Under the expert direction of Kimberly Senior, the talented cast become the eccentric villagers.  There is no formality or speech laced in political correctness.  The conversation is just the natural, unguarded routine of the town inhabitants.  It's their cruel and usual standard that makes the dark comedy hilarious.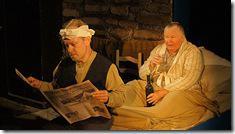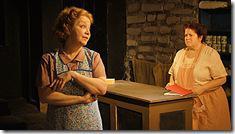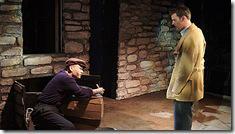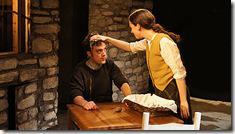 Aided by dialect coach Eva Breneman, the ensemble speaks fluent blarney.  In the lead, Josh Salt (Billy) captivates trying to change convention.  A deformed Salt transfixes with a poignant transformation from persecuted to oppressor to survivor to victim.  Even throughout his moments of vulnerable despair, Salt endears with a beautiful underlying hopefulness.  Another standout is the vicious performance of Baize Buzan (Helen).  A bright-smiling Buzan goes from cheeky to bitchy with disconcerting ease.  The rebel-rousing Buzan continues to heighten the comedic absurdity.  In a supporting role, Kathleen Ruhl (Mammy) hysterically defies her son's plans.  Ruhl is one tough, drinking matriarch that won't go down without a fight.  And that's the crux of all the characters.   They may be a bunch of eejits, but they are all resilient.  
Last year, I saw The Cripple of Inishmaan at Chicago Shakespeare Theater. I thoroughly enjoyed McDonagh's play performed by Ireland's Druid Theatre Company. But I have to say, I loved this Redtwist version more!  I couldn't always understand the Druid cast's native tongue.  So, I lost some of the plot points.  McDonagh has multiple twists in this play.  Through Redtwist's masterful storytelling, I heard, understood and loved every word.  For me, The Cripple of Inishmaan is best told by locals pretending to be other locals.  
Rating: ★★★★
The Cripple of Inishmaan continues through June 24th at 1044 W. Bryn Mawr (map), with performances Thursdays-Saturdays at 7:30pm, Sundays at 3pm.  Tickets are $25-$30, and are available by phone (773-728-7529) or online here (check for half-price tickets at Goldstar.com). More information at Redtwist.org.  (Running time: 2 hours 15 minutes, which includes an intermission)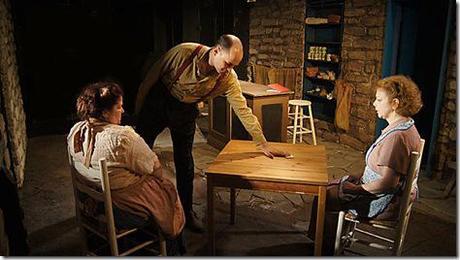 All photos by Kimberly Loughlin
---