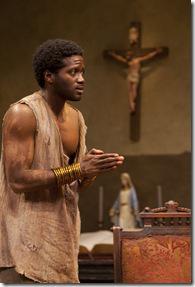 The Convert 
Written by Danai Gurira 
Directed by Emily Mann
Goodman Theatre, 170 N. Dearborn (map)
thru Date  |  tickets: $   |  more info
  
Check for half-price tickets 
  
  
   Read entire review 
  
---
Too long for some, a powerful night of theater for most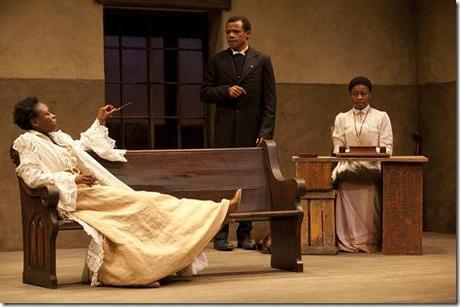 Goodman Theatre i/a/w McCarter Theatre Center, Center Theatre Group presents
The Convert
Review by Katy Walsh 
I recently read "The Known World" by Edward P. Jones. It's an epic American tale of slavery in the 1800's. It's a great read that has lingered with me. I was completely bewildered to read about freed slaves owning slaves. That anyone thought slavery was okay is disconcerting. That the oppressed would become the oppressors to their own people is unthinkable.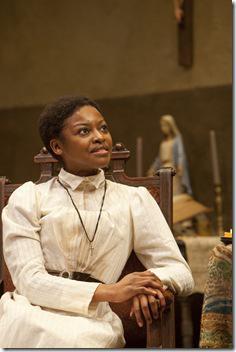 Goodman Theatre, in conjunction with McCarter Theatre Center and
Center Theatre Group
, presents a world premiere production of
The Convert
. In 1895 South Africa, Jekesai's uncle is planning her arranged marriage…to him. Instead of being forced to become one of his wives, Jekesai seeks shelter in the home of a missionary. Chilford Chiredzi is a recovering *savage.* At nine, he left home to study to become a priest. Now, he no longer speaks his tribal language. He speaks perfect British English. And he is on a mission from God to convert all the native pagans to English-speaking Catholics. Jekesai agrees to sell her soul to Jesus to escape her uncle. Chilford renames her Ester and she is *born again.*
Ester drinks the kool-aid and becomes a religious zealot. Now, she wants to save souls too. But there is a problem: she can't change that she is still a woman, a black and a native. Outside, the country is revolting. Inside, Ester is also revolting. Who is she? The Convert is a powerful identity crisis on multiple levels.
Playwright Danai Gurira has penned a Bible burner! Into a tumultuous moment in history, Gurira drops seven extremists. All of Gurira's characters are fanatics coming at the issues from a different perspective. Despite their strong devotion to their beliefs, they ALL have a surprising shift. Gurira's story captivated me. The multi-layers of conflict; black-white, men-women, Catholic-pagan, family-individual, black educated-black native, was mind-blowing. Under the expert direction of Emily Mann, this cast has been baptized in fire. The entire ensemble makes me a believer. But Pascale Armand (Jekesai/Ester) is exceptional! She starts out innocent and earnest with facial expressions that elicit chuckles. And then, Armand's transformation from follower to leader is profound. In response to one of her most poignant scenes, tears are rolling down my cheeks and the gentleman behind me spontaneously utters *NO!* It's one of those unforgettable defining moments on stage. Leroy McClain (Chilford) supports the phenomenal moment and I still get goose pimples remembering it. WOW!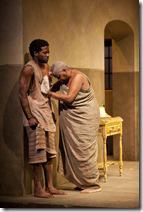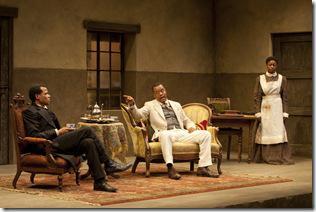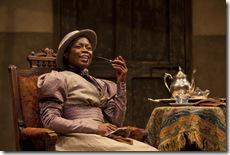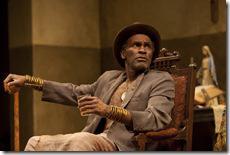 The show is three hours with two intermissions. For the five people whose cell phones went off during the show or the people in front of me who left at the first intermission or the people to the side of me who left at the second intermission, three hours might seem like an overwhelming commitment. But to those open to this type of religious experience, The Convert is life-altering.
Rating: ★★★
The Convert continues through March 25th at Goodman's Owen Theatre, 170 N. Dearborn (map), with performances Tuesdays-Thursdays at 7:30pm, Fridays at 8pm, Saturdays at 2pm and 8pm, and Sundays at 2pm and 7:30pm.  Tickets are $18-$32, and are available by phone (312-443-3800) or online here (check for half-price tickets at Goldstar.com). More information at GoodmanTheatre.org.  (Running time: 3 hours, which includes two intermissions)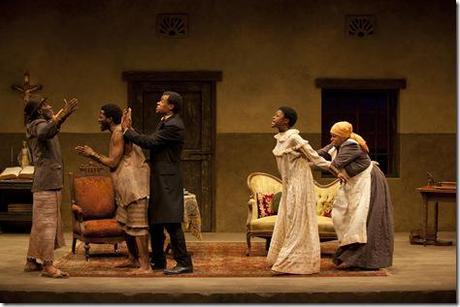 All photos by T Charles Erickson 
---