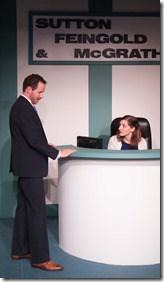 The Consultant
Written by Heidi Schreck
Signal Ensemble Theatre, 1802 W. Berenice (map)
thru Feb 20  |  tix: $23   |  more info
  
Check for half-price tickets  
  
---
Going out with a whimper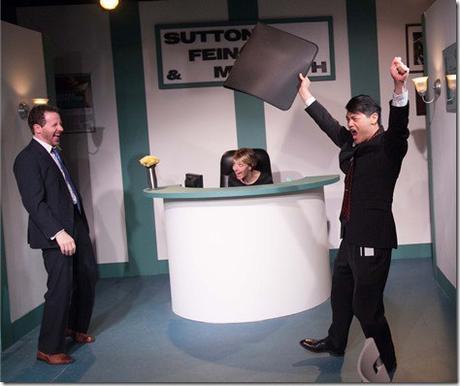 Signal Ensemble Theatre presents
The Consultant
Review by Lauren Whalen 
After thirteen years of innovative theater in an intimate setting, Signal Ensemble Theatre will close for good in February, and thus The Consultant is their final production. It's a shame that Signal Ensemble, who've won various awards and presented intriguing original work such as the 2012 musical Hostage Song, has to go out with a whimper rather than the bang it deserves. Heidi Schreck's play doesn't seem to have much of a point, and is so weak that even a willing director and capable cast can't do much to salvage it.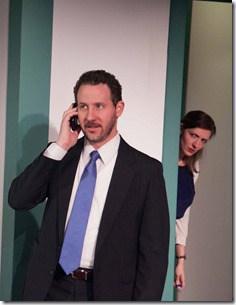 The economy's in the toilet, and the employees of Sutton, Feingold and McGrath are feeling the burn. Following a series of layoffs and the resignation of a respected employee, talented designer Jun Suk (
Ben Chang
) has a very public breakdown that could spell disaster for the company. Enter Amelia (
Ariel Begley
), a cheerful and openhearted NYU student who just happens to have "corporate consultant" on her resume. Her mission: to prepare Jun Suk for a major presentation. Only Jun Suk doesn't want any help. Meanwhile, manager Mark (
Joe McCauley
) and secretary Tania (
Courtney Jones
) form a tentative romantic liaison that could lead to serious complications for both.
With stronger writing, The Consultant could have gone many entertaining ways: a dark comedy about workplace politics, a commentary on the recession and its many casualties nationwide; even a live theater version of "The Office". Instead, attempts at jokes fall flat, characters are so vague they can't even be considered caricatures, and the predictable plot drags. Also, many important plot points are implausible – namely, that someone as ditsy and seemingly incapable as Amelia (at one point, it's debatable whether the young woman knows how to work a computer) would pass an admissions interview at NYU, let alone find herself retained by a corporate firm. Schreck has written (and acted) for stage and television, and her oeuvre includes one of last year's top productions, Steppenwolf's layered Grand Concourse, so she certainly has the chops to do better than this heartless 80-minute attempt at something real.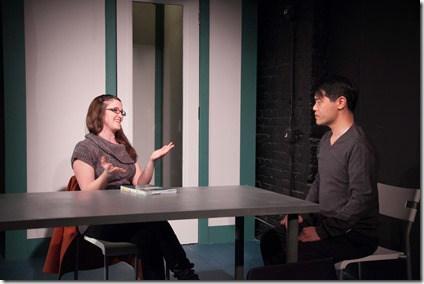 Director Ronan Marra does his best, but with such a lukewarm script, not much can be done. He made the smart move to cast several excellent actors, some who are mainstays of Chicago theater. Playing the polar opposite of the spurned lover in last year's The Lisbon Traviata, McCauley perfectly embodies the corporate drone who relies on office flirtation to pass the time, and Jones (last seen in The Revel at the House Theatre) is a welcome addition as the jaded, dry-witted secretary who really did not expect her life to pass by behind a desk. Even Begley, though her character is truly insufferable at times, makes a valiant effort to infuse Amelia with as much charm as humanly possible. Also, scenic designer Ian Zywica creates an office lobby and conference room that's absolutely believable in its careful neutrality.
No one really learns or grows in The Consultant, and the audience is left unchanged, not damaged or disturbed, but not enlightened either. Signal Ensemble Theater boasts a talented roster of actors, designers and directors, and an impressive tenure in the competitive Chicago theater scene. Hopefully, audiences will remember the company's many successes, and not their fizzled final attempt.
Rating: ★★
The Consultant continues through February 20th at Signal Ensemble Theatre, 1802 W. Berenice (map), with performances Thursdays-Saturdays 8pm, Sundays 3pm.  Tickets are $23 (students, seniors, industry, groups: $15), and are available by phone (773-698-7389) or at Vendini.com (check for half-price tickets at Goldstar.com). More information at SignalEnsemble.com.  (Running time: 80 minutes, includes an intermission)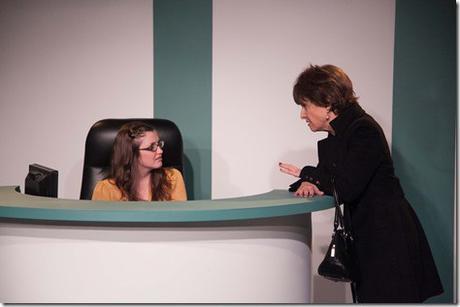 Photos by Johnny Knight 
---
artists
cast
Ariel Begley (Amelia), Maggie Cain (Barbara), Ben Chang (Jun Suk), Courtney Jones (Tania), Joe McCauley (Mark)
behind the scenes
Ronan Marra (director), Julie Ballard (lighting design), Elsa Hiltner (costume design), Anthony Ingram (sound design), Christopher Neville (props design), Michelle Sellers (stage manager), Ian Zywica (set design), Buck Blue (technical director), Brontë DeShong (assistant props design), Johnny Knight (photos)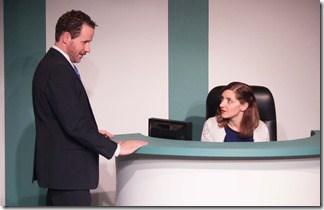 16-0140