The Clean House 
Written by Sarah Ruhl  
Directed by Emmi Hilger 
Athenaeum Theatre, 2936 N. Southport (map)
thru Sept 1  |  tickets: $27   |  more info
  
Check for half-price tickets 
  
  
   Read entire review
  
---
Showing fine lines at the edges but still a delight to behold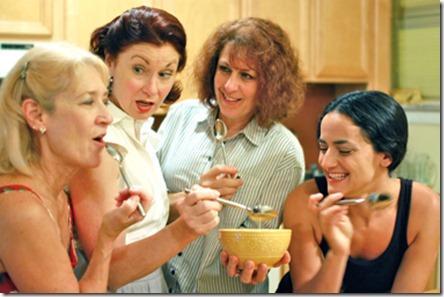 Crabapple Productions presents
The Clean House
Review by Clint May 
A while back I read an article about home cleanliness, or rather the lack of it. Regrettably I couldn't find it in time for this review, but the gist was that this person was defending their lack of cleanliness as a way to preserve memories and spend more time living life. Those glasses over there not in the dishwasher? What fond memories of that dinner party we had last week those bring to mind. The floor could be a hamper as long as it wasn't a safety hazard, and why not? Better things to do. As a registered clean freak myself, I read the article with a little more incredulity than usual. If you want to remember a dinner party, I thought, you don't leave the dishes, you take a picture. Such excuses to leave a mess seemed woefully self-serving. Heck, I watch A&E's "Hoarders" as a form of motivational therapy when I just don't feel the cleaning bug. It's not just about a clean house, it's a philosophical rejoinder to that implacable force of nature known as entropy. "The rest of the world can be messy," I'll say triumphantly, 'but I can make this small part of it clean!" (in what is most likely my most Buddhist of statements). Also, there are just the normal hygienic concerns that no amount of excuses will brush away.
Your own relationship to dust will determine to whom you most empathize in Sarah Ruhl's The Clean House. Us clean freaks are cast in a rather unflattering light—chronically stressed busybodys searching for a purpose in life and battling what Ruhl says we should embrace—the potentials of messiness. Blending some Kushner-esque magical realism with some Beckettian style absurdism, its result takes a few heartbeats to become accustomed to and a result that is already showing some age at only nine years old. Thankfully, it has a couple of great performances under assured direction at its core to bolster what is already feeling a tad familiar and/or derivative.
Three women frame the core story, and we are introduced to each in turn by a short soliloquy at the opening. Matilde (Cruz Gonzalez-Cadel) is the sole surviving daughter of the two funniest people in Brazil and an aspiring comedian herself. Lane (Susan Fay) is an uptight but brilliant doctor. Her sister, Virginia (Caron Buinis), lives in her shadow in a life that has been only a series of compromises. Not that any of them is happy as we meet them. Matilde is still grieving her parents after her father told her mother a joke so funny she laughed to death and then shot himself out of guilt. The good doctor's marriage to husband Charles (James Munson) is running on autopilot. Poor Virginia is unhappy with the chances she never took and overcompensates with a freakish desire to clean and organize the world around her.
Forlorn, Matilde takes up a job as Lane's first live-in maid, despite being depressed at even the thought of cleaning. Quickly bombing, she eagerly accepts a bit of deception when Virginia offers to surreptitiously clean the house in her stead while Matilde is free to try and imagine the perfect joke. Like Virginia, she fears success in her endeavor. What if the perfect joke kills her like it did her mother, she frets. Meanwhile, Virginia pontificates on the necessity of cleaning one's own home as a way to understand yourself as well as the things happening around you ("If you do not clean, how do you know if you've made any progress in life?") They bond under Lane's nose, but – quicker than one would normally expect – more than one deception is revealed. Not only does Lane discover that she's paying someone to let her sister clean the house, but her surgeon husband has absconded with one of his patients. Ana (Julie Mitre) is dying of breast cancer, but that doesn't stop Charles from giving up everything for his bashert. This first act piece-arranging sets up a second act where things can be messily (though also quite narratively neatly) knocked down with a little bit of reality bending and the magic of an outsider's search for joy. 
Admittedly, I found the results a little cloying at times, though not without several humorous moments. Much is saved by director Emmi Hilger's confident, brisk direction. She coaxes most of the necessary humanism from the central sisterly duo. Buinis finds nuanced notes in an overblown (but underwritten) character, crafting a believably distraught woman filled with envy and regret. However, it's Fay who is one of the real reasons to see House. She chews scenery with every flip of her hair, wag of her hand or tremulous quiver in her voice, and it's nothing short of amazing to behold (she also has the funniest lines delivered with expert timing). Buinis and Fay even manage to look a little alike. Their dissonant approaches to character steal the show with every interaction as their tartness provides a welcome respite from the treacly. Unfortunately, this means their fellow castmates can never quite reach the same level of engagement. They simply are too blandly conceived as people just too sure of themselves to be interesting next to two people whose inner conflicts and journeys are naturally more arousing.
It's been seven years since Goodman's well-received production of The Clean House. Crabapple Production's version is part of their Something Incredibly Marvelous Happens festival of works that are linked by elements of magical realism. In fact, the company was founded in April to bring the festival about. Though House may not have the same sublime sense of newness, it has its moments of gentle humor and an eclectic voice I for one would like to see as the company continues to mature.
Rating: ★★★
The Clean House continues through September 1st at the Athenaeum Theatre, 2936 N. Southport (map), with performances Thursdays-Saturdays at 7:30pm, Sundays 2pm.  Tickets are $27, and are available by phone (773-985-6875) or online through OvationTix.com (check for half-price tickets at Goldstar.com). More information at SomethingMarvelous.org.  (Running time: 2 hours, includes an intermission)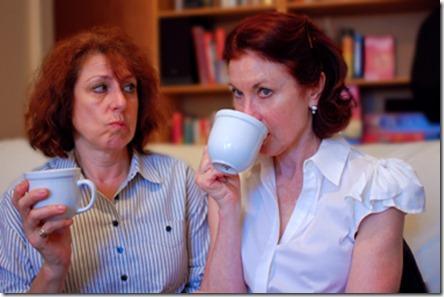 ---
artists
cast
Cruz Gonzalez-Cadel (Matilde), James Munson (Charles), Julie Mitre (Ana), Caron Buinis (Virginia), Susan Fay (Lane)
behind the scenes
Emmi Hilger (director), Danielle Whaley (production manager), Garth Moritz (stage manager), Tianyu Qiu (scenic design), Andrew Lehmkuhl (lighting design), Sarah Jo White (costume design), Thomas Jasek (sound design), Brian Rohde (technical director), Kristi Szczepanek (dramaturg), Austin Kopsa, Laura Nash (prop designers)
13-0825