The world's first 'gay play' is back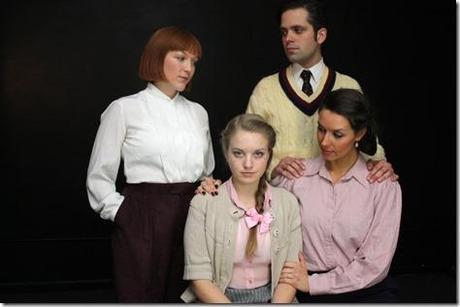 Pride Films and Plays presents
The Children's Hour
Review by Patrick Dyer
A couple of weeks ago, I saw a news headline about India criminalizing homosexual behavior. At first, it shocked me. But then I realized that homophobia like this is still rampant in other parts of the world like Uganda, where they're still debating over their infamous anti-gay bill and even Russia with Vladimir Putin banning LGBT "propaganda". A few days later, I was assigned to review Pride Films and Plays' production of Lillian Hellman's debut play The Children's Hour. Admittedly, I didn't know much about it as I'm not very familiar with Hellman's work. But after seeing Pride Films and Plays' rendition of it, I'm more than glad I did because not only is this a passionate production but the play itself is just as powerful as when it premiered nearly eight decades ago.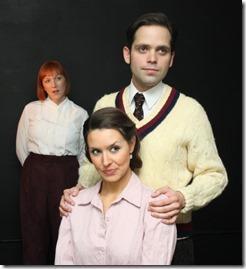 Based on the real-life case 
Miss Pirie and Miss Woods V. Dame Cumming Gordon
, the play takes place in 1930s New England, where two friends and teachers – Karen Wright (
Britni Tozzi
) and Martha Dobie (
Whitney Morse
) – have their own boarding school for girls out in the countryside called the Wright-Dobie School. Though they are helped by Martha's aunt Lily Mortar (
Michelle McKenzie-Voigt
), they have trouble with one of their pupils, the mischievous Mary Tilford (
Nora Lise Ulrey
), who likes to lead the other girls into trouble. One day, Mary fakes being sick to avoid class, but Karen and Martha aren't convinced. Upset, Mary runs away to the house of her grandmother, Mrs. Amelia Tilford (
Joan McGrath
), and lies about Karen and Martha secretly being lovers. This is only half-true because Karen is both heterosexual and engaged to Mrs. Tilford's nephew Dr. Joseph Cardin (
Nelson Rodriguez
), but Martha actually 
is
 a lesbian who secretly loves Karen. Horrified, Amelia calls the other parents of the pupils to have them withdrawn from the school and bring this matter to the court, ruining the careers and lives of Karen and Martha. What results is tragedy for the two women as their worlds around them crumble thanks to Mary's deception and the town's misunderstanding.
The stroke of genius on Hellman's part is how complex she makes this scenario. One of the accused women isn't a lesbian, their tragedy is a result of misunderstanding and not just blind prejudice, and those like Joseph, who defend Karen and Martha, do so not because they believe that homosexuals should be treated equally but because they can't imagine the two of them being something so "terrible" as lesbians. And while the script might feel a bit "old-fashioned" (the students are a bit too articulate for ten year old girls), Hellman still keeps us grounded in the pain that Karen and especially Martha feel throughout this difficult ordeal. She also explores the idea of prejudice from an interesting angle: how it stems not only from ignorance and fear but from self-righteousness. Amelia warns the town of Karen and Martha because she feels it's her "duty," not just because she is appalled by their suspected behavior. It's also interesting to see how much Hellman got away with back when it premiered in the 1930s. We never see Karen and Martha engage in any sexual activity onstage, nor is their suspected love affair ever explicitly described, but even with the limitations of censorship at the time, Hellman still got across enough to have it banned in London, Boston, and even Chicago. (You can see how effective that was.)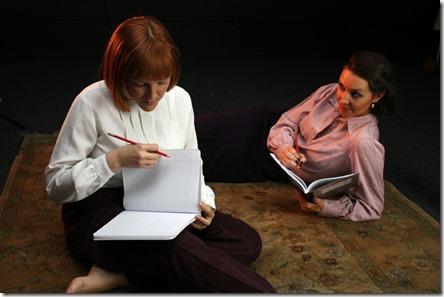 On Pride Films and Plays' website, director Derek Bertelsen had this to say about the play: "The Children's Hour, to me, is the original 'gay play.'" And he's right. While there have been other plays before it that had LGBT characters in them like Spring Awakening, Hellman was the first to address the issue of homosexuality and homophobia with The Children's Hour, doing so with the utmost subtlety and passion. And that is what Bertelsen has accomplished with his staging. He allows for an intimate space so the audience can feel the tension and fear they see onstage. The space at thePentagon Theater might feel a bit cramped for some, but I personally didn't mind. Admittedly though, the scene transitions are a bit distracting. Having the actors move about in a choreographed style with evocative lighting while a scene isn't even over yet feels a bit too forced and "artsy." The tension and intimate space are enough; we don't really need this. Fortunately, that's only a nitpick, as Bertelsen more than makes up for it with a strong cast.
McKenzie-Voigt is vulnerable yet dignified as Lily Mortar. McGrath captures Amelia Tilford's passivity to her granddaughter's bratty behavior and self-righteousness to a tee. Bertelsen makes the clever choice of having the girl students be played by older women, allowing their performances to shine among the more adult characters. Ulrey is a stand-out and even almost diabolical as Mary Tilford, manipulating and deceiving both the adults and children around her without even batting an eye. The other girls, likeNathalie Mendez as Rosalie Wells are effective and believable as the young pupils, creating a sense of community among themselves like any girls in a boarding school would. Rodriguez, as Joseph, holds his own amongst all these women, with his best scenes in the second act where he learns about the accusations against his fiancé. But the strength of the whole production lies on Tozzi as Karen and Morse as Martha, both of whom knock it out of the park. Tozzi is more restrained and soft-spoken whereas Morse is more passionate and assertive, creating a believable contrast between the two of them. During the final scene of the play, I was on the edge of my seat the whole time. That's the power of good theater.
I'm waiting for the day when something like The Children's Hour will be called "dated" and we theater can say, "Oh, this play is about homophobia. It's dead and gone, why are we still talking about it?" Well, we're not there yet. As long as the LGBT community still faces harsh oppression like in Russia or Uganda or India, it's still a conversation that won't go away anytime soon. And if you're in the mood to have that conversation, then head on down to the Pentagon Theater.
Rating: ★★★½
The Children's Hour continues through February 9th at Collaboraction's Pentagon Theater in theFlat Iron Arts Building, 1579 N. Milwaukee (map), with performances Thursdays-Saturdays at 7:30pm, Sundays 3pm.  Tickets are $15-$30, available online at BrownPaperTickets.com (check for half-price tickets at Goldstar.com). More information at PrideFilmsAndPlays.com.  (Running time: 2 hours 10 minutes, includes an intermission)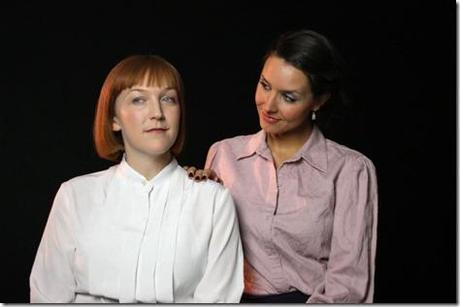 Photos by David Zak 
---
artists
cast
Britni Tozzi (Karen Wright), Whitney Morse (Martha Dobie), Nelson Rodriguez (Dr. Joseph Cardin),Michelle McKenzie-Voigt (Mrs. Lily Mortar), Joan McGrath (Mrs. Amelia Tilford), Nathalie Mendez (Rosalie), Zoquera Milburn (Peggy), Brittany Bookbinder (Catherine), Tasheena Migayi (Evelyn), Katrina Kiss (Helen), Ashley Darger (Lois), Ella Mouria Seet (Agatha), Bryan Renaud (Grocery Boy),Nora Lise Ulrey (Mary Tilford)
behind the scenes
Derek Bertelsen (director), Kathryn Olsen (assistant director), Kassie Davis (set), Alberto Ruiz (lighting), Chrystle Morman (costumes), Patrick Bley (sound design), David Zak (photos)