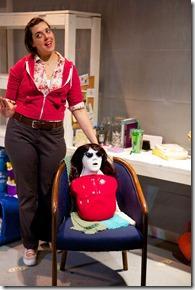 The Burden 
   of Not Having a Tail
Written by Carrie Barrett 
Directed by Megan A. Smith
at Chicago Dramatists, 1105 W. Chicago (map)
thru Aug 4  |  tickets: $20   |  more info
  
Check for half-price tickets 
  
  
   Read entire review
  
---
Far from a burden, this world premiere is a summer standout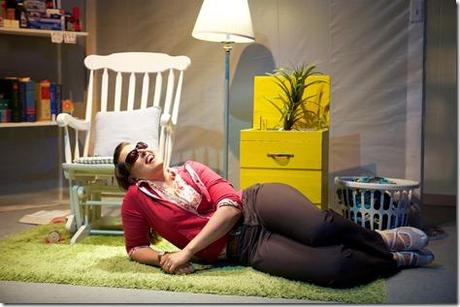 Sideshow Theatre presents
The Burden of Not Having a Tail
Review by Katy Walsh 
The curious title of Playwright Carrie Barrett's new work sounds like a kid's book.  It could easily be the name of the adventures of Curious George's trainer.  It isn't.  Walking into the cellophane-wrapped theatre, any thoughts of a children's theme are eliminated.  Set Designer Eleanor Kahn's plastic-covered sanctuary looks like a sterilized loony bin.  Properties Designer Arianna Soloway adds in a rocking chair, book shelves and a jar of kisses.  The cozy choices welcome us to the world of a 'prepper.'  This is the home of someone preparing for the apocalypse.
Our host is Karie Miller.  She is the narrator in this guide to surviving worst case scenarios.  Miller starts her life lessons with the hidden dangers of scented lotions and shampoos. Under the direction of Megan A. Smith, Miller's deliver is natural and personal.  Miller's deft storytelling goes from Rule #1 to another Rule #1 to another Rule #1.  Her instructions have the organic feel of a cooped up person with a lot to say.  Miller interjects a 'God comment' and then dismisses it with a 'I won't talk about him again.' Yet she does infrequently throughout the piece.  Because of Miller's seemingly effervescent spontaneity, I was surprised that she wasn't also the creator of the piece. Barrett's free flowing monolog spills out of Miller's mouth like a ventriloquist act.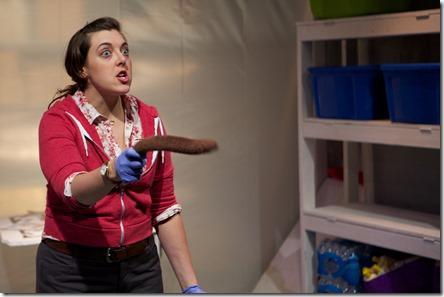 Miller radiates this joyful 'I am a survivor' spirit.  She playfully engages the audience in latex-gloved interactive moments.  Despite her rattled grip on reality, she is a willing cheerleader to help the audience through a dark future.  At first glance, The Burden of Not Having a Tail seems like a one woman stand-up routine. There is laugh-out- loud comedy. Yet, after spending time with Miller, we realize there is much more to her than a crazy survivalist.  There is heart-wrenching drama too. We get an empirical glimpse into a woman's despair.  Smith facilitates an exterior implosion as Miller displays an internal implosion.  All the absurdity makes disturbing sense in a powerful conclusion.  
The Burden of Not Having a Tail is a perfect illustration of how we are all just a shampoo away from our own doomsday scenario.
Rating: ★★★½
The Burden of Not Having a Tail continues through August 4th at Chicago Dramatists, 1105 W. Chicago (map), with performances Thursdays-Saturdays at 8pm, Sundays 3pm.  Tickets are $20, and are available online through Tix.com (check for half-price tickets at Goldstar.com). More information at SideshowTheatre.org.  (Running time: 1 hour 15 minutes, no intermission)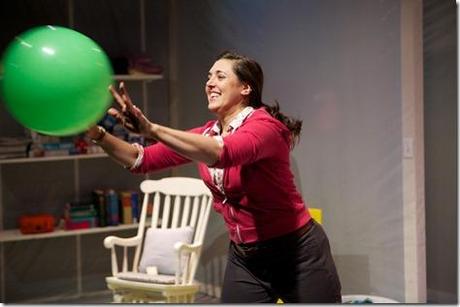 Photos by Jonathan L. Green 
---
artists
cast
Karie Miller
behind the scenes
Megan A. Smith (director), Eleanor Kahn (set design), Kristin DeiTos (costume design), Jordan Kardasz (lighting design), Christopher M. LaPorte, Michael Huey (sound design), Arianna Soloway (props coordinator), Gina Di Salvo, Jeff Tinley (dramaturgs), Ben Dawson (production manager), Ellie Wasserman (assistant director), Shelby Glasgow (stage manager), Kelley Benes, Alison McLeod (assistant stage managers), Jonathan L. Green (photos).
13-0701