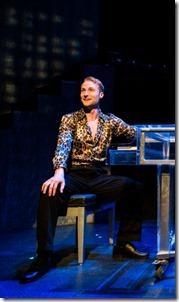 Written by Peter Allen (music, lyrics),
  Martin Sherman, Nick Enright (book) 
at Stage 773, 1225 W. Belmont (map)
thru Aug 30 | tickets: $25-$40  | more info
  
Check for half-price tickets  
  
---
A splashy Chicago premiere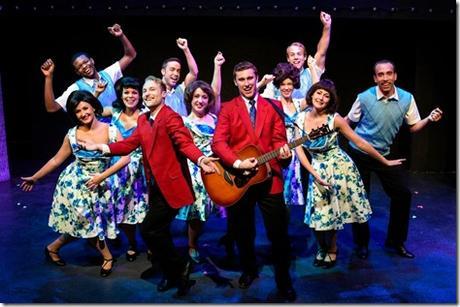 Pride Films and Plays presents
The Boy from Oz
Review by Lauren Whalen 
Peter Allen had a fascinating, vibrant life story: he can be heard in the movie "All That Jazz,":won an Oscar for co-writing the theme from "Arthur," and was the first male to dance with the Radio City Music Hall Rockettes. He was mentored by Judy Garland and was married for seven years to her daughter Liza Minnelli. He also penned and starred in a Broadway flop, and eventually died of AIDS-related throat cancer in 1992. The Boy From Oz, a musical based on Allen's life and featuring his music, was originally performed in Allen's native Australia in 1998 and came to Broadway in 2003 starring Hugh Jackman, who later won a Tony and toured with the show in Australia. Pride Films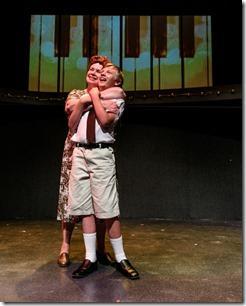 and Plays' Chicago-premiere production features brilliant lead and supporting performances that help elevate a sometimes slowly-paced and overly long show.
The ebullient yet soulful Peter (Chris Logan) narrates his own life story, from his childhood as the son of a violent alcoholic in the Australian Outback, to a teen pop sensation, to the opener and protégée of Garland (Nancy Hays), after her husband discovers Allen performing in Hong Kong. After his marriage to Minnelli (Michelle Lauto) ends, he enters a long-term relationship with Greg (Luke Meierdiercks) and becomes more comfortable with his homosexual and artistic identities. The Boy From Oz employs a score of Allen's original songs, everything from the popular "I Honestly Love You" to "I Still Call Australia Home," the latter of which has been used in various advertising campaigns in Australia. Through it all, Allen presides over the action, making witty remarks and tapping his toes, while never glossing over the hardships he encountered.
At nearly two and a half hours, The Boy From Oz is too long. The majority of Allen's songs (even the happier, more loving ones) have a melancholy undercurrent, and though they are beautiful to listen to, but the score becomes too much of a good thing, and tends to drag the pace. There were also a number of sound and projection glitches on opening weekend, which didn't help the pacing. And while Cameron Turner's choreography is excellent and mostly well-executed, dancers were noticeably out of sync during more than one sequence.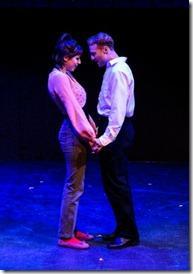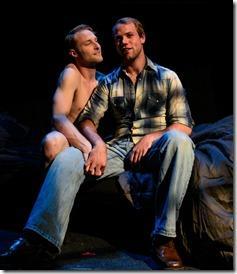 The Boy From Oz has a few weak performances, including Brad Senffner and his rather cartoonish portrayal of Peter's father, and Michelle McKenzie-Voigt, whose unconvincing characterization of Peter's supportive and loving mother is not helped by her uneven Australian accent. However, Meierdincks (who also understudies the role of Peter) is fantastic and sweet as Peter's partner Greg, and ensemble member Jaymes Osborne stands out in the chorus. The latter has had memorable turns in Mercury's Avenue Q and Porchlight's A Funny Thing Happened on the Way to the Forum, and remains a dynamic and engaging force in even the smallest of roles. Lauto is a lovely young Liza and has obviously researched Minnelli's voice and mannerisms. Hays' Judy Garland is a diva through and through, and like Lauto, provides a wonderful interpretation of an icon without making her a parody. (Kudos to director David Zak as well.) And Logan carries the show throughout. A true triple threat, he acts, dances and sings with aplomb, so charismatic that Peter's charming of mother Judy and daughter Liza is completely believable.
While its script is not the strongest, this Boy From Oz is worth watching. Allen experiences a compelling journey, punctuated by catchy music and dance, and just enough poignancy that doesn't descend into sap. Strong performances only make the show better, and The Boy From Oz has these in spades.
Rating: ★★★
The Boy from Oz continues through August 30th at Stage 773, 1225 W. Belmont (map), with performances Wednesdays-Saturdays at 7:30pm, Sundays 5pm.  Tickets are $25-$40 and are available by phone (773-327-5252) or online through Vendini.com (check for half-price tickets at Goldstar.com). More information at PrideFilmsAndPlays.com.  (Running time: 2 hours 15 minutes, includes an intermission)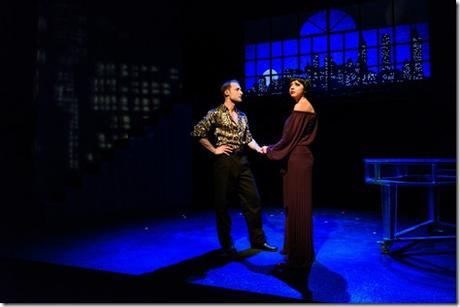 Photos courtesy of Pride Films and Plays 
---
artists
cast
Chris Logan (Peter Allen), Michelle McKenzie-Voigt (Marion), Garrett Hershey (Young Peter), David Kaplinsky (Chris Bell), Nancy Hays (Judy Garland), Michelle Lauto (Liza Minnelli), Luke Meierdiercks (Greg, u/s Peter Allen), Brad Senffner (Dick Woolnough, Dee Anthony), Liz Bollar (Josie, ensemble), Wade Tischhauser (Mark, ensemble), Elissa Newcorn (ensemble, u/s Liza Minnelli), Gilbert Domally, Zach Drane, Kiersten Frumkin, Cassie Nelson, Amanda Newman, Jaymes Osborne, Sydney Sarah Stier (ensemble), DeChantel Kosmatka (Judy Garland – performing August 12-14)
band
Robert Ollis (keyboard, conductor), Jill Waycle (keyboard II), Adam DeGroot (clarinet, alto sax), Derek Fitting (trumpet, flugelhorn), Michael Sinclair, Bob Potsic (electric bass), Tony Scandora (percussion)
behind the scenes
David Zak (director), Robert Ollis (musical director, orchestral arranger, conductor), Cameron Turner (choreographer), Jordan Fleming (production stage manager), G. "Max" Maxin IV (projections design), Charlie Marie McGrath (assistant director), John Nasca (costume design), Kallie Noelle Rolison (sound design), Katie-Bell Springmann (scenic design), Kailee Tomasic (props master), Cat Wilson (lighting design), Christopher Young (assistant director, assistant choreographer)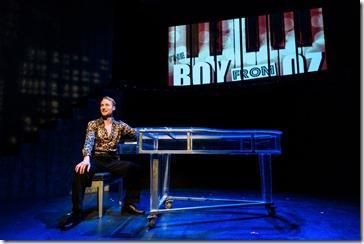 15-0807