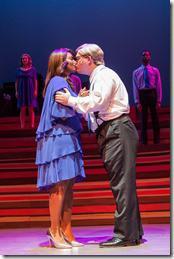 The Black White Love Play 
Written and Directed by Jackie Taylor  
Black Ensemble Theater, 4450 N. Clark (map)
thru Nov 15  | tix: $55-$65  | more info
  
Check for half-price tickets  
  
---
Thumbs up for musical about Chaz and Robert Ebert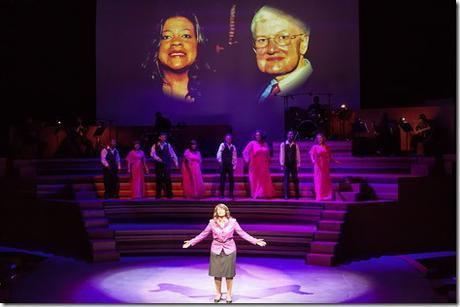 Black Ensemble Theater presents
The Black White Love Play
Review by John Olson
I think it's safe to say we all loved Roger Ebert, at least those of us likely to be reading an arts & entertainment site such as this one. He was a personal "brand" long before the idea that people rather than boxes of laundry detergent could become brands. Yet, no one would call him a shameless self-promoter. His publication of movie reviews and books as well as TV appearances all seemed motivated by an urgent desire to share his love of movies with anyone, everyone. If we loved movies (and who doesn't), we probably loved Roger. We knew much less about his wife Chaz, the African-American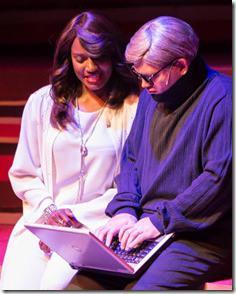 civil rights attorney who, after their marriage, managed his business affairs. As
Jackie Taylor
's script tells us, Roger was a very public person and Chaz was a very private person. Ms. Taylor's script doesn't tell us anything too private or personal about the two – the details seems to be taken mostly from public interviews – but it doesn't necessarily need to. We bring our own love of that lovable movie buff to the table, and by extension we automatically love the woman who was so devoted to him through his long and ultimately losing battle with cancer.
If The Black White Love Play is not an especially detailed biography, it's an effective tribute to the love this couple certainly must have shared. While we might like to have a more insightful picture of how they came together – we're told they met after an AA meeting, and that Roger found her attractive and incredibly smart.  But if their love is meant to serve as a symbol of racial harmony or color blindness, and in Ms. Taylor's script it explicitly is, I  would like to know where Roger was coming from when they met. Was he always a completely color-blind person? Did he have any instinctive prejudices to overcome? The script doesn't say, though it does acknowledge the two experienced prejudice and discrimination both subtle and blatant after becoming a couple. And apart from issues of race, the insights into Chaz and Roger are skimpy and hold the two in reverence. Surely Roger wasn't perfect, but the worst we see of him here is that he would compulsively fiddle with the controls when watching home video. And what's so surprising about that? He was Roger Ebert, after all.
In the second act, though, which is mostly focused on Roger's illness and Chaz's support, the script is much more moving. We learn all we need to know about the devastating effects of the cancer in Ebert's jaw and how he became unable to speak or even to eat solid food. Kevin Pollack as Ebert, who resembles Ebert enough in the first act, and makes an effective transformation into the physically diminished cancer survivor. Pollack and Rashada Dawan's Chaz show us the ways they continued to communicate – both through physical signals and as Chaz has stated in interviews – through telepathy. We don't doubt their bond was deep and we grieve our loss of Roger all over again.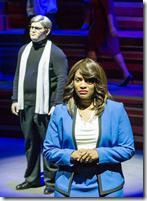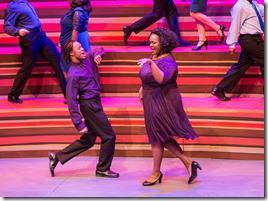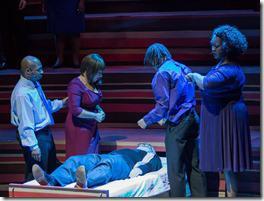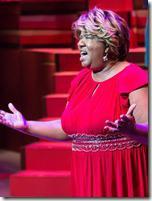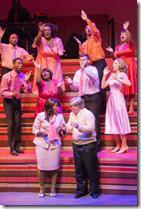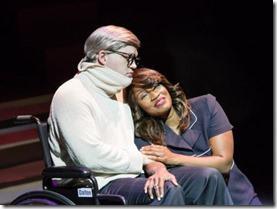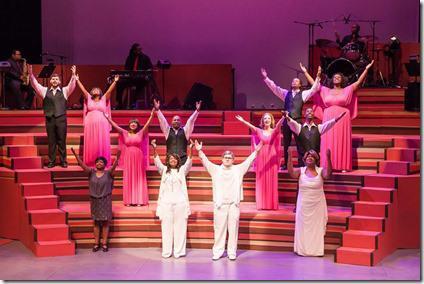 The role of Chaz marks a welcome return to Chicago stages for Ms. Dawan, who many will remember for her knockout performance of the title role in Bailiwick Chicago's production of Elton John and Tim Rice's Aida back in 2010. Shortly after that production closed, she joined Disney's The Lion King, first in Las Vegas and then on tour. She has two solos that are simply sensational. As Roger battles cancer, she sings Billy Preston's "You Are So Beautiful" (best known in its cover by Joe Cocker) and in this context, the song is more heartfelt and beautiful than ever. But it's later, after Roger passes, that Ms. Dawan's performance of "Help Me Make It Through the Night" just soars. I am not unaware that this song, written and sung by Kris Kristofferson, having been recorded by the likes of Elvis Presley, Joan Baez, Loretta Lynn, Ray Price, and Johnny Cash, when I say that Dawan's performance of this song is definitive.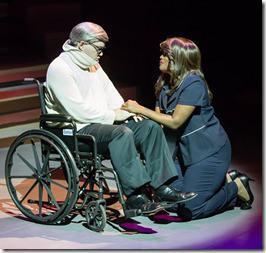 The
Black White Love Play
, with its score of hits from mostly the '70s and '80s (which we are quite believably told are songs the Eberts enjoyed), is not exactly a book musical, but lies somewhere between that genre and a revue. The story of Chaz and Roger, with the only secondary character of note being Chaz's "Mama," played warmly by
Qween Wicks
, is performed with the assistance of an eight-person "Greek Chorus." They comment on the social context of Roger and Chaz's story – explicitly drawing parallels to acceptance of differences in sexual orientation as well as race – making
The Black White Love Play
a parable for acceptance and social harmony. One could argue it wasn't necessary to connect those dots so boldly – and certainly the Eberts' love story is moving enough on its own – but I for one am not about to doubt that Ms. Taylor knows her audience.
The score's 18 songs are a more diverse group of hits than one might expect at Black Ensemble, ranging from the Bee Gee's "Too Much Heaven" (with a superb falsetto solo by Jhardon Dishon Milton) and the Carpenters' "We've Only Just Begun" to "We're In This Love Together," recorded by Al Jarreau and four original numbers by Taylor. The Greek Chorus offers some solid ensemble work and neat choreography (by Rueben Echoles). The finale, "No Matter What Race," by Ms. Taylor leaves us on a hopeful note as we look on the Eberts' love story as a role model in a number of ways.
Rating: ★★★
The Black White Love Play continues through November 15th at Black Ensemble Theater, 4450 N. Clark (map), with performances Thursdays at 7:30pm, Fridays 8pm, Saturdays 3pm and 8pm, Sundays 3pm.  Tickets are $55-$65, and are available by phone (773-769-4451) or online at PrintTixUSA.com (check for half-price tickets at Goldstar.com). More information available at BlackEnsembleTheater.org.  (Running time: 2 hours 15 minutes, includes an intermission)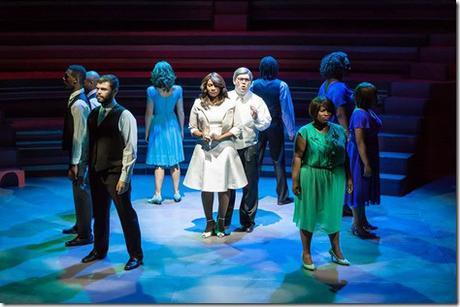 Photos by Danny Nicholas
---
artists
cast
Rashada Dawan (Chaz Ebert), Kevin Pollack (Roger Ebert), Qween Wicks (Mother), Evelyn Danner (Griot), Rueben Echoles, Porsche King, Robbin Major, Jhardon Dishon Milton, Matthew T. Payne, Jessica Seals, Kyle Smith, Sally Staats (Greek Chorus).
behind the scenes
Jackie Taylor (writer, producer, director), Rueben D. Echoles (choreographer, wig design), Robert Reddrick (music director), Denise Karczewski (lighting designer), Caswell James (set design), RuthAnn Swanson (costume design), Aaron Quick (sound designer), CoCo Ree Lemry (scenic artist), Daryl Brooks and Beck Lambrecht (stage managers), Hannah Higgins (assistant stage manager), Danny Nicholas (photos)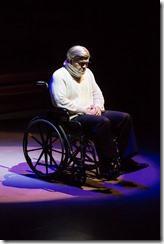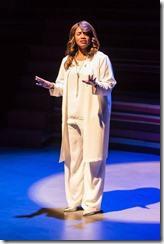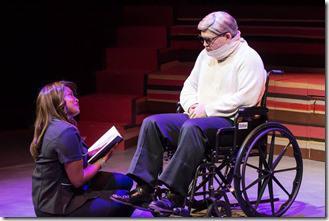 15-1009