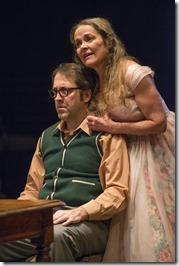 The Birthday Party 
Written by Harold Pinter 
Directed by Austin Pendleton
at Steppenwolf Theatre, 1650 N. Halsted (map)
thru April 28  |  tickets: $20-$78   |  more info
  
Check for half-price tickets 
  
  
   Read entire review
  
---
Pinter's first effort not great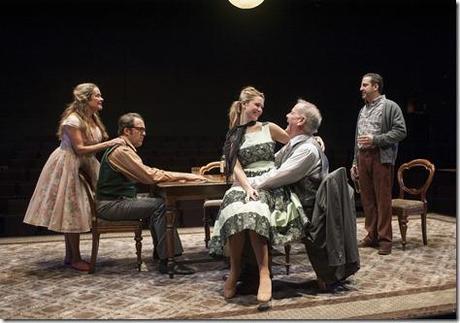 Steppenwolf Theatre presents
The Birthday Party
Review by Lauren Whalen 
My favorite part of The Birthday Party was John Malkovich. No, the Steppenwolf co-founder and actor best known for playing creeps was not part of the cast. However, he was in my sight line, sitting on the other side of the newly refurbished Upstairs Theatre next to company Artistic Director Martha Lavey. When I got bored – which was often – I watched Malkovich, who's such a fan of Harold Pinter he's directed three of the noted playwright's shows at Steppenwolf. Sadly, Malkovich's black-clad, imposing presence couldn't compensate for a largely dull production that consisted of valiant efforts to improve upon an amateurish script and a very incapable ingénue.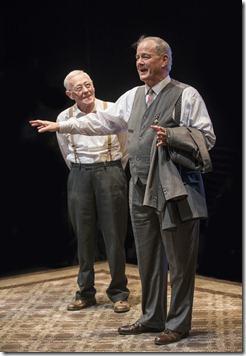 The Birthday Party opens with the morning routine – cornflakes, fried bread and chatting – of married couple Petey (John Mahoney) and Meg (Moira Harris). Meg is attempting to attract tenants to the couple's seaside boarding house in England, but thus far only has one boarder, the bitter ex-musician Stanley (Ian Barford), whom Meg dotes upon even when he verbally abuses her. When the congenial Goldberg (Francis Guinan) and sullen McCann (Marc Grapey) arrive for a stay, Meg is thrilled and Stanley is terrified – his past has come back with a vengeance.
Harold Pinter is one of the most celebrated playwrights of the past century, perhaps best known for The Homecoming and Betrayal (both of which Steppenwolf has produced in the past several years). The Birthday Party is Pinter's first full-length work and according to a program note, premiered to dismal reviews. It hasn't improved with time.
The problem with an acclaimed writer's early work is this: compared to later creations, it often doesn't measure up. Novelists, playwrights and artists often grow with their projects, finding their unique voices and signature elements along the way. There are hints of Pinter's magic touch in The Birthday Party: in Act II, an innocent game turns sinister very quickly, and mundane conversation is occasionally peppered with chilling double entendres. These are the exceptions here. Goldberg and McCann confront a shaken Stanley with news of his disloyalty to "the organization" and have some sort of malicious intent, but the audience never discovers quite what that is. And why are they attending Stanley's sad little birthday celebration? If they are there to kill Stanley, why not just do it right away? If they're going to interrogate and/or torture the man (which was my guess), why hang around? They're not even really toying with his psyche. After an entire act of trying to guess everyone's intentions, I simply stopped trying. And caring.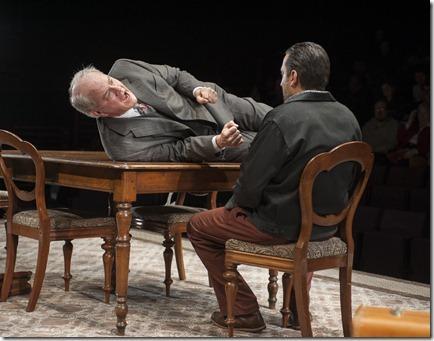 Often, the mostly-distinguished cast does their best, but toil under the subpar script and Pendleton's baffling direction. (Crying, crawling under tables and mental breakdowns come out of nowhere throughout the play. Also, the dialects are so terrible I couldn't tell if the play was set in England or Ireland until I read the press release later.) Mahoney is a fine actor and always a pleasure to watch, but almost seems like an afterthought here. Granted, Petey's role amounts to little more than a cameo – he's offstage for most of the action – but Mahoney seems lost, as if Pendleton told him to "stand here" and "say this", and not much else. Guinan does smarmy quite well, but chews scenery to the point of annoyance in Act III, and Barford is so unsympathetic from the beginning, it's hard to feel for him later. Only Harris' wistful, lost proprietress (in a party dress from her lost youth) and Grapey's evolution from monosyllabic sidekick to empathetic human are in any way compelling.
And as guileless neighbor Lulu, Sophia Sinise (yes, she's Gary's daughter) redefines terrible. Not only does Sinise speak each line with exactly the same inflection, she has no idea what to do with her hands, often using them to twist her dress or play with her hair. In her case that's not a character decision, it's the mark of an inexperienced performer. Like an excellent orchestra, one normally doesn't notice an actor's hands until it's clear they're not being used in an intelligent way.
During The Birthday Party's second intermission, I slipped downstairs to the less-populated women's room and noticed that The Motherf*cker With the Hat was just letting out. Having seen and thoroughly enjoyed that play, I quickly did the math (it clocks in at an intermission-less 100 minutes) and realized I still had nearly an hour left of Party's pain left to endure. I envied the Motherf*cker patrons: not only were they now free to enjoy the rest of their day, they'd also just seen a play with a clear plot, interesting characters and catchy language. Just go see The Motherf*cker With the Hat instead. Or go see it again.
Rating: ★½
The Birthday Party continues through April 28th at Steppenwolf Upstairs Theatre, 1650 N. Halsted (map), with performances Tuesdays-Fridays at 7:30pm, Saturdays and Sundays at 3pm and 7:30pm.  Tickets are $20-$78, and are available by phone (312-335-1650) or online through their website (check for half-price tickets at Goldstar.com). More information at Steppenwolf.org.  (Running time: 2 hours 30 minutes, includes two intermissions)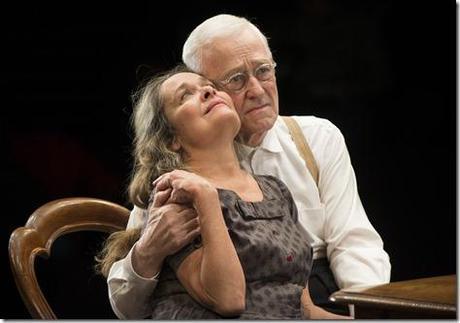 Photos by Michael Brosilow 
---
artists
cast
Ian Barford (Stanley), Francis Guinan (Goldberg), Moira Harris (Meg), John Mahoney  (Petey), Marc Grapey (McCann), Sophia Sinise (Lulu)
behind the scenes
Austin Pendleton (Director), Walt Spangler (Scenic Design), Rachel Anne Healy  (Costume Design), Keith Parham (Lighting Design), Josh Schmidt (Sound Design, Original Music), Erica Daniels (Casting), Matt Hawkins (Fight Choreographer), Cecilie O'Reilly (Dialect Coach), Deb Styer (Stage Manager), Kathleen Petroziello (Assistant Stage Manager), James D. Palmer (Assistant Director), Michael Brosilow (photos)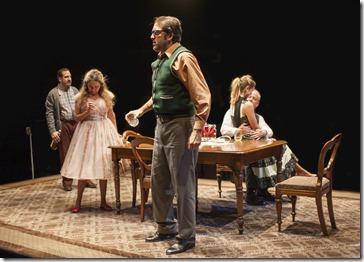 13-0205