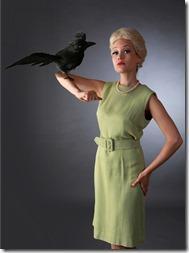 The Birds 
Written by David Cerda and Pauline Pang  
Directed by Jeffery Shields and David Cerda
Berger Pk. Coach House, 6205 N. Sheridan (map)
thru Sept 15  |  tickets: $25-$35   |  more info
  
Check for half-price tickets 
  
  
   Read entire review
  
---
A riotously funny, ingeniously crafted Hitchcock parody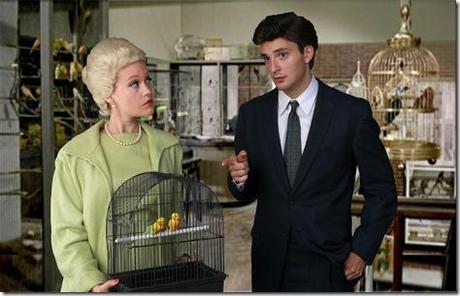 Hell in a Handbag Productions presents
The Birds
Review by Tom Lawler
When it came to finding a leading lady for the follow-up to his 1960 hit Psycho, Alfred Hitchcock cast a wide net after being rebuffed by his original choice, Grace Kelly. He eventually discovered a blond-haired, blue-eyed doppelganger in the form of a young Midwestern model named Nathalie "Tippi" Hedren who made her screen debut in "The Birds" after a punishing series of auditions and screen tests.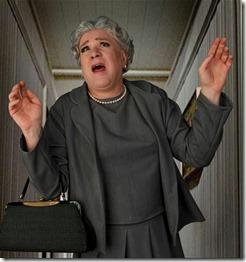 The production team behind Hell in a Handbag's
The Birds
, a riotously funny and ingeniously crafted parody of Hitchcock's 1963 comedic thriller, has done their own exhaustive talent search to find the perfect ingénue in
Catherine McCafferty
. Looking just like a young Tippi, McCafferty is a radiant wonder who fits the role as snugly as the period-perfect Jackie O suit she dons throughout the production. Paired attractively with
Michael John Lea
in the Mitch/Rod Taylor role, this talented young actress credibly shows us her doe-eyed vulnerability as Hitchcock's crew brusquely puts her through the paces to film the show's key scenes
.
That's right, as cleverly constructed by the Handbag gang in a pristine couch house setting on the shore of Bodega Bay (OK, maybe it was Lake Michigan), we are whisked away by Hitchcock's production team onto the movie's actual film set to see a few scenes unfold before our eyes. If you've already seen Hitchcock's classic, this production is simply the must-see companion to it. Beyond just being a parody of it, this triumph of comedy and smarts even layers in some analysis of the undeniable pycho-sexual elements of this story via the recurring appearances of social critic Camille Paglia (portrayed with maximum chutzpa by Margo Chervony).
Never saw "The Birds," you say? That's OK, too, since you are likely familiar with the premise and will no doubt be swept up in this intoxicating Ed Wood Meets The Marx Brothers anarchy as we see this zany set of actors, actresses and "actresses" either exaggerate their line readings or wildly depart from the script with off-color jokes. (A monster one-liner given to Ms. McCafferty after she slightly injures herself surely won't be spoiled here.)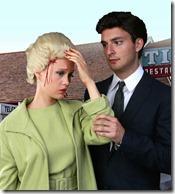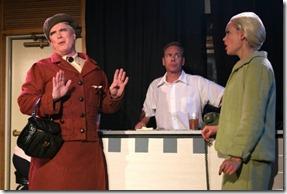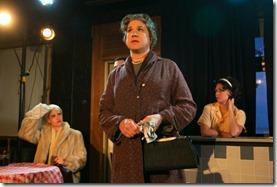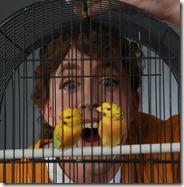 As this was this critic's first experience with a Hell in a Handbag production, I knew to expect some performers in drag, but wasn't sure how this would color the parody or if this would push the camp over-the-top. I can now safely report: more is more. This is undoubtedly true with a cast that includes Steve Kimbrough, who helps get the evening off to a loopy start as the elderly woman running a bird shop in the opening scene and especially Ed Jones, who absolutely embodies Jessica Tandy's original overwrought performance from the movie.
This is not to overlook the striking performance of Birds' co-writer and co-director David Cerda, who plays the scorned school teacher character portrayed by Suzanne Pleshette in the original film. Wearing Kabuki-like makeup, Cerda channels the sultry Pleshette with a touch of Joan Crawford and even gifts us with a cabaret song. (While the song is a treat and Cerda's every arched eyebrow is a precision of comic timing, it's also slightly terrifying to be in his gaze once we realize he'll be improvising with the audience.) There are several full-fledged musical numbers in The Birds ( two of them written by Cerda and Scott Lamberty), and they're all delights.
With a cast of 13, it's hard to call out every fine performance in this outstanding ensemble. Suffice it to say though that when the "birds" do begin attacking, you can't help but marvel at the creative ways the cast and production team are able to vary the avian carnage for maximum comic effect. You will laugh until you hurt – and then they push it even further!
As the cast does a buoyant "Soul Train"-style curtain call and the French doors open out onto the lake, it's hard not to see this as an idyllic summer camp experience for the entire Birds cast and crew. Speaking on behalf of an exhausted, extremely satisfied audience, however, the pleasure was all ours.
Rating: ★★★½
The Birds continues through September 15th at Berger Park Coach House, 6205 N. Sheridan (map), with performances Thursdays-Sundays at 7:30pm.  Tickets are $25-$35, and are available by phone (800-839-3006) or online through BrownPaperTickets.com (check for half-price tickets at Goldstar.com). More information at HandbagProductions.org.  (Running time: 2 hours, includes an intermission)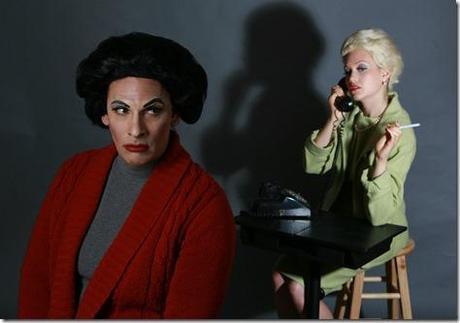 Photos by Rick Aguilar Studios
---
artists
cast
Catherine McCafferty, Michael John Lea, Ed Jones, Alex Grelle, Elizabeth Lesinski, Michael S. Miller, David Cerda, Daniel Sappington, Phil Caldwell, Alex Fisher, Jamie King, Steve Love, Leslie Ruettiger, Margo Chervony, Steve Kimbrough 
behind the scenes
Jeffery Shields and David Cerda (co-directors)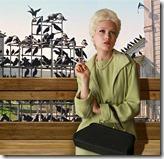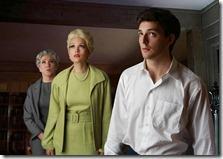 13-0817