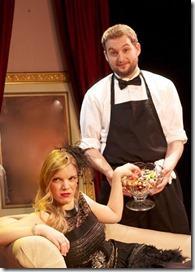 The Bear
Written by Shawn Bowers
Adapted from Anton Chekov  
Directed by Amanda Lautermilch
at Heartland Studio, 7016 N. Glenwood (map)
thru March 9  |  tickets: $10-$12   |  more info
  
Check for half-price tickets 
  
  
   Read review
  
---
All about Ellie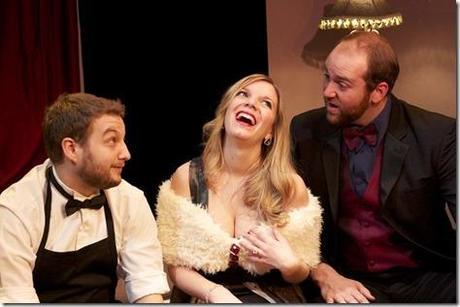 Adapt Theatre Productions presents
The Bear
Review by Kat Hey
I was concerned when I saw the words "Chekov rewritten from the ground up". Chekov's satire takes place in Tsarist Russia with erupting pogroms and bourgeoisie struggling to maintain an untenable lifestyle. The Serfdoms had fallen and the wealthy were left with a façade of being burdened with the responsibility of maintaining a crumbling economy and political body. Wait a minute. That sounds a lot like today in the USA. Lives are modeled after reality television and the exploits of people celebrated for being famous. Shawn Bowers' adaptation of The Bear is quite on the money and a very funny spoof of the rich and brainless.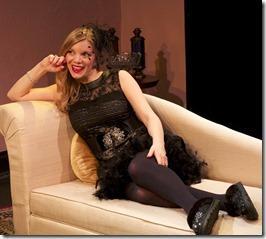 Ellie (
Laura Stephenson
) is locked in her lady's chamber mourning the loss of her husband. She plays a bizarre game of deliberate mourning to win in the misery game created in her mind. Bowers has given the milieu a Southern Gothic feel. Stephenson makes Ellie into a woman concerned with the trappings of making the neighbors and society think she is something that she is not. She dresses in black and pays homage to a portrait of her late husband – shirtless and flexing his manly muscles over a middle aged gut. He was
that guy
who wore too much cologne, his shirt was unbuttoned too low when he was indeed wearing a shirt, and made a prodigious use of hair products. Ellie draws the shades and curses at his portrait. Stephenson is a comic delight with the insane jabber and wide eyed glare. She does manic mayhem beautifully and gives the lines wit and élan.
Jack Bourgeois plays the houseman Luke with a knowing weariness and patience. He is a sodden Buddha amidst her insane insights. He throws one-liners at her as she plots to triumph at the game of widow. Bourgeois subtly plays the role of a Greek Chorus, giving the audience the background of Ellie's debacle of mourning.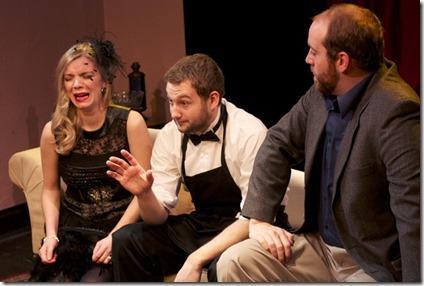 The triumvirate is completed when Grigory (Chris McGillivray) bursts into her painstakingly set tableau.  Grigory previously loaned her husband money to buy the estate she presently occupies, and now demands what her late husband owed him. McGillivray is a physical force on the tiny stage. His body language and movements are a wonder. He fills the space with menace and just the right touch of pomposity. The dialog sparkles with whiplash comebacks and sexual innuendo. (I will never think of coconuts or pickles in the same manner again.) Luke is the only self-aware character in the midst of this comic pandemonium.
The props and costumes are an integral part of making the show sparkle. Ellie wears a glamorous dress that molts feathers all over the chamber. If the feathers are a deliberate thing, it is brilliant. If not, I hope they keep it. Stephenson plays the role with an energetic physicality flinging about the stage with abandon. The actors inhabit the characters with relish without chewing the scenery. There are some surprises and fun departures from the Chekov farce that are purely American by way of modern entertainment. The cast is cohesive and has an expert touch at making fools of these self-involved numbskulls. It may be from the Chekhovian oeuvre but it fits these times of fantasy is reality. I recommend it for a good night out and a fun discussion after.
Rating: ★★★
The Bear continues through March 9th at Heartland Studio, 7016 N. Glenwood (map), with performances Thursdays-Saturdays at 8pm, Sundays 2pm.  Tickets are $10-$12, and are available online through BrownPaperTickets.com (check for half-price tickets at Goldstar.com). More information at AdaptTheatre.com.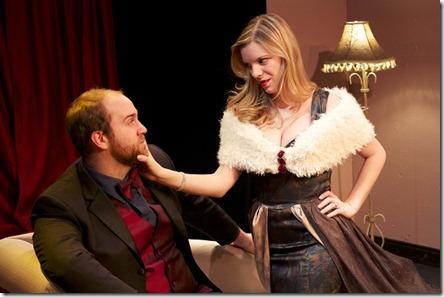 ---
artists
cast
Laura Stephenson (Ellie), Jack Bourgeois (Luke), and Chris McGillivray (Grigory)
behind the scenes
Amanda Lautermilch (director), Shawn Bowers (adaptation), Brendan Meyer (stage manager), Aja Wiltshire (costume design), Lane Flores (lighting design), Isaiah Warner (sound design)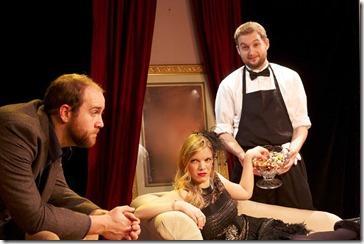 14-0222