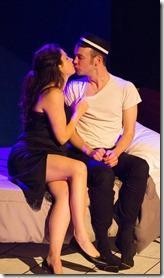 Fantastical and moving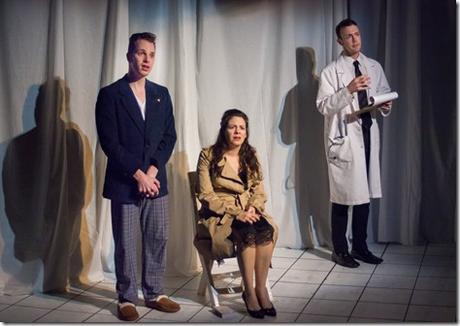 Review by Lauren Whalen
could have been a complete cliché - luckily, Paula Vogel doesn't do cliché, and neither does Ed Rutherford. Playwright Vogel penned the script in 1992 as an homage to her brother Carl, who passed away from complications from AIDS not long before the two were to travel to Europe. Director Rutherford is known for thinking outside the box in terms of artistic interpretation, and as a result The Baltimore Waltz is perfect for his unique skill set. Short but effective, The Baltimore Waltz is both universal and deeply personal, a whimsical exploration of a brother and sister and the ultimate loss of letting go.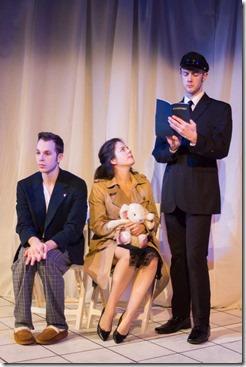 After her brother Carl (
Paul Michael Thomson
) is fired for being gay, first-grade teacher Anna (
Jenna Schoppe
, who also serves as choreographer) is diagnosed with a fatal disease. Little is known about the disease, except that Anna contracted it from a toilet seat, and there is no cure - at least not stateside. Anna and Carl set off for Europe, where Anna engages in casual sex with a variety of men and Carl bargains for access to a possible cure for Anna. Brother and sister butt heads, snuggle with Carl's stuffed rabbit and encounter the mysterious Third Man (
Justin Harner
), who appears to be stalking them. But is this whirlwind tour everything it seems?
Watching The Baltimore Waltz is to observe Vogel's grief process in exquisite, excruciating detail. Rather than composing a bedside weepie, Vogel takes us on an adventure through Paris, Amsterdam and Berlin. Like any siblings, Anna and Carl's relationship is wonderfully complex, full of fond childhood memories and real adult conflict - even when one of them is dying. Both cling to Carl's stuffed bunny, soft and pure white, as a talisman of the past and of Anna's possible future, which may include drinking urine to save her own life. Because someone's sick, they're even more determined to live, but for each sibling, the act of living has widely different implications.
Director Rutherford understands and executes Vogel's poignant, surprisingly funny story with aplomb. The action never drags, and the characters (even the many played by Harner) perfectly straddle the line between fantastical and achingly real. Schoppe's choreography is sweet and nostalgic, underscored by Michael Patrick's cinematic sound design. Jeremy Hollis' set and props are perfect, making the most of The Frontier's cozy space and lovingly conveying everything from a Parisian café to a hospital waiting room. The white sheet backdrops function as bed curtains, screens for projected signs and much more - letting the audience use their imaginations as Carl and Anna did as children.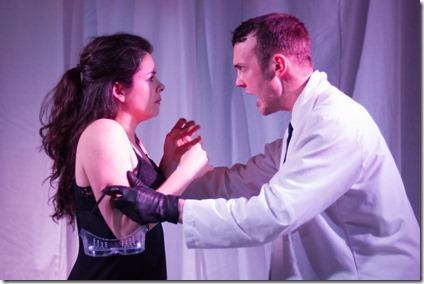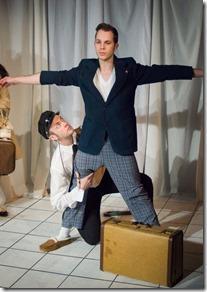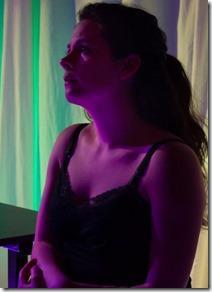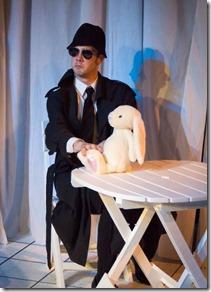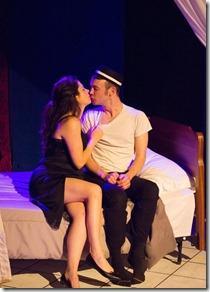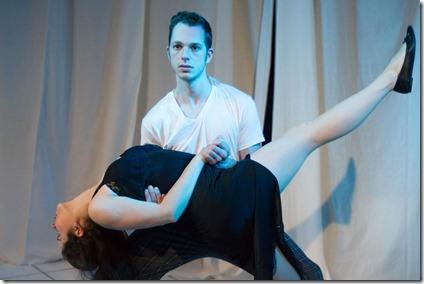 This Baltimore Waltz boasts a superb cast: Harner slips in and out of each character with the greatest of ease, making each one memorable. Thomas' Carl is intelligent, witty and frustrated with his sister, whom he feels is wasting her last moments on earth. And Schoppe is right at home in the heart of the piece, serving as 's timid, sometimes unreliable narrator. Even her mannerisms feel like poetry, and she relishes each line of dialogue and interaction as Anna stumbles toward acceptance of the truth - the real truth, not just her version.
Simple but stunning, The Baltimore Waltz is Vogel at her finest: nonlinear, hilarious and just the right amount of dark. A tragedy handled with fantasy and comedy, The Baltimore Waltz is my favorite Vogel play, and Brown Paper Box Co.'s production is mournful, vulnerable and memorable. Thanks to Rutherford's direction, stellar production values and a gifted cast, this Baltimore Waltz is one for the books.
The Baltimore Waltz continues through February 19th at The Frontier, 1106 W. Thorndale (map), with performances Thursdays-Saturdays at 7:30pm, Sundays 2:30pm. Tickets are $20, and are available by phone (800-838-3006) or online through BrownPaperTickets.com (check for half-price tickets at Goldstar.com ). More information at BrownPaperBox.org. (Running time: 80 minutes, no intermission)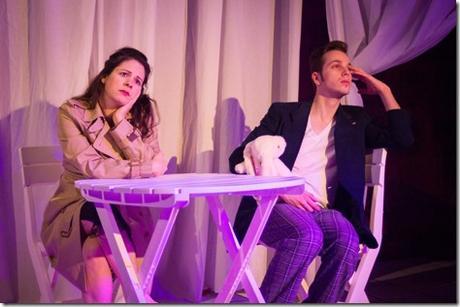 behind the scenes
Tags: 17-0134, Anna Schutz, Brown Paper Box Co, Caitlin Connor, Catherine Gillespie, Charlie Sheets, Chicago Theater, Ed Rutherford, Eric Vigo, Gin To, Ian Geers, Jeanine Fry, Jenna Schoppe, Jeremy Hollis, Justin Harner, Lauren Whalen, M. William Panek, Margaret Baughman, Matt Sergot, Michael Patrick, Michael Pfeiffer, Paul Michael Thomson, Paula Vogel, post, The Frontier, Zach Dries
Category: 2017 Reviews, Brown Paper Box Co, Lauren Whalen, The Frontier