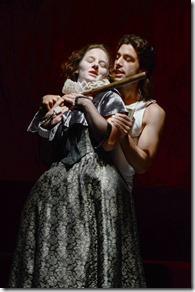 The Balcony 
Written by Jean Genet  
Translated by Bernard Frechtman
Directed by Max Truax
Trap Door Theatre, 1655 W. Cortland (map)
thru Oct 12  |  tickets: $20-$25   |  more info
  
Check for half-price tickets 
  
  
   Read entire review
  
---
This balcony has the perfect seat for you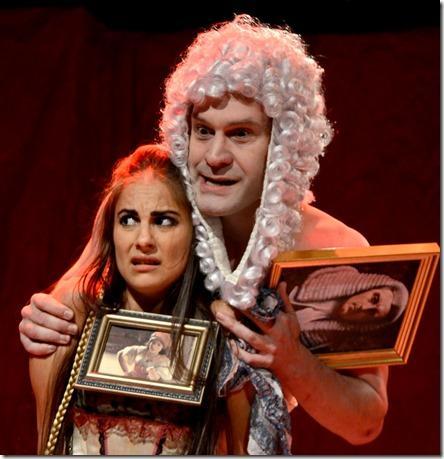 Trap Door Theatre presents
The Balcony
Review by Katy Walsh 
Outside there is a political revolution.  Inside there is the sexual revolution.  What happens when the two collide?  Playwright Jean Genet tells the tale of a brothel known for its fantasy roleplaying.  Guests act out desires and fetishes to escape. As the war rages outside, the clientele get their freak on at Madame Irma's. It's bawdy make-believe but where does the pretend end? People are being whipped, shot, stabbed for real…or is it an elaborate staging by Madame Irma and, consequently, Director Max Truax? What's really happening here? And where's 'here' anyway? Truax pulls us into this surreal eroticism.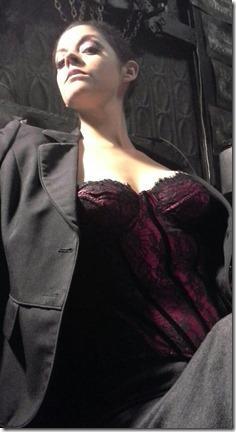 The theatre is encircled with plush, burgundy drapery. A glittering chandelier dangles from the ceiling. And the stage is a black and white checker floor. Set Designer
Joanna Iwanicki
creates an ambiance of elegance surrounding this game board. Truax uses one chair and his dozen talented actors as props and pawns as the games play on. Costume Designer
Rachel Sypniewski
undresses the talented ensemble in mundane or erotic undies, depending on the role. To distinguish who is playing who, a framed picture is worn like a necklace. The portrait is a bishop, a judge, a general and even a horse. The actors playing whores/johns then act like public officials or a great steed (well done,
Simina Contras
!) The multiple vignettes expose snippets of the duress occurring in and outside the walls of this pleasure palace.
The lady of the evening is definitely the grand madam herself, Nicole Wiesner (Irma). The calculating Wiesner is always present. She is boisterously manipulating her staff, swooning concern over her lover or watching the peep show in her house of ill repute. Truax has Wiesner cagily peeking through secret windows into her gallery of debauchery. The divine Wiesner leads the bizarre happenings in this wacky world. What is real and what is dead? At one point, I wonder if Wiesner is playing Marie Antoinette playing brothel? Or is she a Madame playing Marie Antoinette in a sex tryst? And with either scenario is she dead or alive? Is this a place of prostitution or kind of purgatory for people who screwed people in real life? As Truax probes individual internal inhibitions, he showcases these galleries of imaginative indulgence. It's a fascinating exploration of sex, politics, and sexual politics.
The Balcony overlooks the ecstasy and the agony. It's a heady journey that hints at No Exit (the play) for these characters. If you enjoy your existentialism with a side of tawdry humor, this balcony has the perfect seat for you.
Rating: ★★★
The Balcony continues through October 12th at Trap Door Theatre, 1655 W. Cortland (map), with performances Thursdays, Fridays and Saturdays at 8pm.  Tickets are $20-$25, and are available by phone (773-384-0494) or online through TicketLeap.com (check for half-price tickets at Goldstar.com). More information at TrapDoorTheatre.com.  (Running time: 1 hour 55 minutes, NO intermission)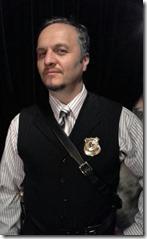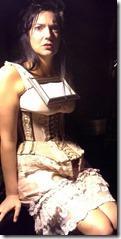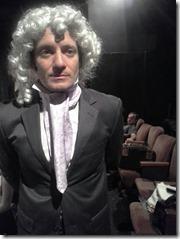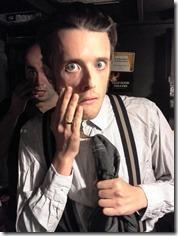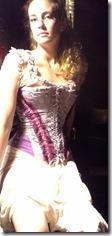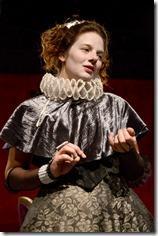 Photos by Michal Janicki
---
artists
cast
Antonio Brunetti, Simina Contras, David A. Holcombe, John Kahara, Meghan Lewis, Michelle Oliver, Thom Pasculli, Alžan Pelesic, Ann Sonneville, David Steiger, Nicole Wiesner, Carl Wisniewski.
behind the scenes
Max Truax (director), Laura Smith (assistant director), Joanna Iwanicki (set design), Rachel Sypniewski (costume design), Richard Norwood (lighting design), Danny Rockett (sound design), Zsofia Ötvos (makeup design), Michal Janicki (graphic design, photos)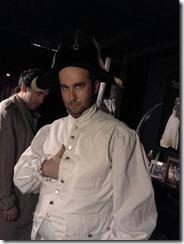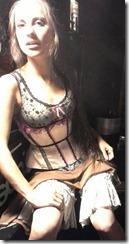 13-0912