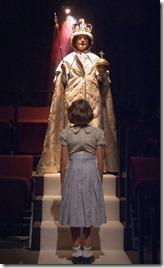 A fascinating must-see for fans of the British monarchy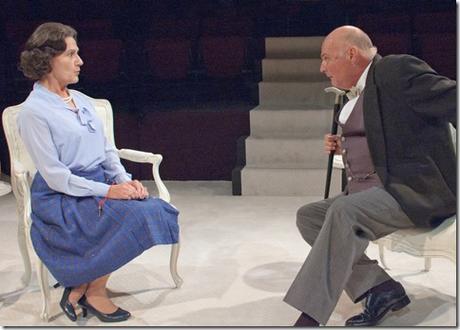 Review by Lauren Whalen
Playwright and screenwriter Peter Morganhas a fascination with kings and queens. Among his films are "The Last King of Scotland"(following bloodthirsty dictator Idi Aman) and "Rush"(Ron Howard's incredibly underrated film about the "kings" of 1970's racecar driving). However, Queen Elizabeth II of England remains his favorite subject. Morgan wrote the Oscar-winning movie "The Queen," starring Helen Mirrenand chronicling the aftermath of Princess Diana's death and the Queen's relationship with then-Prime Minister Tony Blair. Morgan's play The Audience ran in London and on Broadway (again, with Mirren as Elizabeth) and led to his creation of the popular Netflix series "The Crown." TimeLine's production of The Audience is incredibly well-researched and nicely acted, though it has some missteps along the way.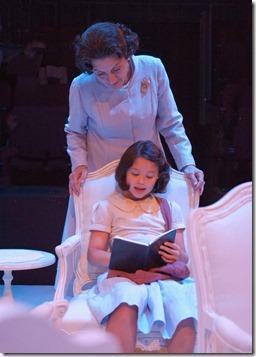 The Audience 's title refers to the Queen's weekly 20-minute meetings with the current Prime Minister. Queen Elizabeth II has had the most Prime Ministers of any English monarch, as she is now on her thirteenth. (In September 2015, the Queen's reign surpassed that of her great-great-grandmother Queen Victoria, and she is now the longest-serving monarch in British history.) Her first was Winston Churchill, in the days before her 1953 coronation after the unexpected death of her father, King George VI. The Audience goes back and forth in time, from 1953 through 2015, and shows the Queen's imagined meetings with eight prime ministers, played in this production by three actors. Through it all, her loyal staff Equerry (David Lively) pours tea and narrates the action, and her younger self (Sophie Ackermanand Audrey Edwards, in alternating performances) comments on new surroundings, her love for her Scottish nanny and the strange title of Sovereign.
One of the fascinating things about Queen Elizabeth II is that she was never supposed to be Queen. As portrayed in the film "The King's Speech," her father was second in line for the throne and inherited it unexpectedly after his older brother abdicated to marry an American divorcee. At age ten, Princess Elizabeth became heir apparent, or next in line. Over the years, she trained as a mechanic in World War II, went on humanitarian trips and fell in love with and married Philip Mountbatten before her televised coronation at age 25. Now in her nineties, she still loves corgis, rides horses and has the intelligence and sass that her toddler great-granddaughter, Princess Charlotte, seems to have inherited. As a big fan of the Royal Family, I knew all of this, but this information is also in the program and Dina Spoerl's lobby display design, thanks to the thorough and impeccable research of dramaturg Jared Bellot, who deserves a special Jeff Award for his work. Bellot even designed a special program insert with a scene-by-scene breakdown of the Prime Ministers depicted in The Audience , as well as interesting and relevant facts about each. (Because The Audience jumps around in time so much, this insert is not just helpful but also necessary.)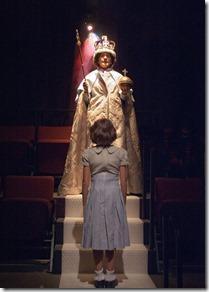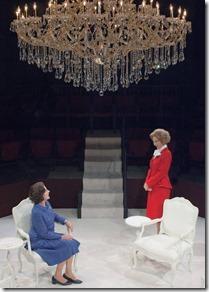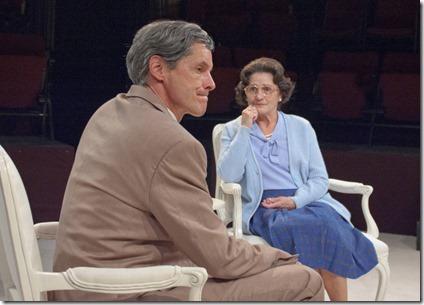 Morgan's writing style is a bit long-winded at times, but his reverence and passion for the Queen are contagious. Underestimated from the beginning, she's still sharp in her ninth decade, though she struggles with her smartphone and the inappropriate ringtone one of her grandchildren programmed into it. Like all of Morgan's work, The Audience shows the many sides of an iconic monarch with humor, respect and, ultimately, grace. The only Prime Minister scene that doesn't work is the Tony Blair's cameo, added for the Broadway production a couple of years ago, no doubt because of Americans' familiarity with him. This seems like well-worn territory considering how prominent Blair was in "The Queen," as well as a bit pandering.
Director Nick Bowlingkeeps the action moving at an efficient, utterly British pace. The production's weakest aspect by far is Andrew Hansen's overly precious sound design (is "Dancing Queen" really necessary during the curtain call? I can't imagine Elizabeth would approve), and though hairpieces can be incredibly inconvenient, I do wish wig designer Katie Cordts had added more to correspond with the Queen's age (she did not have dark hair in 2015).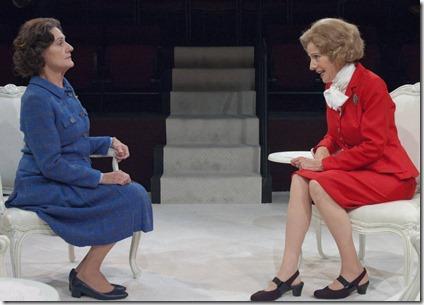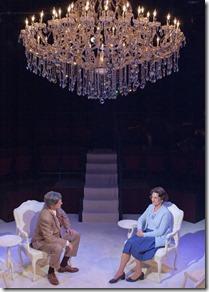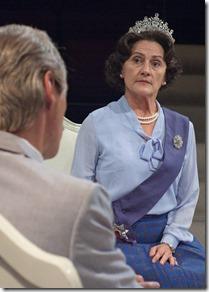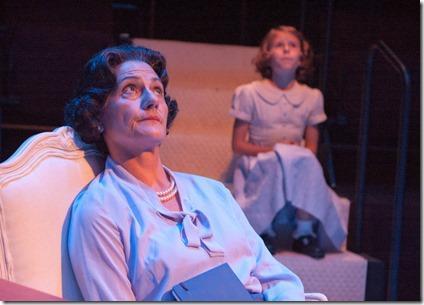 The Audience 's acting is overall excellent, with TimeLine and Chicago favorite Janet Ulrich Brooks leading the pack. Her Elizabeth is complex and well-rounded: equal parts vulnerable and tough, aware of everything that's going on around her, and staunchly British with her stiff upper lip, her love of tea and her insistence on turning off the lights when one leaves a room. Of the three actors who play the male Prime Minister, Matt DeCarois a standout as both the blustery Churchill and Harold Wilson, who had a loud voice, a strong relationship with American President Lyndon Johnson, a beloved camera, and with whom the Queen retained a deep friendship throughout the years, eventually inducted into the Order of the Garter. As the young Elizabeth, Ackerman is precocious but not overly precious, still very innocent but intelligent that her life will one day change beyond measure. The only real disappointment is Carmen Roman, whose portrayal of Margaret Thatcher is over-the-top and borderline bawdy in an otherwise well-written scene.
The Audience is a must-see for fans of the British monarchy, the Windsor family and strong women in leadership roles. Though the Queen never comments on her own political beliefs, she is devoted to England and sees her role as one of divine service. Well-written and thoroughly researched, The Audience is a refreshing reminder that most leaders take their lot in life incredibly seriously and are forever called to serve their country.
The Audience continues through November 12th at TimeLine Theatre, 615 W. Wellington (map), with performances Wednesdays and Thursdays at 7:30pm, Fridays 8pm, Saturdays 4pm & 8pm, Sundays 2pm. Tickets are $40-$54 (with student & military discounts), and are available by phone (773-281-8463) or online through their website (check for availability of ). More information at TimeLineTheatre.com. (Running time: 2 hours 10 minutes, includes an intermission)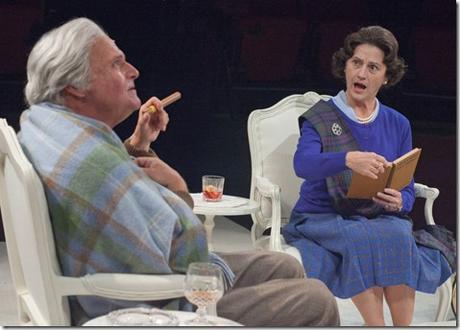 Janet Ulrich Brooks (Queen Elizabeth II), Matt DeCaro (Winston Churchill, Harold Wilson, Tony Blair, Archbishop), David Lively (Equerry), Carmen Roman (Margaret Thatcher, Bobo MacDonald, Secretary, Security Officer), Mark Ulrich (John Major, Gordon Brown, Anthony Eden, David Cameron, Detective), Sophie Ackerman (Young Elizabeth, alternating performances), Audrey Edwards (Young Elizabeth, alternating performances), Caron Buinis, Andy Gwyn, James Sparling (understudies)
behind the scenes
Nick Bowling (director), Jeffrey D. Kmiec (scenic design), Theresa Ham (costume design), (lighting design), Andrew Hansen (original music and sound design), (properties designer), Katie Cordts (wig designer and coordinator), Jared Bellot (dramaturg), Helen Young (associate director), Elise Kauzlaric (dialect coach), Luci Kersting (stage manager), Brennan T. Jones (asst. director), Dina Spoerl (lobby display design), Raymond Hutchison (production assistant), Lara Goetsch (photos)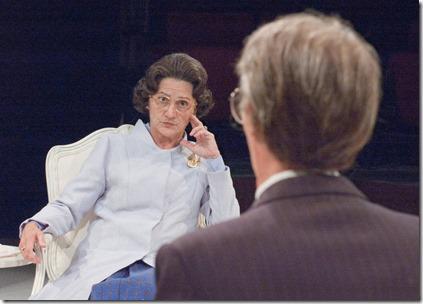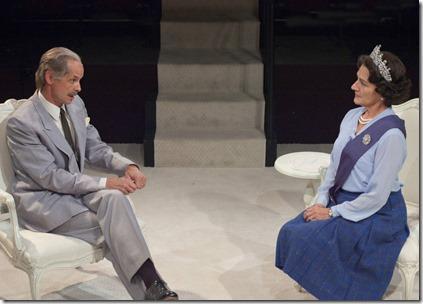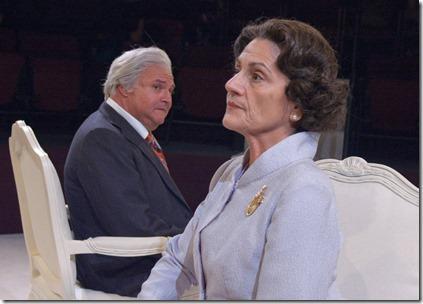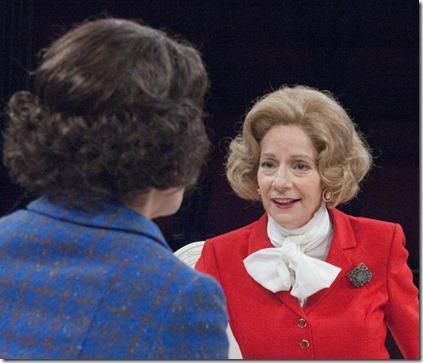 Tags: 17-0819, Amy Peter, Andrew Hansen, Andy Gwyn, Audrey Edwards, Brennan T. Jones, Carmen Roman, Caron Buinis, Chicago Theater, David Lively, Dina Spoerl, Elise Kauzlaric, Helen Mirren, Helen Young, James Sparling, Janet Ulrich Brooks, Jared Bellot, Jeffrey D. Kmiec, Julie Mack, Katie Cordts, Lara Goetsch, Lauren Whalen, Luci Kersting, Mark Ulrich, Matt DeCaro, Nick Bowling, Peter Morgan, post, Queen Elizabeth II, Raymond Hutchison, Sophie Ackerman, Theresa Ham, TimeLine Theatre