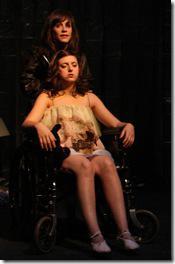 The Argument
Written by Gregory S. Moss
Directed by Jeffry Stanton
at the Viaduct Theatre, 3111 N. Western (map)
thru Nov 5  |  tickets: $20-$25   |  more info
Check for half-price tickets 
  
  
   Read entire review
  
---
'The Argument' rides a strange but powerful wave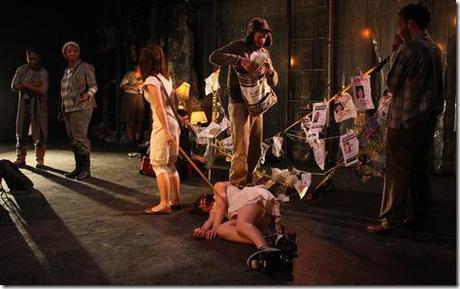 Interrobang Theatre Project presents
The Argument
Review by Lauren Whalen 
The word "post-apocalyptic" gets thrown around a lot these days, and it's no wonder: the past decade has been rife with hurricanes, terrorist attacks and an economy collapse that's inspired peaceful protests nationwide. Losses big and small have everyone questioning their every move and making decisions to avoid unnecessary regret. The Argument, the Chicago premiere of Gregory S. Moss' play, is timely as well as bizarre and poignant. Though a bit scant at forty minutes, the one-act contains many beautiful moments and bare-boned but high production values.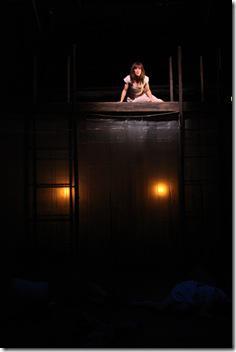 Twin sisters Mia and Ana never had a chance to really live: orphaned since childhood, they work day and night in the bar their mother left them. When a flood leaves the world devastated and Ana drowns, Mia is undeterred. Rather than burying her sister, she drags her body through refugee camps and dirty dungeons, determined to give Ana the experiences her twin never had in her nineteen years on earth.
If this sounds strange, that's because it is. Mia totes her sister's body around first on roller skates, then in a wheelchair, then in a shopping cart. Refugees and derelicts judge harshly, despite their own impure acts in the face of disaster. In contrast, Mia's actions, though extremely odd, are done out of love. Ana reveals in an early monologue what her life would have been like: seven great loves, two children and a brush with death that was avoided. Better late than never, Mia figures. And as the play goes on, rather than grow disgusted, the audience becomes convinced that Mia is doing the right thing.
The world of The Argument is weirdly familiar: today's citizens are no strangers to catastrophes of all sorts, and this play uses "post-apocalyptic" not as a public relations buzzword, but as a metaphor for what the world has faced and what its people will become as a result. Moss' brief script shows a real love for language, especially in a playful dream sequence involving Ana and a wistful monologue in which a refugee remembers spending the final hours before the flood with his lover. A speech by a religious zealot police officer is cliché and unnecessary, but the play's chilling closing exchange more than makes up for it. With its drafty atmosphere and dusty black walls, the Viaduct Theatre is an intelligent venue for the piece, and Caitlin Fergus' set – a carefully crafted mishmash of plastic sheets, old cans and other detritus – seals the short but powerful glimpse into this world.
The ensemble cast moves well through their unique environment, and a few featured actors have nice turns, particularly Michael Moran as the unlikely gentleman caller Harry. Victoria Bucknell tends to overact as Ana, though her occasional moments of subtlety – particularly in the final moments of the play – are most effective. But the real accolades go to Carla Kessler, whose fragile but driven Mia is the thread that ties the production together. Petite and strong, Kessler's eyes are perpetually wide with newfound power, wonder and sadness, as she regards the world she never would have seen had her twin survived.
Though The Argument ends rather abruptly and could have done with about five more minutes, the swift pacing of the play only adds to its urgency. Each character – the ones who haven't already died, anyway – is fully aware of the borrowed time on which he or she is living. Through emotional writing, effective performances and excellent scenery, The Argument paints the portrait of a flood: not just of water, but fear, determination and unselfish love. Forty minutes fly by, leaving the audience reflective and wondering: where will you be when the flood comes?
Rating: ★★★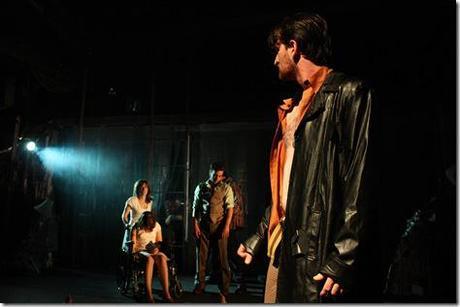 The Argument continues through November 5th at the Viaduct Theatre, 3111 N. Western (map), with performances Thursdays through Saturdays at 7 p.m., Sundays at 5 p.m. Tickets are $20-$25, and can be purchased by phone (773-296-6024) or online at TicketWeb.com.  More information at Interrobang's website. (Running time: 40 minutes with no intermission)
---
artists
cast
Carla Kessler (Mia); Victoria Bucknell (Ana); Drew Anderson (Lover 4); Nathanael Card (Lover 5); LaToya Codner (Refugee 2); Elana Elyce (Refugee 1); Neal Starbird (Policeman); Sophia Hamilton, David Hathway, Kieran Kredell, Michael Moran, Ed Porter, Griffin Sharps, Kira Silverstein (ensemble)
behind the scenes
Jeffry Stanton (director), Michael Moran (asst. director), Sara Robinson (stage manager), Seth Kannof (asst. stage manager), Caitlin Fergus (set, props), Mary Ellen Stebbins (lighting), GW Rodriguez (sound), Bradford Chapin (asst sound), Emma Weber (costumes), Josh Grossman (prod. manager), Danny Bernardo (choreography), Jenny Rachel Weiner, Matt Rudy (dramaturgs); Josh Corn, Eric Sisco, Bennett Grossman, Greg Ekey (construction, load-in crew)