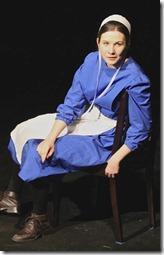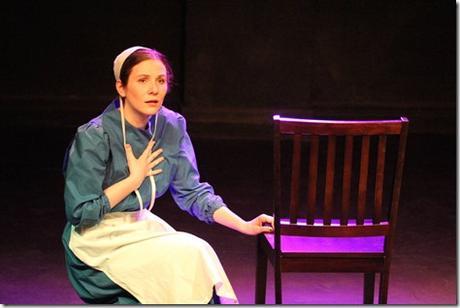 Review by Lauren Whalen
In 2006, a milkman entered an Amish schoolhouse in Pennsylvania and opened fire, killing 10 young girls and then himself. What happened next was even more shocking: the Amish community (including the families of the victims) publicly forgave the gunman and extended emotional and financial support to his surviving kin. Jessica Dickey's The Amish Project , a stirring and sad one-woman show that's essentially an oral history of the tragedy from multiple perspectives, premiered at the New York Fringe Festival and has since been produced worldwide. Interrobang Theatre Project's stunning production, directed by David Connelly, has already gone up in San Antonio and Rome, with actress and ensemble member serving as the play's sole performer and beating heart. In case you missed American Theater Company's production a few years ago, as I did, have no fear. In today's political landscape, with a shocking presidential election result that's shaking the nation, The Amish Project is a much-needed reminder that hope can arise from the direst of circumstances.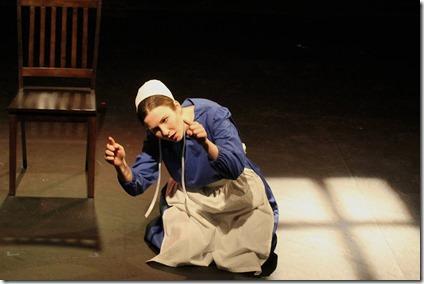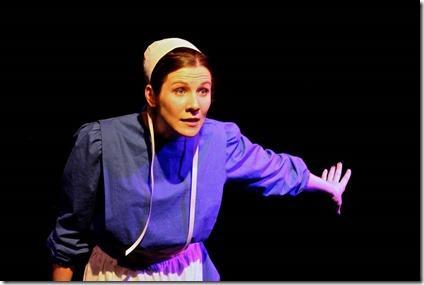 Using only a chair, plain dress and strategic-bordering-on-genius lighting (the latter courtesy of Emma Deane), Gise completely inhabits several characters in and out of the Amish community. She goes from a sweet and innocent Amish child, to a gum-chomping cashier at the local grocery, to the gunman's jaded, grieving widow in the blink of an eye. Other characters include an empathetic academic who becomes the spokesperson for the Amish community, the Amish child's contemplative older sister and the gunman himself, who isn't quite sure why he has these dark, heavy compulsions. Playwright Dickey is thoughtful and courageous as she develops each character, never letting us forget that no one is perfect or has completely pure motivations. The playwright emphasizes the Amish's godly, family-centered culture that relies on privacy, yet must interact with the modern outside world. Rather than sensationalized, The Amish Project is as quiet and subtle as the Amish people themselves, yet vibrates with tension and emotion. Director Connelly keeps the story and the action moving without ever sacrificing the most significant moments, both positive and negative.
I've long been impressed by Gise (a local favorite and standout in Interrobang's most recent production of ), but in The Amish Project , she takes her considerable talent to a whole new level. Her voices and mannerisms are perfectly suited to each character, making each a distinctive, complex human being. While a lesser performer might rely on stereotype, Gise never takes the easy way out. Her interpretations are polished and sharp. This is a complicated story, and she is with the audience every step of the way, guiding them with a sure, practiced hand.
One might be tempted to skip The Amish Project because of the somber story it tells: if that is your instinct, please ignore it. After three days of mourning our country and its future, I was heartened to see not only this gorgeous production but a venue full of individuals committed to live theater. I left The Amish Project saddened but strengthened, and full of hope. If we can keep telling stories and believing in the power of art, we will be all right.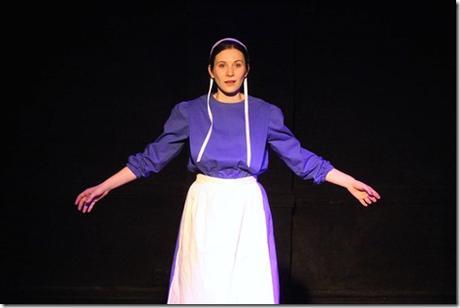 The Amish Project continues through December 4th at Athenaeum Theatre, 2936 N. Southport (map), with performances Thursdays-Saturdays at 8pm, Sundays 2pm. Tickets are $14-$17 (students: $12, military: free), and are available by phone (773-935-6875) or online through OvationTix.com (check for half-price tickets at Goldstar.com ). More at InterrobangTheatre.org. (Running time: 70 minutes, no intermission)
Photos by Gregg Gilman
behind the scenes
David Connelly (director), (scenic design, co-artistic director), Martha Peñaranda (costume design), (lighting design), Cole Wilson (sound design), Georgette Verdin (co-artistic director), Christopher Aaron Knarr (house manager, social media manager), Zoe Verdin (creative design), Gregg Gilman (photographer)
Tags: 16-1129, American Theater Company, Athenaeum Theatre, Chicago Theater, Christopher Aaron Knarr, Cole Wilson, David Connelly, Emma Deane, Georgette Verdin, Gregg Gilman, Interrobang Theatre, James Yost, Jessica Dickey, Lauren Whalen, Martha Peñaranda, New York Fringe Festival, post, Sarah Gise, The Amish Project, Zoë Verdin
Category: 2016 Reviews, Athenauem, Interrobang Theatre Project, Lauren Whalen, One-Man Show