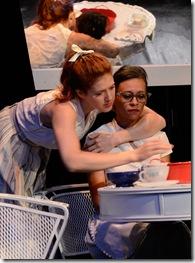 The American Plan 
Written by Richard Greenberg
Directed by Robin Witt
at Stage 773, 1225 W. Belmont (map)
thru Aug 26  |  tickets: $28-$32   |  more info
  
Check for half-price tickets 
  
  
   Read entire review
  
---
A compelling and psychologically astute 'Plan'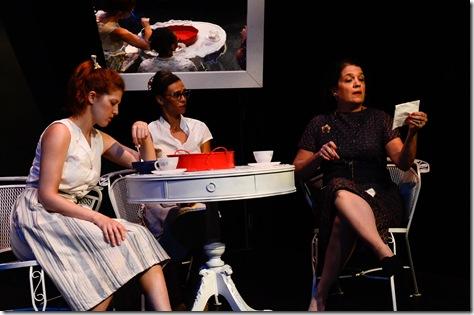 The Artistic Home presents
The American Plan
Review by Clint May 
Which is greater—love or fear? Richard Greenberg's compelling and psychologically astute The American Plan leaves one wondering if there's any separating the two or if they are critically interwoven structures. A summer of '59 getaway in the midst of mountains and the shores of a lake becomes a setting for the pathetic machinations of four emotionally stunted individuals. Each one is vying for something selfish, but they remain oddly sympathetic. Often we feel trapped by the confines of familial bonds or social strictures, silently plotting escape, if only to a new cage of our designs; these people are just more brutal than most.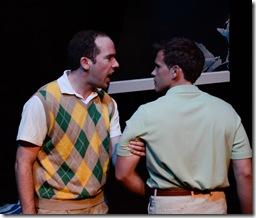 German Jew emigré Eva (
Kathy Scambiatterra
) is the "duchess" of an enclave of sorts near a hotel at the base of the Catskills. A retreat for various wealthy and bored East Coast money, she returns so that can be reminded of her own sophistication by looking down on her social lessers. Petulant teenage daughter Lili (
Margaret Katch
) spends her days spying on the patrons and swinging idly in a hammock while maid and confidant Olivia makes tea and endures Eva's digressions.
Into this hermetically sealed world a water nymph bursts onto the shores of Eva's lake–a vision of WASPy perfection in the form of Nick (Nick Horst). Beautiful Lili is smitten by this inadvertent interloper, and the two begin a clumsy flirtation. She wryly notes that she is "pre-occupational" while he retorts that he works for the nation's "weekly cultural epiphany" (TIME magazine). It's the first of many encounters that hides more than it reveals. Eva haughtily regards the young man's courtship of her only child, playing with his emotions and foiling his plans, neatly vivisecting him with charm and a viperous wit in equal measure. She reveals her daughter's troubled history of lying, hyperbole and disappearing at odd intervals, but is no stranger to fictions herself. Nor is the 'white knight' Nick, who must contend with his former life and hidden secrets when another trespasser makes what only appears to be a chance visit.
The most canny of courtiers of the old French court would be daunted by Eva—a lonely woman driven to keep her daughter clinging to her apron strings (if she would ever deign to wear something so domestic). Lili's mania becomes increasingly overwrought as Nick refuses to be driven off by Eva in what seems to be a show of devotion. Everyone's playing a charade of manners that's fascinating to behold and rife with world weary nuggets of wisdom. There's a comfort in the stalwart boundaries of mountains, Eva notes, that's not to be found in the endless shifty sea. All their best laid plans are just a way to move from one set of boundaries to another as each one approaches the brink of happiness but fears what lies beneath. Dark revelations abound that cannot be revealed: the characters want to seduce just enough to tantalize but not so much to ruin the morbid fascination of sticking to these lives to see how it all turns out. Suffice to say, no one's a hero but no sins are beyond a certain degree of understanding.
Director Robin Witt keeps the pace steady as befitting the tone, but hasn't quite found the right place for everyone in the cast. Katch's Lili in particular fails to strike the right balance of hysterics and vulnerability, favoring the former too much to be believable as someone who could catch the enduring affections of Nick. Scambiatterra's Eva is the real draw here. Her acidity is mesmerizing—a tart lemon of a woman who earns her honorary regality as she plays chess with the lives around her. As the comfortably uncomfortable Nick, Horst is a delight to behold as he tries to find his own path between his larger than life dreams and a past he can't seem to escape.
The American Plan reveals the key difference between those who can adapt their path towards fulfillment and those who are doomed to resign themselves to discontent. Those with a myopic focus are destined for mediocrity. If you want to be happy, be prepared to want lots of things ardently. As a lesson, it's not particularly edifying but it is very instructive, a realistic moral for an unforgiving and ever changing world.
Rating: ★★★
The American Plan continues through August 26th at Stage 773, 1225 W. Belmont (map), with performances Thursdays 7:30pm, Friday & Saturday 8pm, Sunday 5pm.  Tickets are $28-$32, and are available by phone (773-327-5252) or online through PrintTixUSA.com (check for half-price tickets at Goldstar.com). More information at TheArtisticHome.org.  (Running time: 2 hours 10 minutes, includes an intermission)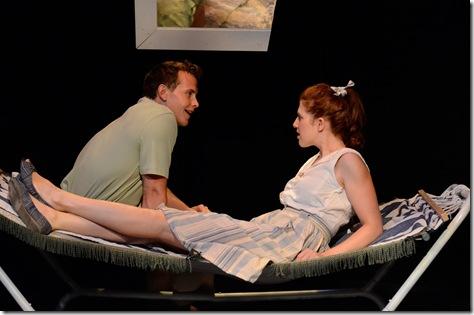 Photos by Brian McConkey 
---
artists
cast
Margaret Katch (Lili Adler), Nick Horst (Nick Lockridge), Tonya Simmons (Olivia Shaw), Kathy Scambiatterra (Eva Adler), Tim Musachio (Gil Harbison).
behind the scenes
Robin Witt (director); Katherine Swan (asst. director); John Mossman (production stage manager) Loretta Rode (stage manager); Mike Mroch (set design); David Vogel (set construction); Emily McConell (costumes); Garvin Jellison (lighting); Adam Smith (sound design); Sierra Schoenig (graphics); Kristin Collins (press, marketing); Brian McConkey (photos); Marta Evans (house manager) 
12-0738