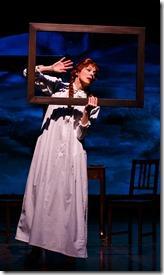 Steps well worth taking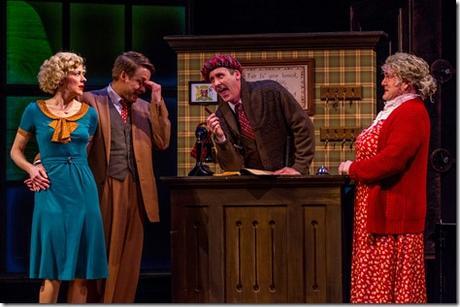 When an improv show asks its audience to suggest a film genre to imitate in a scene, the most popular response is film noir. There's just something about the melodramatic and ominous atmosphere of those films from the 30s and 40s that particularly lends itself to parody. In a true Monty Python spirit, The 39 Steps takes an overly serious Alfred Hitchcock film, underscores its classic absurdity, then adds in numerous ridiculous elements and even a few pop culture references.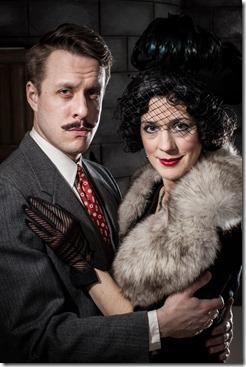 Richard Hannay (
Matt Mueller
) meets a mysterious woman (
Linda Gillum
) at the theater and becomes entangled in a web of intrigue that takes him across Great Britain as a murder suspect. In an effort to clear his name and protect top secret information from falling into the wrong hands, Richard navigates fake cops, angry Scotsmen, a mad professor, and several dangerous love interests.
The seasoned four-person cast handles the comedy flawlessly. Rather than completely ham it up, they often play the absurd situations honestly, which captures the humor of this style. Their accents range from spot-on to hilariously over-the-top and inconsistent. The physical humor is well-realized thanks to a surprisingly athletic cast, skilled object work, and extremely precise tech. Comedy is timing, so the synchronization of the actor movements with the lighting and sound cues in a show like this proves crucial. The main platform, downstage area, rear projection screen, and two stage balconies all get utilized to perfection in David Perkovich's imaginative staging. Theatre at the Center's high production values balance nicely against several innovatively low-budget tech solutions that get delivered with a wink.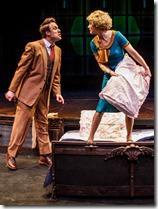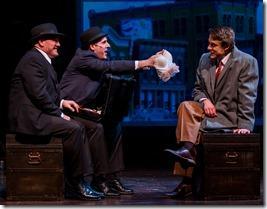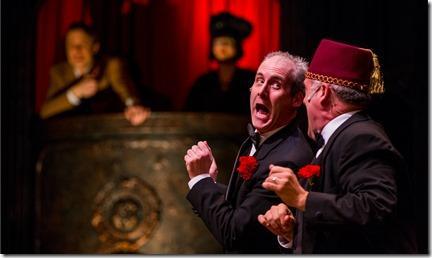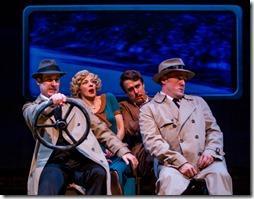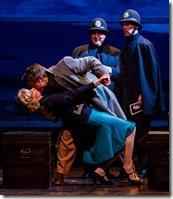 The play's structure lends itself to Norm Boucher and Kevin McKillip stealing the show. This versatile duo takes on over 30 characters each and sometimes portrays a crowded room just between the two of them. They occasionally embody characters other than people (such as a babbling brook) or enlist the help of puppets to fill out a scene. The points at which the play gets self-referential about having four actors portray several dozen characters land beautifully. The tongue-in-cheek nature of the piece and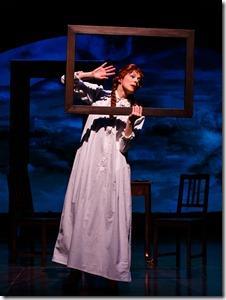 incredible poise of the cast are such that when the actors responded to an audience member's cell phone ring opening night, you could almost believe that it was an intentional part of the show.
To nitpick, the use of microphones for the actors becomes a little bothersome. Technology has progressed to the point where if the entire audience is close enough to spot the devices on the actors' faces, then the setting is intimate enough to render such devices redundant. I have little doubt that four equity actors of this caliber could project well enough to overcome the soft textures of Northwest Indiana's premier theater without assistance.
Although The 39 Steps doesn't provide much beyond campy humor, that humor lands extremely well in this Theatre at the Center production. Even if you need to travel 39 miles to attend, you'll find that commute to be a step worth taking.
The 39 Steps continues through March 20th at Theatre at the Center, 1040 Ridge Road, Munster, IN (map), with performances Wednesdays and Thursdays at 2pm, Fridays and Saturdays 7:30pm, Sundays 2:30pm. Tickets are $40-$44, and are available by phone (219-836-3255) or online through their website (check for half-price tickets at Goldstar.com ). More information at TheatreAtTheCenter.com. (Running time: 2 hours 10 minutes, includes an intermission)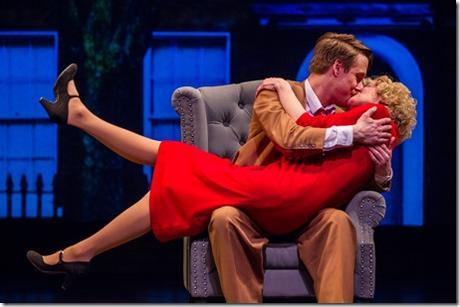 behind the scenes
David Perkovich (director), (set design, production manager, tech director), Brenda Winstead (costume design), Michael McNamara (lighting design), Barry G. Funderburg (sound design), Paul Deziel (projection design), Kevin Barthel (hair, wig design), Brittney O'Keefe (props design), Matt McMullen (production stage manager), Dennis Galbreath (asst. tech director), Melissa Geel (shop foreman), Dellie Page (production assistant, floor manager), Christy Conway (wardrobe supervisor), Valerie Vanderkolk (wardrobe crew), Luis Ramon Garcia (sound, slight supervisor), Alice Broughton (costume shop manager), Linda Fortunato (artistic director), William Pullinsi (artistic director emeritus), Richard Friedman (general manager), Philip Potempa (marketing director), Charlie Misovye (group sales coordinator), (photos)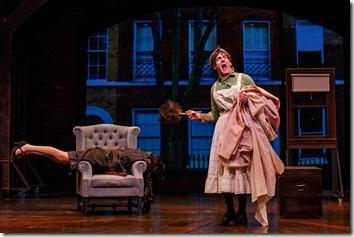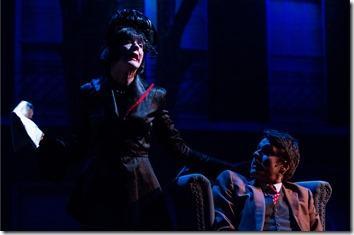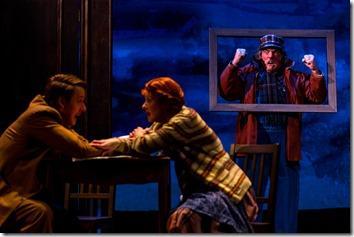 Tags: 16-0252, Alfred Hitchcock, Alice Broughton, Ann N. Davis, Barry G. Funderburg, Brenda Winstead, Brittney O'Keefe, Charlie Misovye, Chicago at the Center, Chicago Theater, Christie Coran, Christy Conway, Darren Hill, David Perkovich, Dellie Page, Dennis Galbreath, Guy Rhodes, John Buchan, Jordan Phelps, Keith Glab, Kevin Barthel, Kevin McKillip, Linda Fortunato, Linda Gillum, Luis Ramon Garcia, Matt McMullen, Matt Mueller, Melissa Geel, Michael McNamara, Norm Boucher, Patrick Barlow, Paul Deziel, Philip Potempa, post, Richard Friedman, Steve Peebles, Valerie Vanderkolk, William Pullinsi