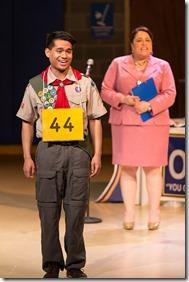 The 25th Annual 
Putnam County Spelling Bee
Music and Lyrics by William Finn
Book by Rachel Sheinkin
Directed and Choreographed by Scott Calcagno
at Drury Lane Theatre, Oakbrook Terrace (map)
thru Aug 17  |  tickets: $40-$50   |  more info
  
Check for half-price tickets 
  
  
   Read review
  
---
Flawless cast makes this one of summer's big winners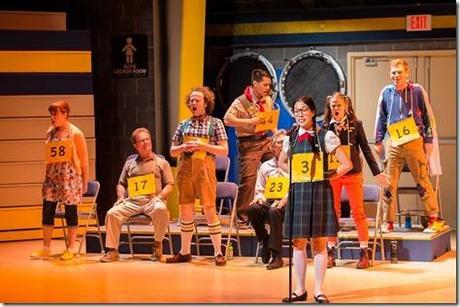 Drury Lane Theatre presents
The 25th Annual Putnam County Spelling Bee
Review by Clint May 
Back before the advent of widespread literacy, the mastery of words and language was considered to be literally magical. To cast a spell was simply the ability to spell (and read and write). 'Grimoire' is taken from the same root as "grammar."  William Finn and Rachel Sheinkin's hilarious musical ode to the endearing magic of words has become a perennial favorite in Chicago, and Scott Calcagno's latest big budget/big scale production at Drury Lane is nothing short of enchanting. Plumbing the depths of pubescent anxieties that reach far beyond those of your average linguaphile, Spelling Bee has just a little satirical sting (pun intended) mingled with its quirky humor to make this a practically perfect modern musical.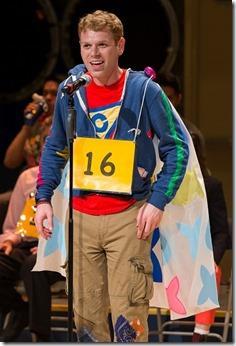 Familiar fans know that one of the greatest joys of the show is the audience participation. Four pre-selected audience members (you sign up in the lobby beforehand if you want to enter the lottery) are coached to always ask for a definition and usage in a sentence, giving the proctor (the exquisitely funny and deadpan
Joe Dempsey
) a chance to improvise a response.
For example:
"Your word is: phylactery"
"Definition?"
"A small leather box containing Hebrew texts worn by Jewish men as a reminder to keep the law."
"Can you use it in a sentence?"
"Billy, put down that phylactery, we're Episcopalian."
On my particular night, the audience members were uniformly great, with one being so good that many near me thought he must have been a plant (I asked him afterwards and no, he was just really game for anything and a natural on stage).
As our hostess Ms. Peretti (Frances Limoncelli, who gets to improvise the audience member introductions*) sets up the stage, she reminisces about her own former glory at winning the bee. One by one the students enter, all but one of them champions of their respective schools vying for a chance to make it to nationals.
They're an eccentric group of misfits. There's Olive (Landree Fleming), whose best friend growing up was an extra large dictionary, thanks to absentee parents. William (Eli Branson) is a nerdy outcast with an unfortunate last name and a magic spelling foot. Poor young Leaf (Zack Colonna) is considered dumb by his family but demonstrates an ability to spell by entering a fugue state. Marcy (Stephenie Soohyun Park) is a stereotypical overachieving Asian student with dreams of rebelling. Overseen by her two loving but meddling dads, Logaine (Carolyn Braver) is similarly neurotic about perfection and politics. Chip Tolentino (Jordan De Leon) has a crush on Leaf's sister and loses when an ill-timed tumescence makes him flub. As they are winnowed down, they're escorted off stage with a hug and juice box from a comfort counselor (Jonathan Butler-Duplessis) doing his community service time. Along the way they deal with the universal trials and tribulations of becoming an adult—and that includes the adults in their life.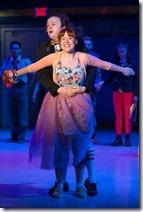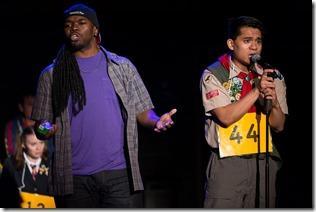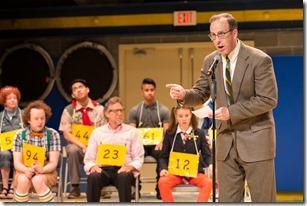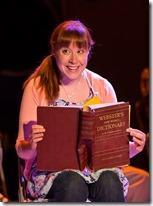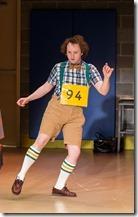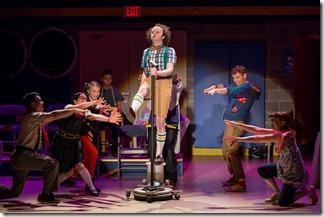 Spelling Bee isn't as showy or glitzy as some musicals—there's only a few show stopping numbers—but its relative simplicity is part of its charm. Vocally it's Limoncelli who shines, though Fleming is a close second when she gets to the heartbreaking "The I Love You Song." This cast of locals is uniformly endearing to the point where it'd be hard to single anyone out, though I personally found DeLeon** and Colonna both the funniest and most winsome. It may be that there can be no better casting choice available for the role of William Barfée (that's barf-FAY!) than Branson, whose performance as a precocious geek masking insecurity with arrogance steals every moment. This is an all around Broadway-quality production, right down to Jeff Kmiec's set design which has one gut-busting reveal I won't dare give away.
There are sublime moments of strangeness sprinkled throughout that harken back to the show's roots in improvisation. As it evolved it became a contemporary reflection of our obsessions—helicopter parents, fear of losing, parents who are too busy to pay attention to their kids, etc. (further reading). Thankfully it all ends with an epilogue to let us know that everything turns out okay for these kids.
Spelling Bee is often compared to Avenue Q in the repertoire of modern musicals and rightfully so. You'll laugh, you'll learn, you'll remember with a blush and a smile the awkwardness of growing up. They may be learning that losing isn't everything, but no one—especially the audience—is a loser in the land of Putnam County.
Rating: ★★★★
*"Mr. X is currently serving detention for being hot."
**When De Leon sings "My Unfortunate Erection (Chip's Lament)"—I haven't laughed that hard at a musical number since Book of Mormon's "Spooky Mormon Hell Dream".
25th Annual Spelling Bee continues through August 17th at Drury Lane Theatre, 100 Drury Lane, Oakbrook Terrace (map), with performances Wednesdays at 1:30pm, Thursdays 1:30 and 8pm, Fridays 8pm, Saturdays 5pm and 8:30pm, Sundays 2 and 6pm.  Tickets are $40-$50, and are available by phone (630-530-0111) or online through Ticketmaster.com (check for half-price tickets at Goldstar.com). More information at DruryLaneOakbrook.com.  (Running time: 2 hours 25 minutes, includes an intermission)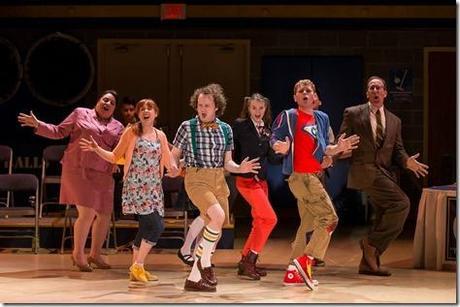 Photos by Brett Beiner 
---
artists
cast
Eli Branson (William Barfée), Carolyn Braver (Logainne Schwartzandgrubenniere), Jonathan Butler-Duplessis (Mitch Mahoney), Zack Colonna (Leaf Coneybear, Carl Dad), Jordan De Leon (Chip Tolentino), Joe Dempsey (Douglas Panch), Landree Fleming (Olive Ostrovski), Frances Limoncelli (Rona Lisa Peretti), Stephenie Soohyun Park (Marcy Park), Pablo Barajas, Matt Deitchman, Amy Orman, Rose Le Tran (understudies)
behind the scenes
Scott Calcagno (director, choreographer), Ben Johnson (music director, supervisor), Jeff Kmiec (scenic design), Julie Mack (lighting design), Erika Senase (costume design), Ray Nardelli (sound design), Nick Heggestad (properties design), Ryan McCain (props master), Isabel Strauss (asst. scenic design), Carey Deadman (music contractor), Nicole Hren (asst. choreographer), William Osetek (artistic director), Juli Walker (production manager), Jeremy Drechny (technical director), Earl Baum (asst. tech director), Matthew Carney (company manager), Erin Quist (stage manager), Amy Orman (asst. stage manager), Katlyn Summerville (assistant to the stage manager), Justin Horn (master electrician), Jeff Rasmussen (head carpenter), Kyle Irwin (sound engineer), Dan Solan (sound assistant), Erika Senase (costume manager), Maggie Hofmann (cutter, draper), Kristin Ligeski (wardrobe supervisor), Kyle DeSantis (executive producer), Drew DeSantis, Jason Van Lente, Abigail DeSantis (producers), Jim Jensen (special projects manager), Brett Beiner (photos)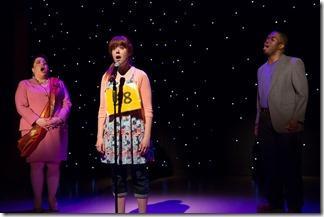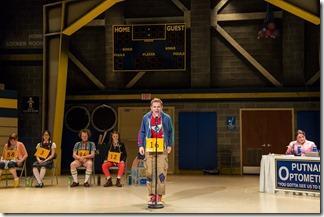 14-0645