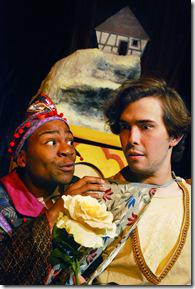 The 13 Clocks
Adapted by Robert Kauzlaric
Directed by Amanda Delheimer
at Lifeline Theatre, 6912 N. Glenwood (map)
thru Dec 4  |  tickets: $15   |  more info
Check for half-price tickets  
Check out the production's study guide
  
   Read entire review
  
---
Thurber tale delights the child in everyone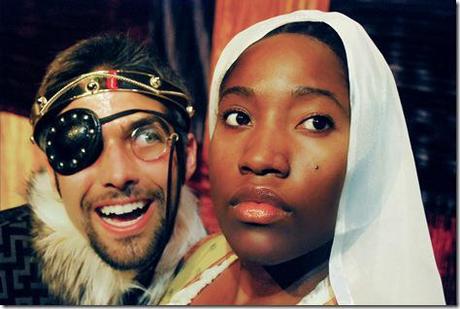 Lifeline Theatre presents
The 13 Clocks
Review by K.D. Hopkins
Alas, I did not have one of my precious nieces or nephews for the Lifeline production of The 13 Clocks. As a result, I had to reach way back to the little girl who loved theater. Luckily it's an easy job when viewing a Lifeline children's production. Lifeline is the platinum standard for children's theater in Chicago. And The 13 Clocks cements that status for me.
This production is from a James Thurber fairy tale. I loved his stories as a child and have seen a quite a few of his works on stage – Thurber's eye for human peccadilloes and silliness is legendary. This is the story of a kingdom frozen in time, a princess held captive by a maniacal duke, people eating blobs, a wandering minstrel and a delightfully forgetful wizard called Golux.
The staging of 13 Clocks is enhanced through the use of puppets mirroring the actions of the live actors. It is a great way to introduce an enchanted kingdom and quite funny.
Joey deBettencourt is delightful as Zorn the wandering minstrel/secret prince. He comes upon the dazzling Princess Saralinda (Mildred Marie Lanford) trapped in a tower. Lanford plays the Saralinda with a blend of moxie and snap timing. Meanwhile Zorn is warned by Hark (played with hilarious verve by Mike Ooi) to beware of the Duke and of the difficulties in store for anyone who dares try to free the princess.
I love the character of the maniacal Duke, played by Jonathan Helvey!  Helvey gives the Duke a perfect blend of cartoon crazy and pathos. With an eye patch over one eye and a monocle over the other, Helvey's voice and inflection are reminiscent of classic cartoon characters from the golden age of animation when Mel Blanc and Edward Everett Horton ruled the world. Equally adorable is the character of the wizard Golux. David Guiden blends frenetic comic timing and an endearing sweetness into the wizard. His method of wizardly incantation is side splitting funny.
One of the things that I love best about Lifeline is their economy of stage settings. What seems to be a relatively sparse stage is turned into a multi-use panorama; characters whizzing in and out at wizard speed.
This Thurber adaptation is by Lifeline ensemble member Robert Kauzlaric, who does a wonderful job of staying true to Thurber's style while bringing in a modern twist. Amanda Delheimer is the Director of this wonderful tale. Her pacing is perfect in keeping the characters coherent while deftly adding the perfect touch of farce and double-takes. Also worth a special mention are puppet designers Chelsea Warren and Melanie Berner. The puppets are whimsical and are a perfect addition to the production.
This is a great show for children of all ages. It is funny on child and adult levels and so worth your time. As I said before: Lifeline is the platinum standard for children's theater. Basketball season is on hold, the Bears could give you apoplexy so get out and explore beautiful Rogers Park USA and make the Lifeline Theater a part of your exploring!
Rating: ★★★★
The 13 Clocks continues through December 4th at the Lifeline Theatre, 6912 N. Glenwood (map), with performances Saturdays at 1pm, and Sundays at 11am and 1pm.  Tickets are $15, and are available by phone (773-761-4477) or online at ovationtix.com. More information at LifelineTheatre.com.
This production is recommended for kids 5 and up. Children under 2 not permitted.

All photos by Suzanne Plunkett 
---
artists