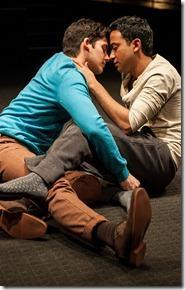 Teddy Ferrara 
Written by Christopher Shinn 
Directed by Evan Cabnet
at Goodman Theatre, 170 N. Dearborn (map)
thru March 3  |  tickets: $14-$45   |  more info
  
Check for half-price tickets 
  
  
   Read entire review
  
---
Gay-themed drama in university setting gets a "B"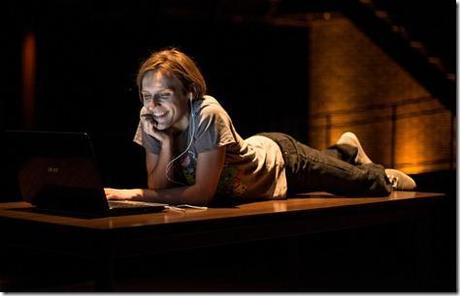 Goodman Theatre presents
Teddy Ferrara
Review by John Olson
When Rutgers University freshman Tyler Clementi committed suicide in fall 2010, the death was quickly judged in the media and by the public to be the result of homophobic cyber bullying of the openly gay Clementi by his straight roommate. The roommate was convicted last year of invasion of privacy and bias intimidation for allegedly spying via webcam on Clementi's intimate liaison with another man and commenting about it on Twitter. Clementi jumped to his death from the George Washington Bridge the day after his roommate's second attempt to broadcast Clementi's date with the man in his dorm room. Ian Parker's article in the New Yorker published a year ago suggested the circumstances of the suicide may have been more nuanced than initial reports suggested. Parker's article showed that very little of Clementi's romantic activity was actually broadcast or seen by others as Clementi and his visitor caught on to the roommate's scheme quickly. The article also suggested Clementi may have had a bent toward exhibitionism anyway, noting another report that Clementi was registered on a website where men and women engaged in exhibitionist displays via webcam.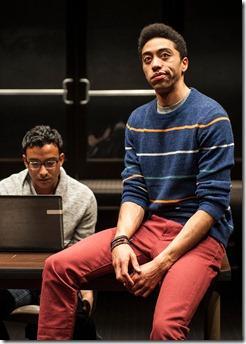 Playwright
Christopher Shinn
has taken those findings and fashioned this fictionalized play around them.
Teddy Ferrara
, though, is more concerned with the public reaction to the suicide than to the suicide itself. Shinn, through his lead character, the attractive and ambitious gay college senior Gabe (
Liam Benzvi
), questions the characterization of Teddy (the play's fictional stand-in for Clementi) as a victim of homophobia, and the implication that the gay community in general is a group of "victims." Gabe says to the University President (and others on the diversity task force with whom he serves), that suicide is a very private decision – who can really know a person's reasons for taking their own life?
While allowing the audience to make its own conclusions, Shinn gives plenty of reasons to believe Teddy was a troubled young man who could be depressed enough to take his own life. In a fascinating and distinctive performance by Ryan Heindl, Teddy is awkward, probably intelligent but socially inept and feeling very lost in the big unnamed public university where the play is set. His attempts at friendship with Gabe, who leads the campus LGBTQ group, are politely but clearly rebuffed. We see Teddy interacting boldly with others online (and promising but stopping just short of online exhibitionism), and torn between the security of online socialization versus the risks of real life encounters. He seems hurt by the roommate's invasion of his privacy, but more troubled by his overall loneliness.
Shinn creates a believable milieu of the gay/Lesbian community at this big campus. Gabe is good-looking and popular enough to be a credible candidate for student body president, while his new boyfriend Drew (Adam Poss) is editor of the student newspaper. There's a clear social pecking order which places the likes of Gabe and Drew at the top and a geek like Teddy, or even the handsome but wheelchair bound Jay (Christopher Imbrosciano) on the other end of the food chain. Shinn's dialog sounds authentic and he shows the sex drive (and ways of talking about sex) of college-age men frankly but not salaciously. Shinn, a university professor in real life as well as a playwright, shows how visibility and social acceptability have increased in the campus community. Through Shinn's characters who serve on the diversity task force – a Lesbian professor (Kelli Simpkins), a transgendered person (Jax Jackson), Jay (Imbrosciano) and Gabe – there's an acknowledgement that many issues remain in making the campus welcoming for all, and that the nuances of the rapidly changing acceptance of the LGBTQ community is no reason for inaction. Still, Shinn appears to argue against a tendency to oversimplify the issues, make victims of the entire community and pursue an excessively militant stance in the pursuit of these changes.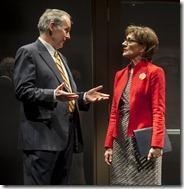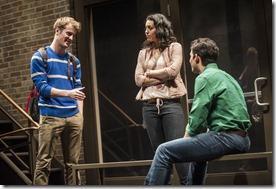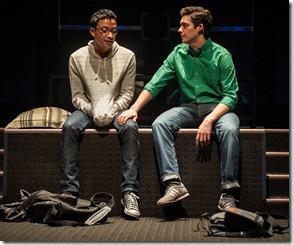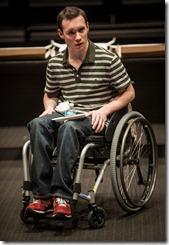 The issues raised are substantive. The environment seems accurately drawn and Gabe and Drew are nuanced and intriguing characters. Gabe at heart seems a decent and kind guy, but prone to his own insensitivity and shallowness. He ineptly rejects Jay as a potential boyfriend simply because he's in a wheelchair, and he bounces around the guys he does find acceptable with a certain ease. Drew is quickly shown to be duplicitous and controlling, and the University President is painted (in a very funny performance by Patrick Clear) to be well-meaning but clueless and a bit self-absorbed.
There's much to be commended in this play, but there's just too much play here. It's interesting that one of Shinn's characters is an editor because an editor is what the play needs. Shinn has more characters than he has time or ideas to handle, including the straight, handsome and athletic Tim (Josh Salt), the outgoing student body president who is Gabe's best friend. Their relationship seems initially intended to show the acceptance of gays by straights in this community, but Shinn doesn't develop Tim fully and takes his character into a subplot that is time-consuming and unnecessary. Teddy Ferrara also has big second act problems. After the suicide of the title character in the long first act, the second act degrades into contrived soap opera plotting.
Lee Savage's set cleverly uses a wall of brown brick and big glass doors and windows as a characteristically public university building. It's appropriately cynical that the wall serves equally well as a representation of a dorm, athletic center, library and administration building as they all look alike on so many campuses. The script has many scene changes and Evan Cabnet stages the transitions on the Owen's thrust stage smoothly. He and his young cast struggle a bit with the challenge of making Shinn's realistic and sometimes deliberately mundane dialog sound organic and it doesn't help when Shinn lets his scenes go on longer than they should.
Even so, I enjoyed Teddy Ferrara for its fresh and believable portrait of young collegiate adults, gay and straight and for the standout performances by Heindl and Clear. Shinn has an impressive voice and shows courage in taking a challenging, provocative position in the discussion of diversity and how to embrace it in our communities, as well as opposing the tendency to rush to judgment after a tragedy. It's just disappointing that he seems to have written his second act in a feverish all-nighter to meet a professor's deadline.
Rating: ★★½
Teddy Ferrara continues through March 3rd at Goodman's Owen Theatre, 170 N. Dearborn (map), with performances Tuesdays-Thursdays at 7:30pm, Fridays 8pm, Saturdays 2pm and 8pm, Sundays 2pm and 7:30pm.  Tickets are $14-$45, and are available by phone (312.443.3800) or online through their website (check for half-price tickets at Goldstar.com). More information at GoodmanTheatre.org.  (Running time: 2 hours 40 minutes, includes an intermission)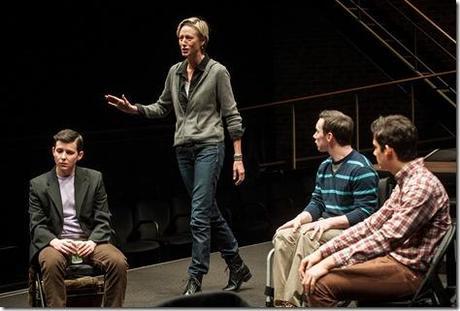 Photos by Liz Lauren
---
artists
cast
Liam Benzvi (Gabe), Janet Ulrich Brooks (Provost), Patrick Clear (University President), Rashaad Hall (Nicky), Ryan Heindl (Teddy), Christopher Imbrosciano (Jay), Jax Jackson (Jaq), Dev Kennedy, Fawzia Mirza (Campus Police), Paloma Nozicka (Jenny), Adam Poss (Drew), Josh Salt (Tim), Kelli Simpkins (Ellen).
behind the scenes
Evan Cabnet (director), Lee Savage (set design), Jenny Mannis (costume design), Keith Parham (lighting design), Richard Woodbury (sound design), Adam Belcuore (casting), Tanya Palmer (dramaturg), Dana M. Nestrick (production stage manager), David Wooley (fight consultant), Liz Lauren (photos)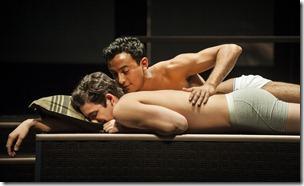 13-0218