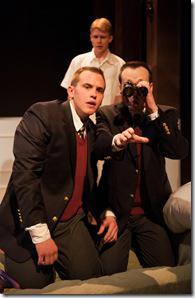 Tea and Sympathy 
Written by Robert Anderson  
Directed by David New 
at Stage 773, 1225 W. Belmont (map)
thru April 22  |  tickets: $20-$32   |   more info
  
Check for half-price tickets 
  
  
   Read entire review
  
---
A nuanced play brings poignant questions to the stage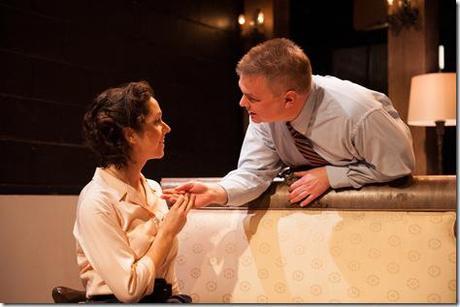 The Artistic Home presents
Tea and Sympathy
Review by J.H. Palmer
Even though Robert Anderson wrote Tea and Sympathy in the early 50's, at the pinnacle of the cult of all that is macho and "American" in our culture, it's a story that needs no updating. Tom Lee (Andrew Cutler) is a student at a boys boarding school
who's described more than once as being "an off-horse" because he prefers tennis to baseball, doesn't stare out the dorm window to get an eyeful of a nursing mother across the way like his classmates do, and plays women's roles in the school theatrical productions. He's more sensitive than the other boys at the school, and Laura Reynolds (Kate Tummelson), the headmaster's wife and housemother to the boys living in the dorm, has taken a liking to him; she sews his theatrical costumes and has a standing appointment with him for afternoon tea. Early in Act I the conflict is set: over the weekend a group of boys out on a hike happen upon Tom swimming with a teacher, Mr. Harris (Steve Wojtas.) Based on the word of one student, a rumor takes flight that the two were swimming nude together, leading to the swift dismissal of Mr. Harris, who has few lines, but his role is central to the arc of the story.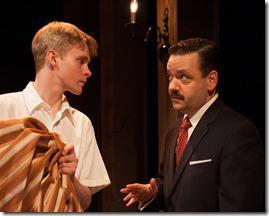 The repercussions for Tom are less direct, but just as devastating. He is suspected of being gay, and is all but shunned. Everything about him is called into question: the way he walks; his haircut; the theatrical roles he is cast in. When he walks into the locker room showers, the other boys walk out. Tom's roommate Al (
Nick Horst
) gets a phone call from his father, and although we only hear half the conversation the implications are clear: "I swear to God dad, I've lived with him a year and I don't think…" When Tom's father, Herb Lee (
Kevin Gladish
) learns that his son is playing a female role in the school play, he pressures him into dropping the part in an attempt to quell the rumors, and Tom is subsequently dropped from the dance committee.
Before finalizing his plans to move into another dorm, his roommate Al tries to help Tom by giving him advice on how to fit in: if he just got a buzz cut like the other boys, and walked differently… (Similar advice was given to another high school student in Steppenwolf for Young Adult's production fml: how Carson McCullers saved my life [my review] – only in Team and Sympathy Tom is presumed to be gay based on conjecture, and suffers the consequences as much as if he were an out gay student.)
The story gets more nuanced and complicated in Act III when Tom tries, unsuccessfully, to "prove" his heterosexuality with a failed attempt at bedding the town tramp, which only reaffirms – in his own mind as well as the minds of others, that he must be gay, and he is expelled from the school. The ending is both provocative and refreshing (I don't know if I can stand to watch another gay bashing scene on stage), and led me to wonder what would have happened if the genders had been reversed: if the story were set in an all girls boarding school where a student is suspected of being a lesbian, and is befriended by the husband of the headmistress.
As Laura, Kate Tummelson has an understated will that becomes more evident as the play progresses, and Andrew Cutler's interpretation of Tom Lee is heartbreaking and vivid, with just a touch of Rick Shroder circa "The Champ". Lilly Sears (Katherine Swan) is the foil to Laura; she's a salty woman who delights in arousing the sensibilities of teenage boys, but will never let them get any satisfaction. Bill Reynolds (Peter DeFaria) is authoritative and swift in his decision-making, and has little tolerance for anything that doesn't fit into his prescribed ideas about life. Herb Lee (Kevin Gladish) believes that he is doing his son a favor by leaving him at the school after the alleged swimming incident, and is proud of Tom, perhaps for the first time, when he believes that his son is being expelled for having sex with a woman. Ralph (Philip Edward Jones), Steve (CJ Langdon), Phil (Trevor Larson), and Paul (Cory Crew) bring believability to the boarding school scenario with their boys-only bravado, delivering lines like "I just hope she's wearing that poodle skirt!" as they dart in and out of scenes.
I was initially worried that sitting through three acts would be interminable, but each time the lights went up I couldn't wait to return to my seat to see more. This is a nuanced story in capable hands; it is neither heavy-handed nor saccharine, and raises questions that are as relevant today as they were in 1953.
Rating: ★★★½
Tea and Sympathy continues through April 22nd at Stage 773, 1225 W. Belmont (map), with performances Thursdays at 7:30pm, Fridays and Saturdays at 8pm, and Sundays at 3pm.  Tickets are $20-$32, and are available by phone (773-327-5252) or online at Stage773.com (check for half-price tickets at Goldstar.com). More info at TheArtisticHome.org.  (Running time: 2 hours 30 minutes, with two intermissions)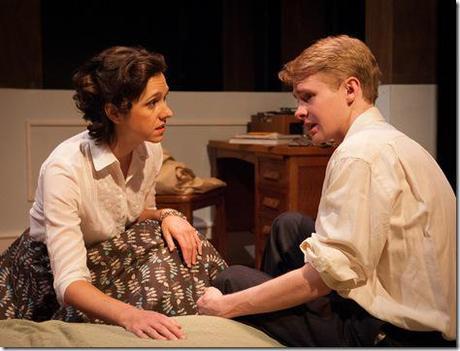 All photos by Tim Knight
---
artists