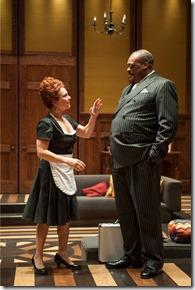 Tartuffe 
Written by Molière
Translated by Richard Wilbur
Directed by Charles Newell
at Court Theatre, 5535 S. Ellis (map)
thru July 21  |  tickets: $45-$65   |  more info
  
Check for half-price tickets 
  
  
   Read entire review
  
---
Despite a few missteps, a journey well worth taking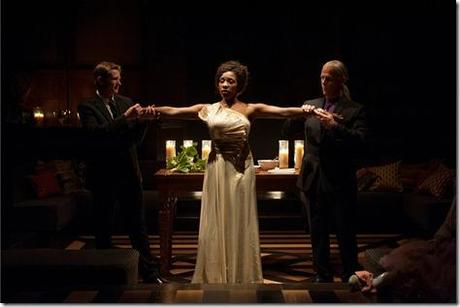 Court Theatre presents
Tartuffe
Review by John Olson
With Tartuffe, "Part Deux" of Court Theatre's Molière Festival is now open (following the theater's highly recommended production of The Misanthrope, which ran from May through early June). Does lightning strike twice? Fairly or not, the comparison is inevitable given the theater's decision to mount these two Molière comedies back-to-back with the same production design team, same director and almost entirely the same ensemble. Though as ambitious as The Misanthrope and just as superbly acted, Tartuffe has a few misfires that make it the lesser of the two.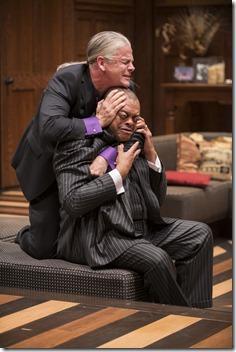 Once again, the cast is excellent and, as directed by
Charles Newell
, delivers Molière's dialog (translated by
Richard Wilbur
) with a contemporary comic sensibility.  Leads have been given to some of the actors who either had smaller roles or did not appear in
The Misanthrope.
Most impressive among these is
Elizabeth Ledo
, who here is the saucy Dorine – one of the great female roles in classic literature.  Though only a maid, she speaks truth to power – in this case, to Orgon, head of the wealthy household in which she serves. Dorine, more wittily and bitingly than the others in the household, tells Orgon of the folly of his infatuation with Tartuffe, the fake religious fanatic who has wormed his way into Orgon's home.  Ledo sports an accent that seems to intentionally and amusingly blend Latin American and French qualities. She has a great deal of stage time and provides much of the comedy in the first act.  Another actress given the chance to shine here is
Patrese D. McClain
, who plays Orgon's wife Elmire, and has a hilarious scene in which she all too successfully persuades Tartuffe to attempt to seduce her. The title character is played with delectable sliminess by
Philip Earl Johnson
– who was not in the
Misanthrope
cast. His personality matches the all-too-slick modern wardrobe designed by
Jacqueline Firkins
. Though pretending to be devoutly religious, Johnson makes him quite devilish (and no, not in a charming sense). This is a man who believes a sin isn't a sin if nobody else knows about it.
As Orgon, Court regular A.C. Smith again brings his considerable stage presence to play a powerful character. Orgon's not as funny a role as is Oronte (the part Smith played in The Misanthrope), but Smith finds a way into this complex man who is easily duped by Tartuffe, a man who would defraud him while ignoring the advice of the family who loves him. Grace Gealey, so impressive as the female lead Célimène in The Misanthrope has fun with the much less complex character of Mariane, Orgon's daughter who becomes hysterical upon learning Orgon will force her to marry the evil Tartuffe. She loves Valère (nicely played by Travis Turner), who Orgon had previously approved to marry her. Dominique Worsley (replacing the previously announced Kamal Angelo Bolden) is as earnest as Orgon's son Damis, who unsuccessfully tries to convince Orgon of Tartuffe's duplicity. Michael Pogue creates a superior attitude that's just short of arrogance for Orgon's nonconformist intellectual brother Cléante. Erik Hellman, who played the idealistic and intense title character of The Misanthrope, has a small but very funny role as Tartuffe's valet Laurent. Desmond Gray similarly creates some good-sized laughs as the bailiff of the play's final scene. Allen Gilmore once again does drag, this time as Orgon's mother Madame Pernelle, and though he is amusingly officious as the sanctimonious matriarch, the drag joke isn't as funny the second time around.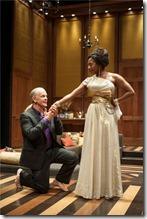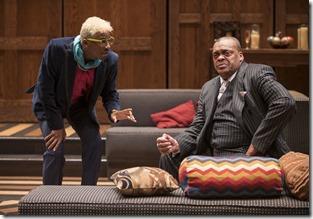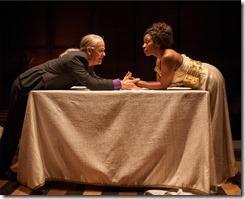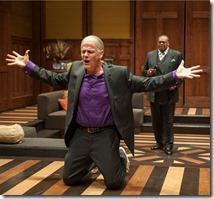 Though the work of acting and direction is still at a high level, the decision to play Tartuffe in modern dress is problematic. Newell has set the action in an upscale home in Chicago's Hyde Park/Kenwood neighborhood. Though religious charlatans are certainly present in today's society (and I suppose might find gullible victims in Hyde Park as much as anywhere), the idea that Orgon's family is so unconventional as to draw the disapproval of their neighbors in this electric, intellectual University of Chicago enclave just doesn't register. Brother Cléante's dyed white hair and son Damis's kilt and matching muscle tank would hardly draw gossip here. Further, the plot device of a father of this neighborhood (or most any present-day American city, I would guess) arranging a marriage for his daughter seems entirely too improbable. While modern dress can effectively show the relevancy of themes of plays written centuries ago to current times, in this case the incongruity of these particular situations to this present day setting is confusing and distracting.  (And from what time or place exactly is Mariane's little pink and white party dress?) On the plus side, though, John Culbert's set of the home – a gorgeous, prairie-style influenced dining room that instantly communicates wealth and tradition – is perfect. Keith Parham's lighting design includes effects that beautifully take us between Hyde Park and Hell, and the music and sound design of Josh Horvath and Andre Pluess give the proceedings a contemporary jazzy feel.
Newell and their consulting Molière scholar Larry F. Norman ought to have agreed to some judicious cutting of the dialog. Some of the scenes in the first half of the play, as funny as they are, go on far longer than necessary for development of plot or character. The very funny scene between Dorine and Orgon has the maid giving the master attitude (well-deserved as it is) interminably – contributing to the nearly 90 minutes before intermission. Still, if one can be patient with the first half's wordiness and ignore the incongruities of the modern dress setting, the sharp comic acting of this production makes for a most entertaining lesson in classic world drama.
Rating: ★★★
Tartuffe continues through July 21st at Court Theatre, 5535 S. Ellis (map), with performances Wednesdays and Thursday at 7:30pm, Fridays at 8pm, Saturdays at 3pm and 8pm, Sundays 2:30pm and 7:30pm.  Tickets are $45-$65, and are available by phone (773-753-4472) or online through their website (check for half-price tickets at Goldstar.com). More information at CourtTheatre.org.  (Running time: 2 hours 30 minutes, includes an intermission)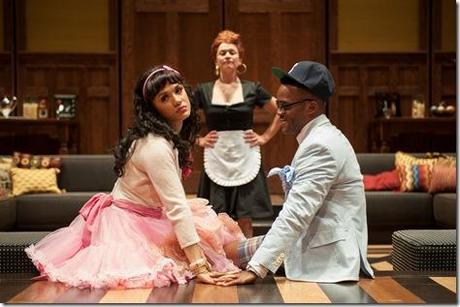 Photos by Michael Brosilow 
---
artists
cast
Philip Earl Johnson (Tartuffe), Patrese D. McClain (Elmire), A.C. Smith (Orgon), Travis Turner (Valère), Elizabeth Ledo (Dorine), Michael Pogue (Cléante), Grace Gealey (Mariane), Allen Gilmore (Madame Pernelle), Dominique Worsley (Damis), Desmond Gray (Monsieur Loyal, Flipote), Erik Hellman (Laurent).
behind the scenes
Charles Newell (director), John Culbert (scenic design), Jacqueline Firkins (costume design), Keith Parham (lighting design), Andre Pluess, Josh Horvath (sound design), Drew Dir (dramaturgy), Sara Gammage (production stage manager), William Collins (stage manager), Larry Norman (Molière scholar).
13-0645