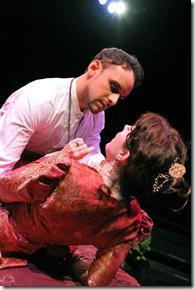 Tartuffe
Written by Molière  
Directed by Peter Robel
at Theater Wit, 1229 W. Belmont (map)
thru Feb 12  |  tickets: $20-$25   |  more info
  
Check for half-price tickets 
  
  
   Read entire review 
  
---
Molière gets a modern twist in this steam-punk production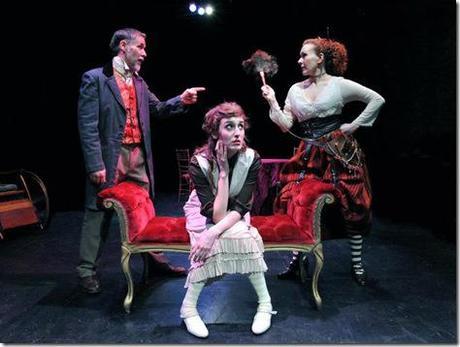 BoHo Theatre presents
Tartuffe
Review by J.H. Palmer
There's a lot of past experience packed into this production: this version of Molière's 1664 play Tartuffe was adapted by Rajit Bolt, who has also translated Lysistrata, Cyrano de Bergerac, and The Marriage of Figaro; the production is directed by Peter Robel, who has also directed BoHo productions of The Tempest, The Merchant of Venice, and The Winter's Tale. Here, Robel creates a  steam-punk English language production of the tale of a man whose name has become synonymous with "hypocrite," the dialog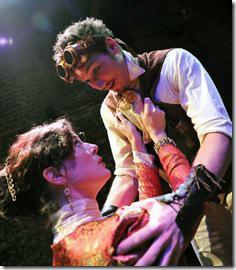 is written in rhyming couplets, as it was in the original French.
Sean Thomas convincingly plays the central character of Orgon, the wealthy and gullible head of the household who, despite the evidence at hand, believes that Tartuffe (Jeremy Trager) is a man of God and of his word. Despite the fact that his daughter Mariane (Devan O'Malia) is already engaged to marry Chris Ballou's nerdy and sincere Valère. Orgon is so captivated by Tartuffe that he has promised his daughter's hand in marriage to the hypocrite. Orgon's family try to convince the patriarch that he is making a huge mistake: Elmire (Christa Block), Orgon's wife and the object of Tartuffe's lust, Damis (Luke Daigle), Orgon's mischievous son, and Dorine (Saren Nofs-Snyder) Orgon's housemaid, go to great lengths to convince Orgon of the grievous error he is about to commit.
The staging gives the audience ringside seats to the family squabble, sitting in bleacher-style seats on four walls, and watching the story play out in the center, like a sporting event. The actors take advantage of the aisle spaces between seats, peeking in through hidden openings in curtains and climbing up the backsides of the bleacher seats to make surprise entrances.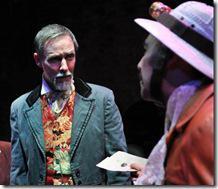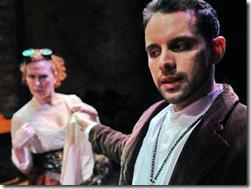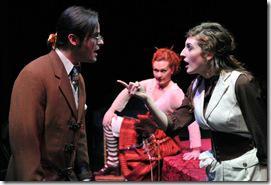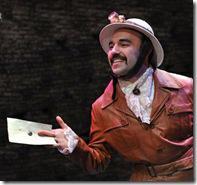 Devan O'Mailia is compelling as Mariane, Saren Nofs-Snyder's Dorine is as eye-catching as she is smart, and Christa Buck's Elmire is funny and believable. Tartuffe himself (Jeremy Trager) is as pious as he is mischievous, and Trager interprets the role with a straight-faced seriousness that easily exposes the humor in the situation. Daria Harper is commanding as Mme. Pernelle, the mother in-law, and Michael Mercier's Cleante has shades of David Hyde Pierce. Rounding out the cast is Andrew Marikis, who does quadruple duty as Flipote, Laurent, Monsieur Loyal, and Officer, and brings levity to each scene he appears in.
While the language takes a few minutes to adapt to, it only takes a few minutes for the stylized wording to sound familiar, and get lost in the storyline. Act I brings the conflict to a breaking point, and Act II handily delivers the resolution. This slightly madcap, modernized version of Tartuffe is engaging and fast paced, and so well translated that by the end of the piece I was expecting everything I heard to naturally and effortlessly end in rhyming couplets.
Rating: ★★★
Tartuffe continues through February 12th at Theater Wit, 1229 W. Belmont (map), with performances Thursdays-Saturdays at 8pm, and Sundays at 2pm. Tickets are $20-$25, and can be purchased by phone (773-975-8150) or online at TheaterWit.org. More info at BoHoTheatre.com (Running time: 2 hours with one intermission)
All photos by Peter Coombs
---
artists
cast