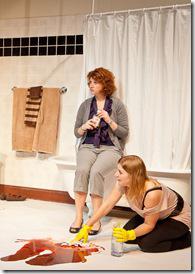 Sweet Confinement 
Written by Anna Carini
Directed by Brea Hayes  
The Viaduct Theatre, 3111 N. Western (map)
thru Dec 17  |  tickets: $20   |  more info
Check for half-price tickets 
  
  
   Read entire review
  
---
Absorbing drama stays with you long after you leave the theater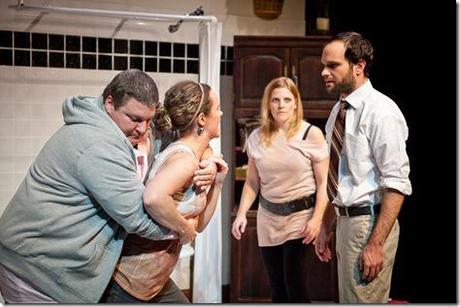 SiNNERMAN Ensemble presents
Sweet Confinement
Review by Lawrence Bommer
"Confinement" originally meant a Victorian lady's period of pregnancy. In Sweet Confinement, SiNNERMAN Ensemble's absorbing drama of friends dealing with a suicide, the survivors undergo a different kind of seclusion: sweet, sour and ultimately healing. Watching them come together or fall apart in this 80-minute revival of a 2008 world premiere by the ensemble's co-artistic director and playwright is redemptive way beyond the stage.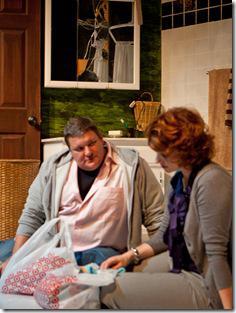 Brea Hayes' restaging focuses fiercely on five friends, each and all drifting in the wake of the self-murder of hard-drinking, much depressed William. As the lights come up, his blood is everywhere on the bathroom floor of the home that this teacher shared with his soon-to-be-divorced wife Amy (Cyd Blakewell). Inevitably, much of the action consists of a literal clean-up, significantly done only by the women, to parallel the emotional one that parallels it.
Shell-shocked from a sudden and intentionally unexplained loss, the friends in this college town define themselves by the strategies they seek—blaming the victim, denial amid self-serving small talk, recriminations, even, or especially, acceptance. The acting runs the gamut, like the reactions. But whatever's said or done, the blood must be soaked and mopped up so a bathroom, briefly a scene of contamination, can continue to cleanse.
Amy and her friends Ginger and Amelia instantly begin the restoration effort, as if programmed to take responsibility (even when there's no blame to assume). Without sacrificing a shred of empathy, novelist Amelia (Calliope Porter) processes the scene as if it were already a memory to shape into fiction. Ginger (playwright Anna Carini) contends with gossip associating her with the late William. The women sense they may never know why–but that doesn't excuse indifference to all the suffering that William saved up for suicide.
The men fare less well, exemplified by the trouble that Amy's feckless lawyer brother Josh (Keith Neagle) has to fix the broken bathtub plumbing. He ran out on his best friend William: guilt eats him out until he finally fades from the scene. More actively messed up, physics grad student Caleb (Howie Johnson) directly blames William for wrecking his marriage, when it's clear that Caleb really craves Amy and would have hated anyone else she married. Considering the situation, Caleb is doggedly and perversely holding on to all the wrong stuff.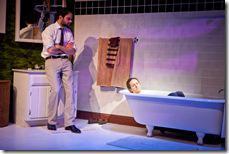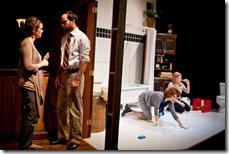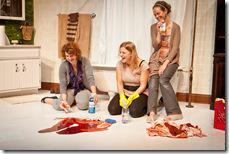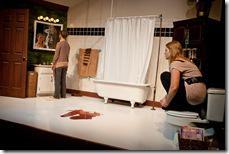 They act out their fears and fantasies. They strike out with anger at having failed William or at being left behind to make sense of what he could not. Inevitably, they reach out too. For every stoic dismissal like "It all seems so pointless" or "Life is a crap shoot" there's a counterweight–the friends' reflexive, unconscious moves to make their circle whole again.
Pulling against the occasionally elegiac style of the valedictory dialog are the actual activities that people undergo after a crisis or a crime. This essentially human urge to put things right brings decency and depth to this one-act amply reinforced by Hayes' perfect casting, tonal control and committed cast.
Rating: ★★★★
Sweet Confinement continues through December 17th at The Viaduct Theatre, 3111 N. Western (map), with performances Thursdays thru Saturdays at 7:30pm, Sundays at 3pm.  Tickets are $20, and are available by phone (773-296-6024) or online at ticketweb.com (check for half-price tickets at Goldstar.com). More information at sinnermanensemble.org.  (Running time: 80 minutes with no intermission)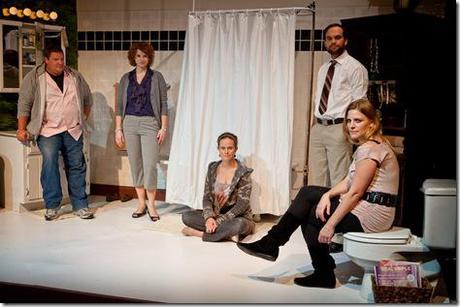 All photos by Ben Chandler 
---
artists
cast
Cyd Blakewell* (Amy), Anna Carini* (Ginger), Howie Johnson* (Caleb), Amelia Lorenz (Amy/Ginger US), Keith Neagle (Josh), Calliope Porter* (Amelia), Gavin Robinson (Josh/Caleb US) and AJ Ware (Amelia US)