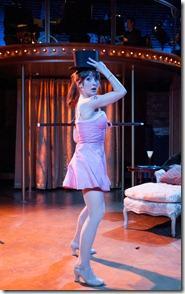 Sweet Charity 
Book by Neil Simon
Music by Cy Coleman, lyrics by Dorothy Fields
Directed by Michael Halberstam
Musical direction by Doug Peck
Writers' Theatre, 325 Tudor Court, Glencoe (map)
thru March 31  |  tickets: $35-$75   |  more info
  
Check for half-price tickets 
  
  
   Read entire review
  
---
Sexy and sweet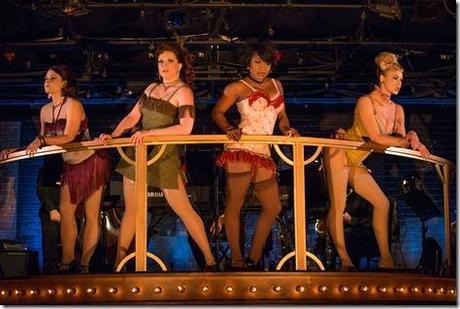 Writers' Theatre presents
Sweet Charity
Review by Leah Zeldes 
What a charmer! Right from the outset, Tiffany Topol, in the title role of Writers' Theatre's, intimate, reimagined Sweet Charity, captures the audience with her high-spirited performance, infectious smile, girl-next-door looks, and high-kicking dance moves. The entire cast is delightful, but Topol's performance as the always optimistic, big-hearted, dance-hall hostess is exceptional, and Jessica Redish's exuberant choreography showcases her beautifully.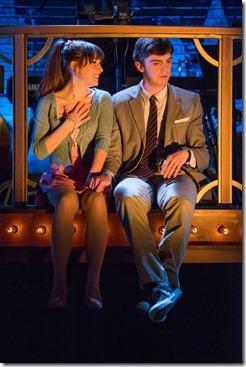 Jarrod Zimmerman makes a hilariously twitchy Oscar, the neurotic tax accountant whom Charity pins her hopes on. The scene in which the couple meets by being trapped in an elevator together is sidesplitting, and his portrayal of the obsessive, self-centered ably foreshadows the inevitable end. Jeff Parker is suave and smooth-voiced as Vittorio, the movie star who gives Charity one incredible night.
Karen Burthwright and Ericka Mac give just the right blend of cynicism and wistfulness to Charity's sadder and wiser friends and their showpieces, "There's Gotta Be Something Better Than This" and "Baby, Dream Your Dream." The always admirable James Earl Jones II, as Daddy Brubeck, leads a spiritually enriching performance of "The Rhythm Of Life," the song that pins this musical most firmly to the 1960s (along with the script's outmoded notion that every woman is just waiting for a man to rescue her from her troubles).
Music Director Doug Peck, Conductor Tom Vendafreddo and a first-rate combo give a great jazzy sound to Cy Coleman and Dorothy Fields' familiar and delightful score. Despite its terrific tunes, many of which, such as "Hey, Big Spender" and "If My Friends Could See Me Now," became freestanding hits for a variety of artists, Sweet Charity has had fewer revivals than many Broadway hit musicals. The premise, a cleaned-up, Americanized rendition of Federico Fellini's 1957 film "Nights of Cabiria," which follows a prostitute's unhappy search for love in Rome, likely seemed dated upon the demise of dance halls and taxi dancers and the impact of the culture that gave rise to musicals such as Hair.  Bob Fosse, who conceived, directed and choreographed the 1966 original, brought it back for a 20th anniversary run in 1986, and it was not seen on Broadway again till 2005; regional revivals have been relatively rare as well.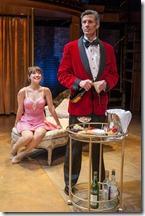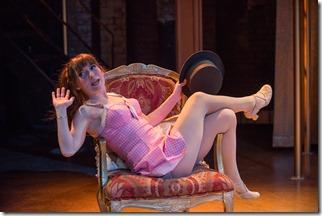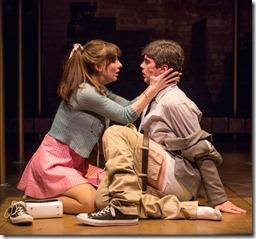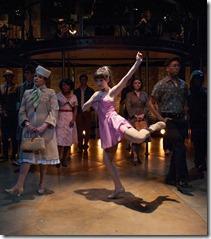 Director Michael Halberstam and his crew have amped of the sex and dealt with the out-of-date aspects by giving the show a stylized, slightly surreal edge, making it almost fantasy. But in doing so, they upset the unlucky-in-love Charity's position as everywoman. The universal elements jar, for instance, with David Hyman's gritty costumes for the dance-hall hostesses, who are dressed out of a male fantasy, all garter belts and seamed stockings, more call girls than dime-a-dance girls. While the dialog admits that some of them are indeed what he's pictured them to be, the costumes belie the underground, is-she-or-isn't-she character of these unhappy women. Hyman's beautiful costumes elsewhere, such his elegantly humorous creations for the club goers in the fabulous "Rich Man's Frug" sequence, and the sequined masterpiece worn by Emily Ariel Rogers as the petulant Ursula, seem much more suitable.
Beyond what's on stage, kudos to Dramaturg Bobby Kennedy for the program notes, excellently informative but for one regrettable omission: No song list of the numbers and who performs them. Every musical's program should include that!
Rating: ★★★½
Sweet Charity continues through March 31st at Writers' Theatre, 325 Tudor Court, Glencoe (map and parking info), with performances Tuesdays/Wednesday at 7:30pm, Thursdays/Fridays 8pm, Saturdays at 4pm and 8pm, Sundays 2pm and 6pm.  Tickets are $35-$75, and are available by phone (847-242-6000) or online through their website (check for half-price tickets at Goldstar.com). More information at WritersTheatre.org.  (Running time: 2 hours 25 minutes, includes an intermission)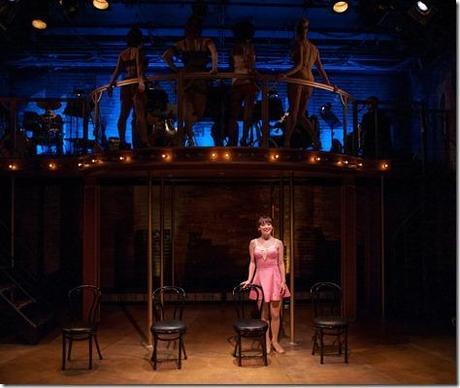 Photos by Michael Brosilow
---
artists
cast
Tiffany Topol (Charity); Jarrod Zimmerman (Oscar/ensemble); Jeff Parker (Vittorio, ensemble); Ericka Mac (Helene, ensemble); Karen Burthwright (Nickie, ensemble); James Earl Jones II (Daddy Brubeck, Herman, ensemble); Katie Spelman (Rosiem, ensemble); Emily Ariel Rogers (Ursula, ensemble); Adam Estes, Travis Porchia, Liam Quealy (ensemble).
musicians
Tom Vendafreddo (piano/conductor); BJ Cord (trumpet/flugelhorn); Bill Harrison (bass); Nick Morgan (woodwinds) and Bob Rummage (drums).
behind the scenes
Michael Halberstam (director); Doug Peck (music director, re-orchestrations); Jessica Redish (choreographer); Katie Spelman (assistant choreographer); Collette Pollard (scenic designer); David Hyman (costume designer); John Culbert (lighting designer); Joshua Horvath (sound designer); Nick Heggestad; (properties designer); Eva Breneman (dialect coach); David Castellanos (production stage manager); Elise Watson (assistant stage manager), Michael Holtzman (assistant director); Bobby Kennedy (dramaturg); .John Gedeon (technical supervisor); Jane Millet (wardrobe supervisor); Emily Waecker (costume supervisor); Simon Robinson (master electrician), Amanda Hosking (sound engineer); Michael Brosilow (photos).
13-0156