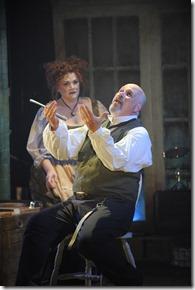 Sweeney Todd
By Stephen Sondheim (music, lyrics)
  and Hugh Wheeler (book) 
Directed by Michael Weber
at Stage 773, 1225 W. Belmont (map)
thru Nov 9  |  tickets: $39-$45   |  more info
  
Check for half-price tickets 
  
  
   Read review
  
---
Nine years later, Porchlight's Sweeney as triumphant as ever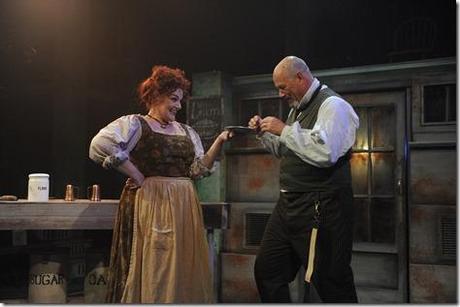 Porchlight Music Theatre presents
Sweeney Todd
Review by Lawrence Bommer
It was a big and bold Porchlight Music Theatre triumph nine years ago. This Tony/Olivier award-winning 1979 musical feels just as painfully powerful in the fall of 2014 (especially for Halloween). There's unprocessed horror throughout this scary revenge tragedy/Broadway and ballad opera/penny dreadful/Victorian melodrama. Seldom has a more unstoppable story been unleashed on a helpless audience (and it doesn't hurt that Stephen Sondheim's semi-factual potboiler is based on more than our worst nightmares).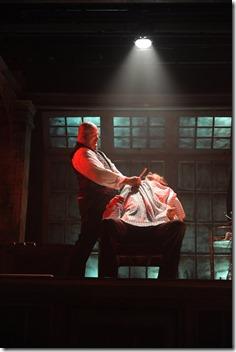 The culinary/tonsorial nemesis in
Sweeney Todd: The Demon Barber of Fleet Street
is no Rossini-like "factotum" hanging out in Seville. No, this is a very London monster, a death force returned from 15 years of hard labor down under, falsely accused by the venal Judge Turpin and his henchrat Beadle Bramford. Turpin doggedly dispossessed Sweeney's beloved and lost Lucy and is now about to forcibly marry Sweeney's beloved daughter Johanna. She in turn has become a sudden love interest for the ardent tar Anthony Hope.
Seldom has a miscarriage of justice borne such malevolent motivation—and every obstacle that Sweeney encounters only fuels his ferocious frenzy to feed. "No Place Like London" indeed…
Fortuitously, as the former Benjamin Barker plots his revenges, he sets up a merrily murderous partnership, mainly mercenary and pragmatically romantic, with the macabre pie seller Mrs. Lovett. Doting on this dark stranger (who she eventually recognizes from happier days), Nellie gives the merciless Mr. Todd the upstairs room. With this chamber of torture in full operation, Sweeney's little barber shop of horrors can provide a much more reliable supply of flesh from doomed customers. Assisted by the too-trusting street waif Tobias "Toby" Ragg, this Fleet Street greasy spoon gains customers for its suddenly delicious and diverse menu ("A Little Priest") and suspicion for the stink that emanates nightly from a very busy cellar furnace.
Jeffrey D Kmiec's environmental set surrounds the audience on three sides with an arcade of gloomy archways, brilliantly employed by director Michael Weber to suggest class distinctions and emotional separation and eerily lit by Greg Hofmann and Jess Goings. Chris Tisone's elaborate rolling props instantly set their scenes—from the mountebank barber Pirelli's street spectacle to the ugly traffic of Fleet Street long before the newspaper firms took over.
The rest is up to a sterling cast, superbly matched to their parts and Bill Morey's truth-telling costumes. Doug Peck's excellent musical direction gives Sondheim's darkly moody score the combustibility of a "City on Fire."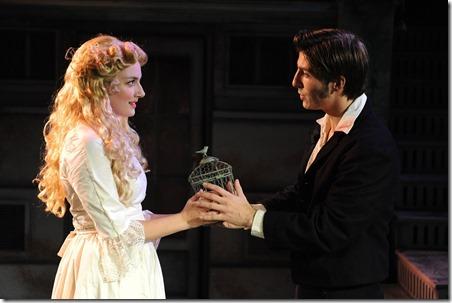 David Girolmo, gifted with a diabolical basso profundo, grounds Sweeney in a misanthropy so multifaceted that everything becomes grist for his vendetta. His "We all deserve to die" is the ultimate license to kill. Girolmo brings new weight to fate: He obsesses so vividly you wonder if rage is the default drive in 1840s England. When he snaps, you'd think all London would hear this crack of doom.
As his paramour in crime (her flaming red wig as merciless as Medusa's snakes), Rebecca Finnegan recaptures her 2005 triumph, again making the lethally demure Nellie Lovett a rubber-faced harridan of respectability. In "By the Sea" you taste her crack-brained ability to combine conventional domesticity with amoral cannibalism for fun and profit. (You've got to "Lovett".)
Weber's grill cooks incendiary support from unimprovable actors/singers—Miles Blim's conditionally innocent Toby, Kelli Harrington as a mysterious beggar woman with a past, Brian Acker as the seductive sailor suitor to Stephanie Stockstill's chirping ingénue Johanna, Kevin Webb as the flamboyant fraud Pirelli, and, as really bad guys, Matthias Austin as loathsome bully Bamford and Edward J. MacLennan as that unspeakable scoundrel, the hanging Judge Turpin.
A very auspicious beginning for Porchlight's all-Sondheim season, this roaring revival is why we live to see Chicago theater. That's our motivation, and we're sticking to it.
Rating: ★★★★
Sweeney Todd continues through November 9th at Stage 773, 1225 W. Belmont (map), with performances Thursdays at 7:30pm, Fridays 8pm, Saturdays 4pm and 8pm, Sundays 2pm.  Tickets are $39-$45, and are available by phone (773-327-5252) or online through Vendini.com (check for half-price tickets at Goldstar.com). More information at PorchlightMusicTheatre.org.  (Running time: 2 hours 40 minutes, includes an intermission)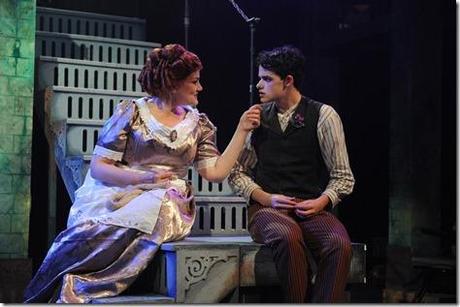 Photos by Brandon Dahlquist 
---
artists
cast
David Girolmo (Sweeney Todd), Rebecca Finnegan (Mrs. Nellie Lovett), Kelli Harrington (The Beggar Woman), Stephanie Stockstill (Johanna), Brian Acker (Anthony Hope), Edward J. MacLennan (Judge Turpin), Matthias Austin (Beadle Bamford), Kevin Webb (Adolfo Pirelli), Miles Blim (Tobias Ragg), Pablo Barajas, Ben Barker, Caron Buinis, Javier Ferreira, Johann George, Rachel Klippel, Matt McNabb, Sierra Naomi, Andy Robinson, Christin Boulette (ensemble)
behind the scenes
Michael Weber (director), Doug Peck (music director), Jeff Kmiec (scenic design), Bill Morey (costume design), Jenna Moran (sound design), Dina DiCostanzo (dance and movement), Aaron Shapiro (production management), Julie Eberhardt (assistant director), Greg Hofmann, Jess Goings (lighting design), Christopher Tisone (properties design), Julia Zayas-Melendez (stage manager), Scott Sowinski (asst. director),  Brandon Dahlquist (photos)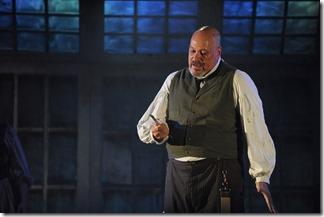 14-1022