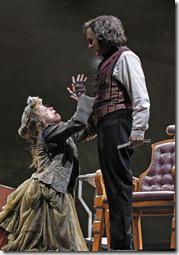 Sweeney Todd
Music and Lyrics by Stephen Sondheim
Book by Hugh Wheeler
Directed by Rachel Rockwell
at Drury Lane Theatre, Oakbrook Terrace (map)
thru Oct 9   |   tickets: $35-$46  |   more info
Check for half-price tickets
   Read entire review
---
A glorious rendering of Sondheim's macabre masterpiece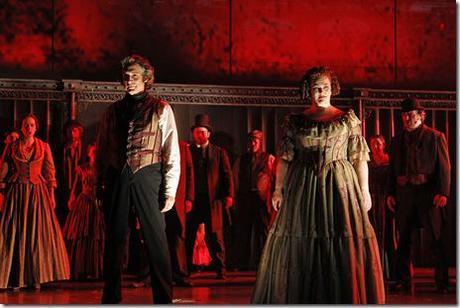 Drury Lane Theatre presents
Sweeney Todd
Review by Lawrence Bommer
Marinating in sympathy with the devil, Stephen Sondheim's cannibalistic potboiler proved that a Broadway musical can tell any damn tale it likes. A barber's vengeance and a meat-pie maker's opportunism expose the power of hate over love—and of revenge over reason–in a literally man-eat-man world. Alternately folk opera, Jacobean revenge tragedy, neo-Brechtian protest and penny-dreadful melodrama, this 1979 "musical thriller" is above all an ensemble effort.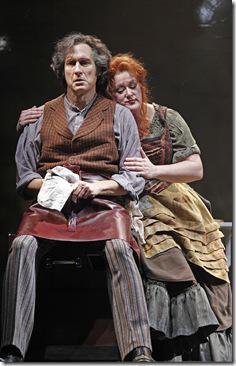 One perverse path to immortality is to take lives as grotesquely as possible. (Alas, however much he deserves oblivion, Jeffrey Dahmer just won't get it.) Twenty-two years after
Sweeney
swept Broadway, it's still hard to imagine that theater artists could make a musical out of the tabloid-lurid tale of Sweeney Todd. Taking a cold and hideous revenge against the man and society who destroyed his family, the demon barber of Fleet Street only destroys himself. Only the film "Fargo" has equaled
Sweeney Todd
for so much horrendous collateral damage and unintended consequences.
Yet, for all its Grand Guignol thrills and sardonically sick humor, the tale of Sweeney Todd foreshadows terrible things. Only a difference in degree separates Sweeney's body-disposing barber's chair (which crushed the bodies that hadn't died when he cut their throat) and the chimney that irritates his neighbors with its sickening smoke from the "shower rooms" and crematoria of the Nazi death camps. And, when Sweeney sings, "We all deserve to die" (as in "be murdered"), how alien is this avenging monster from an Islamic terrorist who prefers death to life and the more, the holier? Then consider all the serial killers who would become the sociopathic stepchildren of Sweeney Todd. The musical is not half as funny as a hipster audience prefers. But nervous laughter only proves we're human. (Still, on opening night there were sadistic laughs as well…)
There's also another dimension, maliciously appropriate in London recently and possibly America in the future—the class hatred that fuels Sweeney's fury against his "betters" like the beadle, the pseudo-Italian rival, and, of course, the arrogant and insolent Judge Turpin, whose socio-pathology is given institutional force by the power of his gavel. Sweeney's killing spree is just as organized and vicious as what happened in London, Birmingham and Tripoli.
Still, you'd think it would be easier to make a meat pie out of a dead tourist than a musical from such a bottom-feeding horror chiller. Only Stephen Sondheim, whose instincts for the sinister and sardonic failed him only in Assassins, could have transformed this 1846 "penny dreadful" based on an urban legend into a cutting-edge musical melodrama that garnered eight Tony Awards.
Apple Tree, Marriott Theatre, Porchlight Music Theatre, the Lyric Opera and Actors Workshop Theatre have all tackled the gallows humor. Now Drury Lane Oakbrook Terrace gives the dark testament a staging to serve the epic magnificently. Played on two busy levels against a dynamic video backdrop, Rachel Rockwell's industrially-disciplined staging is like a factory for melodrama, a music machine that grinds out both horror and humanity. (Its one anachronistic mistake are the irritating plastic flaps that suggest a charnel-like slaughterhouse…)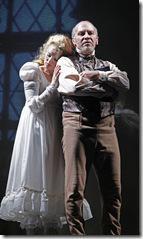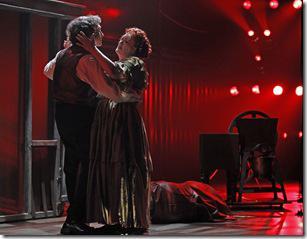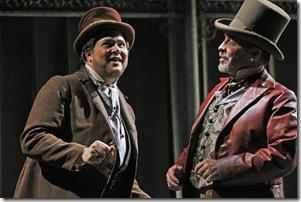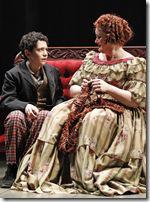 Sheer concentration is the combustible secret of this scorching revival. Seldom have the denizens of Fleet Street seemed so appropriately zombie-like. Their decomposition demands a demon barber to finish them off. A four-time Tony Award nominee, Gregg Edelman's seething Sweeney all but sprays magma across the stage. He definitely makes this revenge a dish best served cold, but his magnificent rage is reserved for Mrs. Lovett and an amazed audience.
A serious harpy who refuses to wink at the audience, Liz McCartney's pie-making Mrs. Lovett is too busy being ridiculous to know that she is. Blowsy and brassy, she's hilariously vulgar, a caricature of middle-class respectability, as in "By the Sea" where she combines the fantasy of Brighton escapism with Sweeney bringing his chopper to finish off their guests.
Superbly chosen caricatures, Rockwell's' 27-member cast seize every moment, creating toxic illustrations for Sondheim's scathing score, while Roberta Duchak's flawless orchestra delivers the ferocious music with the wrath of God and Sweeney.
As the inexpressibly vicious and covetous Judge Turpin, Kevin Gudahl is casually cruel, a killer judge who really expects Johanna to love him for his looks. George Keating makes Adolofo Pirelli, the mountebank barber and Sweeney's cutting competition, a fraud worthy of becoming Sweeney's first victim. Jonah Rawitz plays piteous Tobias Ragg, a throwaway kid caught up in an evil his innocence won't understand. As the relentlessly innocent (as in clueless) ingenue Johanna Barker, Emily Rohm is simperingly sweet and yet manages to survive this East End jungle. William Travis Taylor plays the sailor suitor Anthony Hope with bumptious ardor, his "Johanna" one of the few pure moments in the offering. George Andrew Wolff's Beadle Bamford has escaped from Dickens and just in the nick of time.
Rating: ★★★★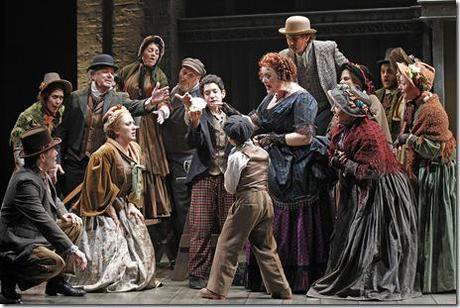 Drury Lane Theatre's Sweeney Todd continues through October 9th at Drury Lane Theatre, 100 Drury Lane, Oakbrook Terrace (map), with performances Wednesdays at 1:30pm, Thursdays at 1:30 and 8pm, Fridays at 8:30pm, Saturdays at 5:00 and 8:30pm and Sundays at 2:00pm.  Tickets are $35-$46, and can be purchased by phone (630-530-0111) or online at Ticketmaster.com. More information at DruryLaneOakbrook.com.
All photos by Brett Beiner 
---
artists
cast
Gregg Edelman (Sweeney Todd); Liz McCartney (Mrs. Lovett); Kevin Gudahl (Judge Turpin); George Keating (Pirelli); Heidi Kettenring (Beggar Woman); Jonah Rawitz (Toby); Emily Rohm (Johanna); William Travis Taylor (Anthony); George Andrew Wolff (Beadle Bamford); Larry Adams, John Francis Babbo, Kevin Barthel, Sean Effinger Dean, John Finley, Natalie Ford, Kristen French, Patrick Gagnon, David Girolmo, Cory Goodrich, Jennifer Grubb, Matthew Jones, Rachel Klippel, Catherine Lord, Ann McMann, Alex Newkirk, and James Rank (ensemble)