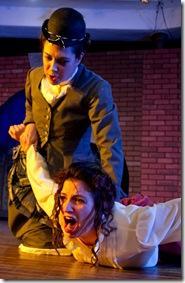 Susan Swayne and the
   Bewildered Bride 
Written by Reina Hardy  
Directed by Dan Foss
Lincoln Square Theatre, 4754 N. Leavitt (map)
thru Sept 22  |  tickets: $12-$20   |  more info
  
Check for half-price tickets 
  
  
   Read entire review
  
---
Double-crossing, cross-dressing and swashbuckling – oh my!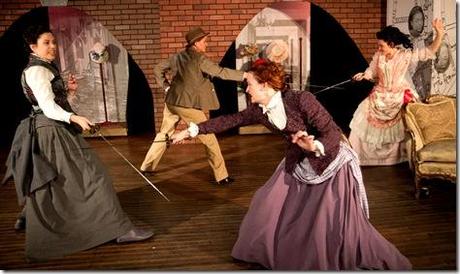 Babes With Blades presents
Susan Swayne and the Bewildered Bride
Review by Keith Glab
For 15 years, Babes with Blades has been a theatre company that delivers exactly what it advertises. In the case of Susan Swayne and the Bewildered Bride, the company not only meets audience expectations, but exceeds them.
The set instantly informs the audience that they are in the Whitechapel district of London, 1888. Susan Swayne (Lisa Herceg) heads the Society of Lady Detectives (SOLD). Lurking in a hat shop front, SOLD purports to be a freelance crime-solving team, but they really spend most of their time training in hand-to-hand combat with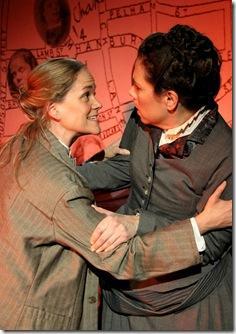 various weapons.
The flummoxed Isabelle Fontaine-Kite (Kimberly Logan) nevertheless enlists Swayne's help to investigate her husband's suspected infidelity. They find that Eric (Kelly Yacono) has indeed been deceptive, but not quite in the way that Isabelle had thought. There is an ensuing avalanche of accusation, ardor, double-crossing, cross-dressing, undressing, and, of course, swashbuckling.
The audience is asked to suspend their disbelief on several occasions, but once the stage is set, the internal logic of the convoluted plot is sound enough. There's an abundance of conviction in the acting to keep the audience invested, but also enough winks and nods to prevent anyone from taking the show too seriously. The cast maintains strong British dialects throughout and also does great improvisational work in the inevitable instances when a prop or accessory is out of place after a scuffle.
The SOLD crew is an entertaining bunch. As Swayne, Lisa Herceg is authoritative, calculating, and badass. Lady Bomberry (Justine Serino) maintains a perfect Victorian serenity no matter what perilous absurdity surrounds her. Apprentices Madeline (Kathryn Acosta) and Adelaide (Megan Schemmel) bring a welcome vigor and exuberance to counter the austerity of Swayne and Bomberry. Logan and Yocano make the married couple believable as a pair of hot messes.
A couple of the technical aspects aren't as tight. Several scenes set in dark London streets require exposition to that effect, as the stage is too brightly lit. There are also too many long and cumbersome scene changes. Fortunately, the music over these transitions both entertains and intrigues.
This world premiere of Susan Swayne and the Bewildered Bride works on several dual levels. It's a mystery that also makes good use of dramatic irony, a farce that has some poignancy, and a feminist show with elements obviously geared toward men. Anyone who enjoys watching impressive swordplay by attractive women will naturally delight in this show, but it has a much broader appeal. I challenge anyone to attend and not come away with a smile.
Rating: ★★★½
Susan Swayne and the Bewildered Bride continues through September 22nd at Lincoln Square Theatre, 4754 N. Leavitt (map), with performances Thursdays and Fridays at 8pm, Saturdays at 2pm and 8pm. Tickets are $12-$20, and are available by phone (773-904-0391) or online through BrownPaperTickets.com (check for half-price tickets at Goldstar.com). More information at BabesWithBlades.org.  (Running time: 90 minutes, includes an intermission)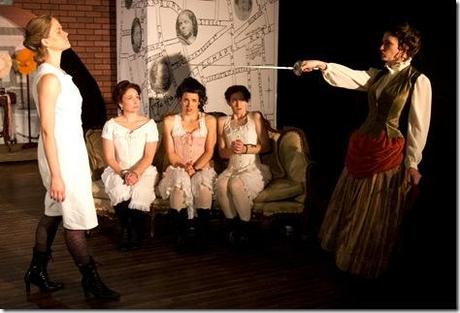 Photos by Johnny Knight 
---
artists
cast
Kathryn Acosta (Madeline, Charles), Lisa Herceg (Susan Swayne), Kimberly Logan (Isabelle Fontaine-Kite), Megan Schemmel (Adelaide, Fred, Bartholomew), Justine Serino (Lady Bomberry), Kelly Yacono (Katherine Denn), Susan Fay (understudy)
behind the scenes
Dan Foss (director); Kjerstine McHugh (asst. director); Libby Beyreis (violence design); Gillian N. Humiston (asst. violence design); Alison Dornheggen (production manager); Tara Malpass (stage manager); Leigh Barrett (artistic director, lighting); Matthew Cummings (props); Christopher Kriz (original music, sound design); Dennis Mae (set design); Kimberly G. Morris (costumes); Kathy Logelin (dialect coach); Johnny Knight (photos)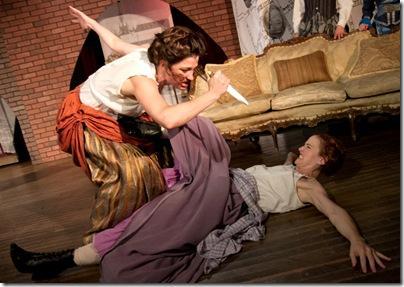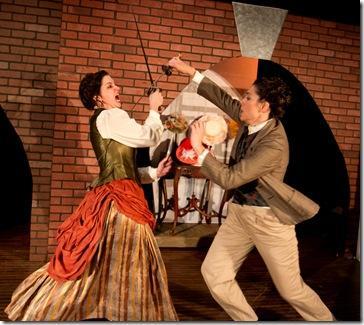 12-0830