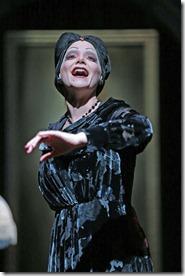 Sunset Boulevard 
Music by Andrew Lloyd Webber 
Book/lyrics by Don Black, Christopher Hampton
Directed by William Osetek
Drury Lane Theatre, Oakbrook Terrace (map)
thru March 24  |  tickets: $35-$46   |  more info
  
Check for half-price tickets 
  
  
   Read entire review
  
---
Fine if you like that sort of thing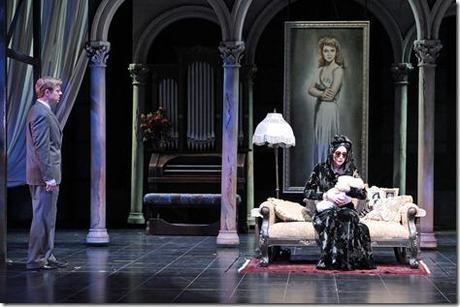 Drury Lane Theatre presents
Sunset Boulevard
Review by Leah Zeldes 
People who don't do it think theater reviewing is a fun job, and compared to, say, ditch digging or data entry, it is. But it isn't all pleasure, either. All too often, you have to go to performances you would never choose to go to on your own, which is not necessarily bad. But if the play is good, you can't relax and enjoy it the way people who go to the theater for fun do. And, of course you see a lot of things that are not so good.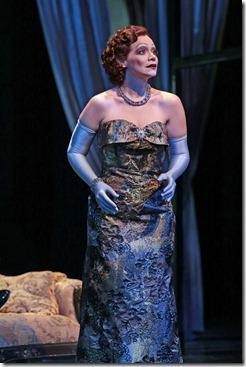 Worse, you have to evaluate shows you know you're not going to like even before you get there. You know this because you have seen them over and over and over again.
So it's only fair to tell you that one of the shows on my personal list of plays I would never go to see again if I didn't have to is Sunset Boulevard.
It's not that I don't think that cast, crew and direction can't overcome flaws in a script. I have seen Hamlet 42 times — including an all-nude version, a science-fiction version and an uncut, four-hour-long production I watched from a metal folding chair in a chilly church basement — and it was different every time. More contemporary scripts, however, especially those as famous as Sunset Boulevard, are hedged about with licensing and copyrights and make it far less likely that the company can do anything that's going to make me like it any better than the last time I saw it. Or the time before that.
If you've seen Sunset Boulevard before and liked it then, you'll probably enjoy the production at Drury Lane Theatre well enough. The flaws of its direction, cast and crew are minor in comparison to the awfulness of the rest.
I'm no fan of stage shows built from movies, and Sunset Boulevard numbers among the worst of that genre, with most of the dialog coming straight out of Billy Wilder's 1950 film. I don't much like the movie, either, with its unlikely, unhappy scenario and unlikeable, unhappy people. The musical, with even less time for character development, makes for even more unsympathetic characters. The score is Andrew Lloyd Webber at his most droningly repetitive, full of sound-alike recitative.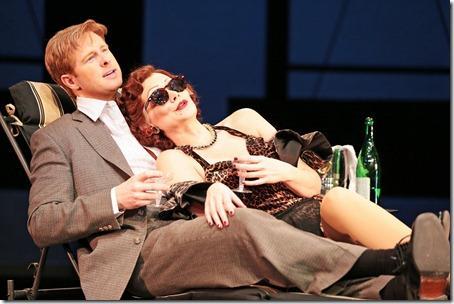 This Boulevard features some considerable vocal talent, but presents no surprises. Everything I dislike about this show is still there, and the few things they might have done to improve it were discarded. "I felt the original production of 'Sunset Boulevard' was more about a set than a story," Director William Osetek told the Daily Herald. He's right about that, but without that fabulous, floating mansion set, we're left with only this pitiful, depressing story and moaning score. The 1994 Broadway production was known for Norma's increasingly lavish costumes, as well, and while Theresa Ham's designs are pretty enough, none of them evoke that "Wow!" reaction. Nor, alas, does that rolling prop that surprised audiences in the '90s.
Christine Sherrill, as Norma Desmond, the forgotten silent-film star determined to make a comeback, puts in a bravura performance, belting out the ballads like "With One Look" with enough power to shake the chandeliers. Sherrill's at her best in Desmond's more arrogant moments; she handles the broken, fragile, frantic side of Norma less well. Smooth-voiced Will Ray, as writer-turned-gigolo Joe Gillis, doesn't quite bring off the smarm or self-loathing the role demands. Don Richard brings a commanding voice but little verity to the plot's most unbelievable character, the stiff German Max,who breaks out into emotion only when he speaks of his beloved Norma.
Like every other production I've ever seen, this one tries to evoke the cinematic feel of the film, here manifested in huge rear-projected sequences and over-miked sound. You know, if I wanted to see a movie, I can rent one from Netflix.
Rating: ★★½
Sunset Boulevard continues through March 24th at Drury Lane Theatre, 100 Drury Lane, Oakbrook Terrace (map), with performances Wednesdays at 1:30pm, Thursdays 1:30pm and 8pm, Fridays 8:30pm, Saturdays 5pm and 8:30pm, Sundays 2pm and 6pm. Tickets are $35-$46, and are available by phone (630-530-0111) or online through their website (check for half-price tickets at Goldstar.com). Lunch and dinner theater packages range from $50-$68.  More information at DruryLaneOakbrook.com.  (Running time: 2 hours 30 minutes, includes an intermission)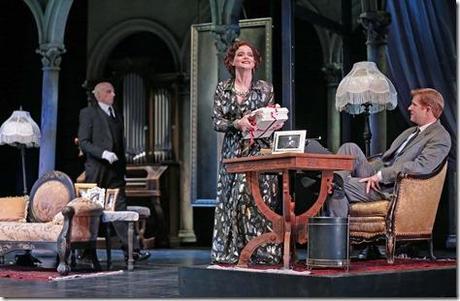 Photos by Brett Beiner 
---
artists
cast
Christine Sherrill, Will Ray, Don Richard, Jonathan Weir, Dara Cameron, Rod Thomas, Adrian Aguilar, David Kortemeier, Larry Adams, William Carlos Angulo, Amy Brophy, Gary Carlson, Devin DeSantis, Ariane Dolan, Cory Goodrich, Rachel Klippel, Andrew Lupp, Alex McCrary, Alex Newkirk, Amy Orman, Sarah Page, Paula Scrofano, Jill Sesso, Will Skrip.
orchestra
Ben Johnson (conductor/keyboard 1); Paul Zafer (violin/concertmaster); Michael Favreau (clarinet, oboe, bass clarinet, alto sax); Jim Gailloreto (flute, clarinet, tenor sax); Carey Deadman (trumpet, flugelhorn, piccolo trumpet); Jeremiah Frederick (French horn); Evan Rea (associate conductor/keyboard 2); Tim Lenihan (keyboard 3); Marc Hogan (acoustic bass, electric bass, pogo bass); Rich Trelease (drums, percussion).
behind the scenes
William Osetek (director); Roberta Duchak (music director); Carey Deadman (orchestrations); David Siegel (orchestrations); Tammy Mader (choreographer); Scott Davis (set designer); Rita Pietraszek (lighting designer); Ray Nardelli (sound designer); Theresa Ham (costume designer); Brett Beiner (photos)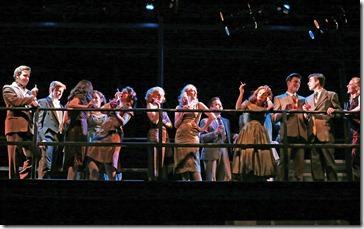 13-0203