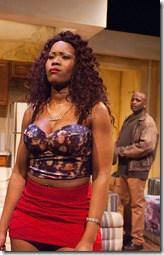 Sunset Baby
Written by Dominique Morisseau
TimeLine Theatre, 615 W. Wellington (map)
thru April 10  |  tix: $38-$51   |  more info
  
Check for half-price tickets  
  
---
'Sunset' rises, but not quite to its full height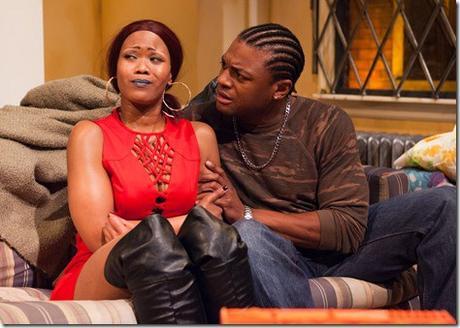 TimeLine Theatre presents
Sunset Baby
Review by Keith Glab
For the past two decades, TimeLine Theatre has provided Chicago audiences consistently high-quality productions. Their Chicago premiere of Sunset Baby combines an award-winning playwright, three accomplished actors, and the director who spearheaded TimeLine's uber-successful production of Raisin in the Sun two years ago.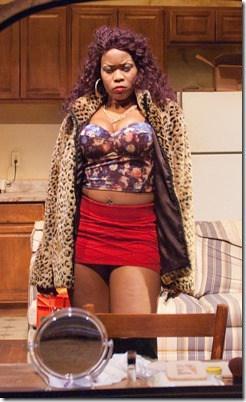 Nina (
AnJi White
) and her arms-length boyfriend Damon (
Kelvin Roston Jr.
) survive in East Brooklyn by dealing drugs and running a prostitution scam. Nina's estranged father Kenyatta Shakur (
Phillip Edward Van Lear
) suddenly reappears in her life – ostensibly to collect valuable letters she inherited from her recently deceased mother. Both parents had been black revolutionaries, and we soon discover that Shakur seeks to reconnect with his daughter as much as obtain his wife's letters.
The story unfolds very slowly, as a video message that Shakur records for Nina gets interspersed between the action. He mostly speaks in abstractions about freedom and danger, Additionally, Parson's staging deliberately shows a lot of unnecessary stage business – the application and removal of makeup, getting dressed and undressed, preparing refreshments. These factors contribute to the production running nearly two hours without an intermission when it would be easy to tighten up the run to around 90 minutes or add a break during one of the pauses for stage business if Parson insists they contribute something.
These interruptions in the flow frustrate because whenever two actors do occupy the stage, everything sizzles. All three characters are obviously flawed in their selfishness, but they possess many positive qualities as well. The edgy Nina proves strong and independent. The manipulative Damon is charismatic and articulate. Shakur can usually remain calm and logical, even in extenuating circumstances. Parson's terrific cast has no trouble making their characters' dualities believable and compelling. They play off each other with exceptional acumen.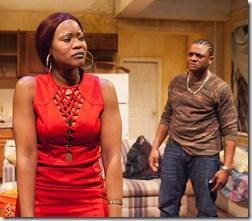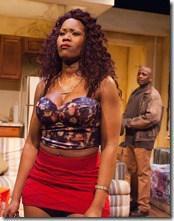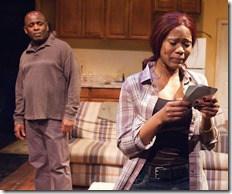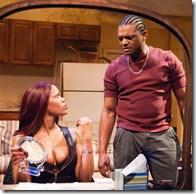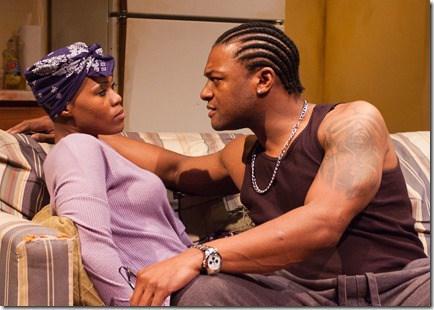 The production team comes through as well. )All the action takes place in Nina's modest Brooklyn apartment, authentically designed by Regina Garcia. Jared Gooding's precise lighting cues eerily denote the passage of night to day. Nina Simone (after whom Shakur named his daughter) music gets interspersed enough to set the mood but not so much as to overstay its welcome.
Sunset Baby provides insight into how a life of hustling can be difficult to escape, how familial strife can be difficult to reconcile, and how dependent relationships can be tenuous. It juxtaposes ideals versus harsh realities and authentically portrays a part of society underrepresented in theater. This authenticity, while a tremendous strength, might get taken a little too far in some of the scene breaks. TimeLine has authored a very moving, gritty, and engaging production, but with a tweak to the pacing and/or structure, it could play even better.
Rating: ★★★
Sunset Baby continues through April 10th at TimeLine Theatre, 615 W. Wellington (map), with performances Wednesdays & Thursdays at 7:30pm, Fridays 8pm, Saturdays 4pm & 8pm, Sundays 2pm.  Tickets are $38-$51, and are available by phone (773.281.8463 x6) or online through their website (check for half-price tickets at Goldstar.com). More info at TimeLineTheatre.com.  (Running time: 1 hour 50 minutes without intermission)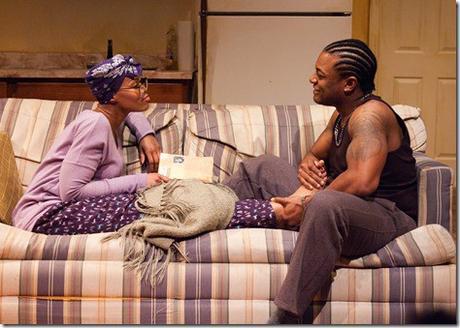 Photos by Lara Goetsch
---
artists
cast
Kelvin Roston Jr. (Damon), Phillip Edward Van Lear (Kenyatta Shakur), AnJi White (Nina), Kenneth D. Johnson, Toya Turner, Justin Wade Wilson (understudies)
behind the scenes
Ron OJ Parson (director), Regina Garcia (set design), Jared Gooding (lighting design), Christine Pascual (costume design), Christopher Kriz (sound design, original music), Vivian Knouse (props design), Jared Bellot (dramaturg), Richard Lundy (stage manager), Sydney Chatman (asst. director), Hana Kadoyama (production assistant), Lara Goetsch (photos, marketing)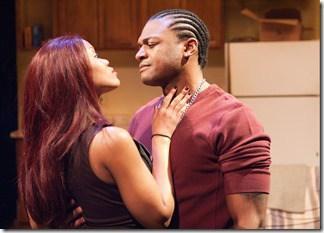 16-0131