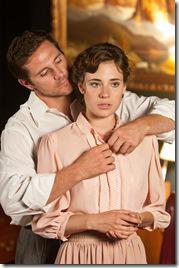 Summer and Smoke
Written by Tennessee Williams 
Directed by Ryan Martin 
at The Den Theatre, 1333 N. Milwaukee (map)
thru Oct 29   |   tickets: $15-$20   |   more info
Check for half-price tickets
  
  
   Read entire review
---
'Smoke' and mirrors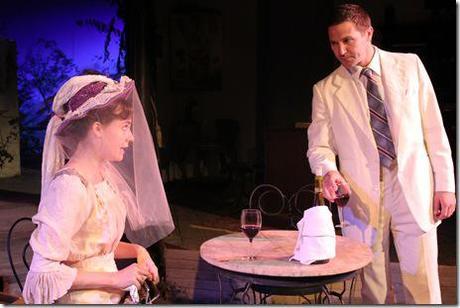 The Den Theatre presents
Summer and Smoke
Review by Lauren Whalen
Tennessee Williams' characters are achingly human. No other playwright before or since has so beautifully explored the battle between base instincts and social propriety. Summer and Smoke is not Williams' best-known work, but one of his most profound and potentially wonderful to behold. If only The Den Theatre's production weren't so inconsistent.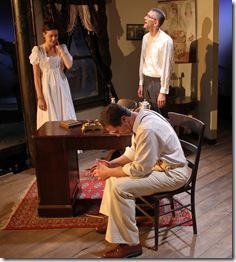 Preacher's daughter Alma Winemiller (
Eve Rydberg
) has always done the right thing, taking in voice students of little prowess and caring for her mentally ill mother (
Judy Lea Steele
). In the summer of 1916, Alma's next-door neighbor and childhood acquaintance Dr. John Buchanan, Jr. (
Josh Odor
) returns home for a visit. John is Alma's polar opposite, enjoying a hedonistic existence of drinking and gambling, but is oddly intrigued by Alma's struggle to maintain a clear conscience and control her nervous fits. As Alma sets about curing John's wicked ways with a series of increasingly desperate attempts, she wrestles with her own burgeoning sexuality and the siren song of earthly temptations.
Summer in Smoke's Mississippi setting mandates that its characters speak with Southern accents. Unfortunately, Lindsay Bartlett's dialect coaching is patchy at best and lazy at worst. Even for a repressed perfectionist, Alma's dialect often sounds unnatural, like the actress is trying too hard. Despite taking place in an extremely small town, no one sounds as if they hail from the same general region. Only Roger Doremus (Sam Hicks) comes off as halfway accurate, and – according to his bio – Hicks graduated from a Texas university.
Also inconsistent is Stefin Steberl's costume design. Though many of Alma's frocks are exquisite works of white lace and sparkling beads, several actors sport ill-fitting ensembles. Cheyenne Pinson brings a sultry sullenness to John's lover Rosa – but her skirt in Act II is unflattering to the point of distraction. Ditto sweetheart turned seductress Nellie Ewell (Olivia Dustman): at one point her skirt nearly fell off. Finally, Steele's hairstyle was far too contemporary for an early-20th century matron.
A third major problem presents itself in the show's antihero, John Buchanan, Jr. While Odor plays drunk very believably – not an easy feat by any means – he comes up short on charisma and charm. It is unconvincing that three different women of the town would so aggressively pursue this man. And when John and Alma's shared childhood history is touched upon so often in the script, it's problematic when Odor appears significantly older than Rydberg.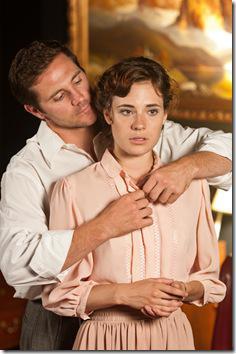 All is not lost, however. The Den Theatre space strikes a balance between expansive and intimate, perfect for audiences and actors alike.
Mike Mroch
and
Josh Hurley
's thoughtful execution of set and props, respectively, conveys the sepia tone of an old photograph. Sound designer
Melissa Schlesinger
's incidental music adds a wistful aura to the show.
Several performers shine as well. Dustman's Nellie Ewell artfully transforms from gawky teenage outcast to polished woman-on-the-verge in only a few scenes. Danon Dastugue brings much-needed comic relief as bawdy Mrs. Bassett, spewing shocking phrases with relish. Pinson stands out as a dangerous beauty, and Hicks is a sweetly accurate mama's boy. But the real saving grace of Summer and Smoke is leading lady Eve Rydberg. Her Alma (Spanish for "soul") carries a slow-burning flame under shallow breaths and trembling gestures, and her unrequited lust for John bubbles underneath the surface of every single word. The epitome of virginal, Alma loudly resists the pleasures of the flesh while quietly and urgently longing. Thanks to Rydberg's careful, diligent interpretation, the audience sighs, cries and feels for her, and with her.
Tennessee Williams' plays are an actor's dream, as even the most minor characters carry an indelible weight and a host of personal demons. Summer and Smoke is no different: though Alma and John dominate in terms of stage time, the fictional town of Glorious Hill is rife with colorful citizens. Despite its many issues, The Den Theatre's production – only the second for the new company – finds strength in its distinguished cast. Watching Rydberg's nearly flawless performance, it's hard to believe Williams would want Alma any other way.
Rating: ★★½
The Den Theatre's Summer and Smoke continues through October 29 at their performance space, 1333 N. Milwaukee (map), with performances Thursday through Saturday at 8 p.m., Sunday at 3 p.m. Tickets are $20, students $15, and can be purchased here. More information at TheDenTheatre.com. (Running time: 2 hours with 10-minute intermission)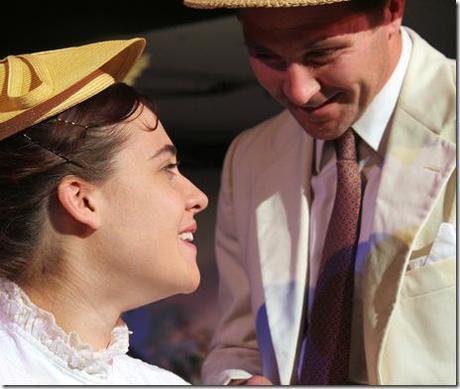 ---
artists
cast
Eve Rydberg (Alma Winemiller), Josh Odor (Dr. John Buchanan, Jr.), Ron Wells (Rev. Winemiller), Norm Woodel (Dr. John Buchanan, Sr.), Cheyenne Pinson (Rosa Gonzales), Judy Lea Steele (Mrs. Winemiller), Olivia Dustman (Nellie Ewell), Danon Dastugue (Mrs. Bassett), Donna Osowski (Rosemary), Sam Hicks (Roger Doremus), Adam Zeitoun (Archie Kramer), Alex Higgs (Gonzales), Alex Sharon (Dusty), Duncan Macnab (Vernon)