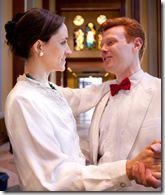 Strangers and Romance
Written by Barbara Lhota 
Directed by Doug Long
at Trap Door Theatre, 1655 W. Cortland (map)
thru Sept 18  |  tickets: $15  |  more info
Check for half-price tickets 
   Read entire review
---
Two beautiful tales of hope through despair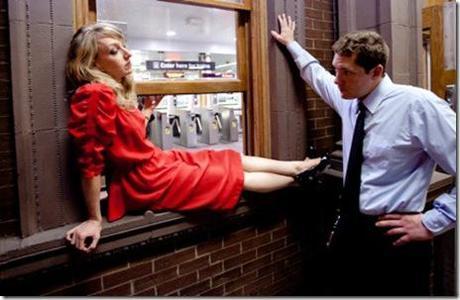 Strangeloop Theatre presents
Strangers and Romance
Review by Katy Walsh 
Where does romance start?  In a deserted train station?  In an empty church? Where does love end?  On an isolated subway platform?  On a vacated pew?  Strangeloop Theatre presents Strangers and Romance.  Award-winning, Chicago playwright Barbara Lhota uses two one-act plays to illustrate the distance and closeness of lovers and strangers.  In a Boston subway station, Madison and Maddie role-play chance encounters to ignite their sex life.  The game playing gets a reality check as they struggle with a devastating loss.  In a church, a man and a woman stumble on each other.  Misery draws them together in an unburdening evening.  Is it easier to find romance with someone new? Strangers and Romance is a poignant look at love that ties, knots, unravels over years, over minutes.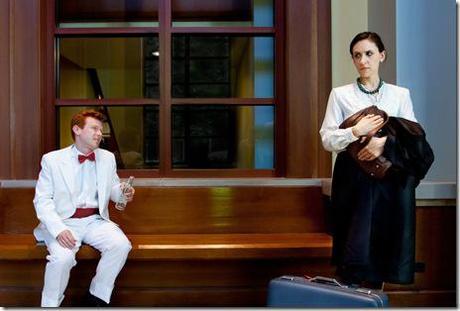 Playwright Barbara Lhota creates four people longing to be 'in love.'  Lhota has each person coming from a different perspective, but the commonality is wanting what they used to have. It's relatable relationship woe.  Lhota laces up the human sadness with witty dialogue.  A statement  like 'Elvis is alive and living in Canton, Ohio' continues to bring comedy relief as a couple spar over the remedy to an ailing marriage.  Tony Ketcham (Madison) and Misti Patrella (Maddie) change characters and scenarios with heart-breaking hilarity.  In between the conjured up fantasies, Ketcham and a sometimes-to-soft-spoken Patrella give off a true sense  of exhaustion.  The illusion that they are a couple trying anything to save the marriage is uncomfortably real.  Director Doug Long pulls out authentic and touching performances from the pair of pairs.  In the second act, Timothy C. Amos (Mick) and Stacie Barra (Miriam) play it awkward and stilted, revealing dark secrets to an outsider.  Amos is more of a happy-go-lucky guy having a bad day.  Barra is buttoned-up, full of controlled rage.  It's a bitter mismatch that conveniently fits for the time of need. 
Scenic designer Dustin Spence creatively goes from station to church.  A ticket booth nd column pivot into a candle altar and statue haven.  The bench stays the same.  It has a certain symmetry, becoming a symbol for all strangers wanting to meet someone to love and be loved.  Strangers and Romance is two beautiful tales of hope through despair.  Pairing the two one-act plays provides an in-depth look beyond strangers and romance to see what love might look like.  
And to be less of a stranger to Lhota's work, afterwards use your program to get a discount to Babes with Blades Theatre's The Double (our review), playing at Lincoln
Square Theatre, 4754 N. Leavitt.  
Rating: ★★★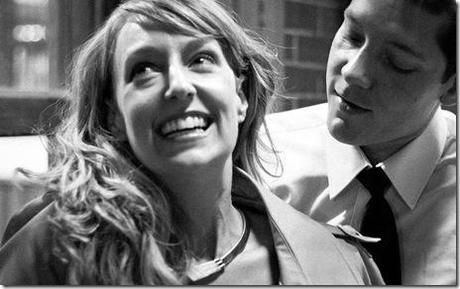 Strangeloop Theatre's Strangers and Romance continues through September 18th at Trap Door Theatre, 1655 W. Cortland (map), with performances Thursdays-Saturdays at 8pm and Sundays at 2pm. Tickets are $15, and can be purchased online at BrownPaperTickets.com. More information at StrangeloopTheatre.org. (Running time: 2 hours, which includes one intermission)
---
artists
cast
Timothy C. Amos, Stacie Barra, Tony Ketcham and Misti Patrella