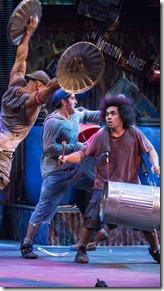 An exciting evening of pure energy and stagecraft
Review by Lauren Whalen
In one of my favorite songs, the Avett Brothers compare the heart to a kick drum and love to a voice. If both are true, then STOMP is pulsating and pounding (to the point of bursting), and a loud rallying cry that refuses to cease. What began as a street performance in the UK has since grown to a worldwide phenomenon on both stage and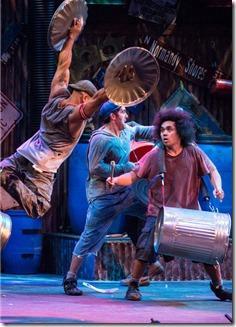 screen (the latter: everything from
Mister Rogers' Neighborhood
to the Academy Awards) with a diverse, passionate and wildly talented lineup. Last Sunday night was my first time at
STOMP
and as I left electrified and inspired, I sincerely hope it won't be my last!
According to the press release, has had four productions worldwide: an ongoing engagement at New York's Orpheum Theatre, a permanent company in London, and tours in North America and Europe. The show is an intermission-less hour and forty-five minutes of pure energy and stage craft. No special effects, just movement and music with ordinary household objects. (Director and co-creator Luke Cresswell describes the show as "[performers making] a rhythm out of anything we can get our hands on that makes a sound.") Zippo lighters become a visual symphony, newspapers a nonverbal comedic sketch. Kitchen sinks make water and clang, boots make noise on the ground, hands clap and fingers snap. And above all, there are drums on every available surface: buckets of all shapes and sizes, the walls of the graffitied set, the stage itself. Using only affirmative grunts, nonverbal cues and a physical sync that's truly remarkable, the company (dancers, musicians, producers, vets and newbies alike) moves as a cacophonous whole, one continuous and mesmerizing burst of energy.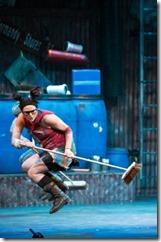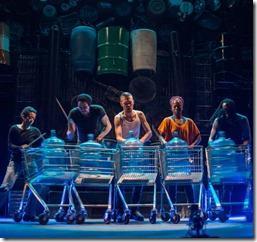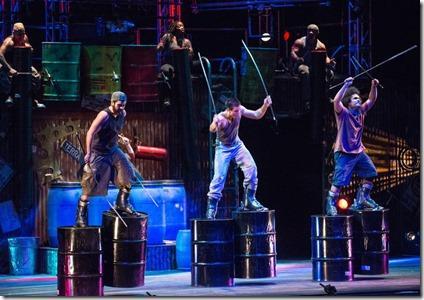 This features old favorites (unless you've been living under a rock, you've probably seen the show's innovative use of push brooms), as well as two new acts. The cast is a well-oiled machine of energy and passion, with impressive bios. Alexis Juliano was a finalist on So You Think You Can Dance and an accomplished tap dancer, while Guido Mandozzi is a London theater school alum. One performer, , is a Chicago native who got his start as head drum major of the Central State University Marching Band, and has since performed with Kanye West, John Legend and The Roots. Each company member is an essential cog, standing out on their own while contributing to the wild and wonderful group effect that is
The night I went to the Broadway Playhouse at Water Tower Place, it was packed with audience members of all ages and backgrounds, hooting appreciatively and clapping (though sometimes not in sync, to the company members' comic disappointment). Now more than ever, art is an essential unifying experience as well as a form of escapism and self-care. is a tangible reminder that creativity is alive and kicking, even when the current political climate seeks to suppress it with fear. Take your friends, take your family and remind them and yourself that when life seems its saddest, we have our voices and our beating hearts to sustain us.
continues through January 1st at Broadway Playhouse at Water Tower Place, 175 E. Chestnut (map). Tickets are $39-$84, and are available by phone (800-775-2000) or online through Ticketmaster.com (check for half-price tickets at ). More information at BroadwayinChicago.com or StompOnline.com. (Running time: 1 hour 45 minutes, no intermission)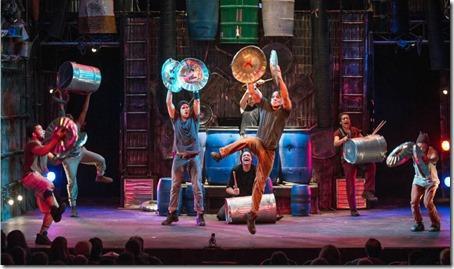 Photos by Steve McNicholas
John Angeles, Jonathon Elkins, Alexis Juliano, , Guido Mandozzi, , Manny Osoria, Jeremy Price, Krystal Renée , Ivan Salazar, Cade Slattery, Reggie Talley, Carlos Thomas
behind the scenes
Luke Cresswell (director, co-creator), Steve McNicholas (co-creator, photographer)
Tags: 16-1140, Alexis Juliano, Artis Olds, Broadway in Chicago, Broadway Playhouse, Cade Slattery, Carlos Thomas, Chicago Theater, Guido Mandozzi, Ivan Salazar, Jeremy Price, John Angeles, Jonathon Elkins, Kris Lee, Krystal Renée, Luke Cresswell, Manny Osoria, post, Reggie Talley, Steve McNicholas
Category: 2016 Reviews, Broadway in Chicago, Broadway Playhouse, Dance, Lauren Whalen, National Tours, Performance Art - Circus, Video, YouTube